By Richard Falk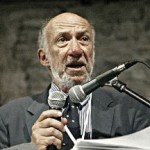 Recently my blog posts have attracted some venomous comments. I have somewhat reluctantly 'approved' of most such comments unless blatantly anti-Arab, anti-Palestinian, anti-Semitic, racist, or personally defamatory, and even with such offending comments I have leaned toward inclusion.
Recently, however, I have received several critical messages suggesting that allowing such comments demeans the quality of the dialogue generated by the blog. These messages have prompted me to reconsider my way of filtering comments, and lead me to become somewhat more of a gatekeeper.
My whole purpose in writing these posts, which often touch on sensitive and controversial topics, is to develop an open channel for serious dialogue, including debate. I respect deeply a diversity of views and understandings that is almost inevitable given our different social locations in the world, our varying experiences, and the victimization of our minds as a result of media manipulation and indoctrination.
One of the glories of the Internet is to allow a great variety of information channels to be open and accessible, a surge of digital freedom that we are just beginning to learn how to (ab)use.
Of course, this surge has produced a permanent condition of information flooding, and often leaves us with feelings that we cannot do more than receive impressions of spins starkly different from than those being promoted so vigorously by corporatized elites. Even if such liberating impacts happen rarely, and then only at the societal margins, there exists, at least, the potential for releasing the captive mind from media bondage.
My new resolve follows from these reflections. I will do my best in the future to limit access to the comments section to those who appear to share these assumptions of civility and dialogue, which are my foundational verities. And to live up to my own standards, I welcome comments on this 'comments policy'!
Finally, to be clear: criticism and debate welcome, insults, slurs, and defamatory remarks about ethnic and religious identity will be hereafter unwelcome, and were their publication were never occasions of joy.
Civility of tone is the real litmus test for inclusion. Indications of agreement and disagreement are often helpful, especially if expressed in dialogic manner. I look forward to working together with my readers in the hope that one day in the not too distant future we will discover that out of such tacit and sustained collaborations we will however unwittingly have formed a genuine digital community.