By Richard Falk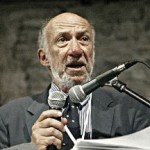 My proposal that we consider the possibility of treating Istanbul as the world capital attracted a broad range of responses. I tried to make clear in my revised text that Istanbul could not hope to have this kind of recognition until Turkey had addressed some serious issues, especially the Kurdish grievances that have induced a massive hunger strike in Turkish jails (with over 600 prisoners now taking part, and more threatening to do so), as well as serious concerns about the human rights implications of the imprisonment of many students and journalists.
Several other kinds of objections were also raised. For instance, Istanbul is inappropriate as a choice because it is situated at the interface of colliding tectonic plates that makes it vulnerable to devastating earthquakes. Others respondents contended that if recreational appeal is part of Istanbul's charm, then why not Las Vegas. It supposedly has a better claim than Istanbul as 'it has something for everybody.' My initial very tentative proposal of Istanbul was based on its extraordinary combination of qualifying features, especially its strategic inter-civilization geography, its capacity to be of the West and at the same apart from the West, and its cultural/religious/historical resources that seem unmatched in cumulative effect elsewhere, and give the city a cosmopolitan identity that recalls its days of multi-ethnic Ottoman imperial glory. Additionally, more than elsewhere, the Turkish political leadership has been alive to providing Istanbul with a world class infrastructure as it wishes to take advantage of its unique character.
Other objections to the proposal were more substantial, yet unconvincing to me. For instance, some pointed out that Turkey as a country of 80 million Muslims and Istanbul as a city estimated to have 15 million Muslims is not capable of representing the world, and that somehow a great European city would serve the peoples of world less controversially.
There is of course an inherent problem arising because any urban space will partake of a particular religious, national, and ethnic identity, but if such a qualification were to be uniformly applied it would mean that there was no city on the planet that could ever serve as the world capital. The idea of having a capital city is a strictly soft power proposal, creating a symbolic meeting place for diverse cultures, religions, and political systems, and is offered as a building block for a global imaginary that befits the imperatives of moral and spiritual globalization. It is my opinion that the Turkish government over the course of the last decade has done better than any other country in relation to cities within its borders in creating at atmosphere of cosmopolitan hospitality and stature for the city of Istanbul.
A quite different objection is associated with Turkish membership in NATO and what that entails in relation to non-defensive military operations such as in Afghanistan ever since 2001, the regime-changing 2011 intervention in Libya, and the interference with the Syrian internal struggle over the course of the last two years. Such Turkish undertakings do seem to cast a shadow over any present undertaking to propose Istanbul as a global capital, and should probably be treated as a serious obstacle.
If Turkey seeks to make Istanbul play its potential global role then it would need to rethink its geopolitical ties. Perhaps, there exists a decisive contradiction between such a Western oriented geopolitics and the kind of world identity that a global capital should aspire to achieve. Turkey has been up to now pursuing an equi-distance diplomacy, balancing its Western ties against its post-Cold War independence, as well as promoting a new geopolitics of soft power without relinquishing the residual role of the old geopolitics of hard power. The Arab upheavals since 2011 have seemed to make the transition to a soft power matrix more elusive for Turkey, and thus weaken arguments for Istanbul's ascension to a status that overlooks its reality of being embedded in Turkish national sovereignty.
In summary, Istanbul is marvelously qualified from many perspectives to serve as the capital of the world, but cities cannot avoid being identified with the country in which they are physically located. The Turkish government in the last decade has done many things to enhance the role of Istanbul, but its own persisting problems are part of Istanbul's reality, and to the extent these difficulties are not overcome it is hard to imagine any proposal of Istanbul as global capital getting very far in world public opinion. In effect, there is a Gordian Knot at the core of world order that ties the fate of the city to that of the nation, and most of the citizenry of particular countries would not have it any other way. To this extent, the modest proposal of Istanbul as global capital, while tantalizing, does not seem capable of realization without the deterritorialization of the relationship between global cities and sovereign states, and if this ever happens, it will not be anytime soon.
This commentary on Istanbul arises from my own romance with the city during the past twenty years, entranced by its beauty, vitality, exotic features, the warmth and tenderness of its people, and the transcendent vision of the Turkishpolitical destiny set forth by its principal leaders. This kind of love affair has persisted despite the horrors of Istanbul's traffic and the unpleasantness of its unhealthy air.