Archive for September, 2012
By Johan Galtung
From Charlotte, NC-USA – 5 September 2012 [i]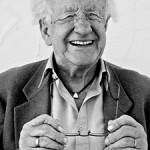 The Democratic National Convention, DNC, floated into oblivion with no debate – Soviet style, hallelujah, amen – with no mention of overt wars with 5-6 Muslim countries; of covert wars by drones and SEALs-US Navy's Sea, Air and Land Teams with many others; and the war on terror. Like the Republican National Convention, RNC, squeezing out Ron Paul, who argued for no bases, no wars, no support to Israel. Read the rest of this entry »
By Jonathan Power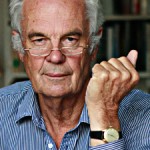 When it comes to creating a peace in Afghanistan sufficient for the US and NATO to pull their troops out with some degree of confidence in the country's future stability history offers conflicting lessons.
The mantra is that war-shattered states must be guided into a liberal democracy and a market-orientated economic system.
Yet there is much evidence that the process of political and economic liberalization can sometimes do more harm than good in states that have just emerged from civil war. Liberalization doesn't always foster peace. Both democracy and capitalism are built on a paradox – the notion that societal competition can limit inter-communal competition and dampen conflict. Read the rest of this entry »
By Johan Galtung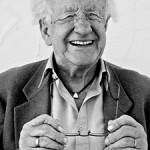 The Israeli attack seems imminent. Richard Silverstein circulates a leaked "shock and awe" strategy of Benjamin Netanyahu / Ehud Barak hard zionism to decapitate, paralyze Iran; and Alon Ben‑Meir (an expert on Middle East politics specializing in peace negotiations between Israel and Arab states) says Israel is not bluffing. Israel may prefer an attack with the USA (Romney? Obama after elections?), but may go alone. Some people believe the nuclear bomb story, others believe that the purpose is Israel as a Jewish state from the Nile to the Euphrates, also promoted by Netanyahu's late father. The two stories do not exclude each other.
Iran is a Shanghai Cooperation Organization-SCO observer. An attack will trigger responses from the Russia‑China core. What Israel may gain in Saudi Sunni support they may lose in more important parts of the world, in diplomatic and economic relations. The SCO is huge.
There is also the real danger of a world war of NATO against SCO, with nuclear powers divided 4‑4; USA‑Israel being indivisible as they came into being in the same way: by taking somebody else's land.
Iranian devastating responses will come before decapitation. Read the rest of this entry »
By Richard Falk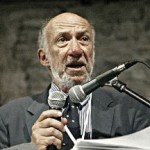 I have been disturbed by the recent exchanges of personal attacks in the comments section of my blog. I realize that the subject-matter, and my views, are controversial, and attract strong responses for and against. I have tried to be broadly receptive to this broad range of opinions, and have excluded only those that have no substantive serious content. From my perspective some of these views are quite extreme, and as such provocative and deeply objectionable to those who see things differently. This tension among readers of the posts, not surprisingly, is mainly in relation to the Israel/Palestine conflict, and relates to both my views and to those of some of those who take the trouble to submit comments.
I had the hope that the comment section could serve as a dialogic channel for the exchange of views, but I increasingly realize that this was an unrealistic wish. Read the rest of this entry »
By Stephen Zunes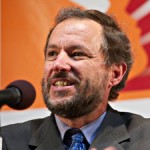 In a stunning violation of its own rules, the wishes of the majority of delegates at its national convention, and positions taken by the United Nations and virtually every country in the world, the Democratic Party leadership pushed through an amendment to its platform early during its proceedings on Wednesday, with barely half the delegates present and without allowing for any discussion or debate, stating that Jerusalem "is and will remain the capital of Israel" and should be "undivided."
The language, as foreign policy analysts noted, is in "in direct opposition to longstanding U.S. policy on Jerusalem" that the status of the city should be determined by talks between the Israelis and Palestinians, both of whom desire Jerusalem as their capital, and that the city should not be unilaterally recognized as the capital of either Israel or Palestine until then. Read the rest of this entry »
By Stephen Zunes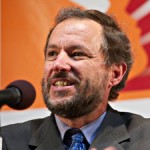 On August 28, an Israeli court rejected a civil lawsuit against Israeli occupation forces for the 2003 murder of Rachel Corrie, a 23-year old American peace activist killed in the Gaza Strip, upholding a severely flawed internal Israeli military investigation.
Amnesty International strongly condemned the decision, noting how "the verdict continues the pattern of impunity for Israeli military violations against civilians and human rights defenders in the Occupied Palestinian Territories (OPT). The verdict shields Israeli military personnel from accountability and ignores deep flaws in the Israeli military's internal investigation of Corrie's death." Read the rest of this entry »
By Stephen Zunes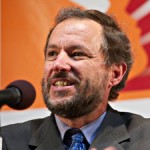 A new resolution casts such a wide net over anti-Semitism that it includes legitimate opposition to Israeli policies.

The California State Assembly has just passed a bipartisan resolution (HR 35) by voice vote which constitutes a serious attack on academic freedom and the rights of students and faculty to raise awareness about human rights abuses by U.S.-backed governments. While purporting to put the legislature on record in opposition of anti-Semitism on state university campuses, it defines anti-Semitism so widely as to include legitimate political activities in opposition to Israeli government policies. Read the rest of this entry »