Archive for the 'Military – technology' Category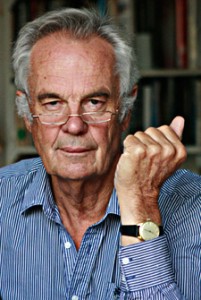 By Jonathan Power
December 19th. 2017
The nuclear weapon missile business is contradictory, full of missteps, highly dangerous and prepared in its madness (Mutually Assured Destruction, aka MAD, they used to call it in Cold War days) to plunge the world into a nuclear war that will reduce most of the world to dust.
A new book, "The Doomsday Machine" by Daniel Ellsberg tells the whole nuclear bomb story in detail. No one has done it better. The only rival is the movie, "Dr Strangelove", that got the essentials right without being privy to much of the Ellsberg's knowledge.
Ellsberg is the legendary whistle-blower who revealed the Pentagon papers, an expose of the US role in the Vietnam War. In this book he tells of his time in the 1960s as consultant to the Department of Defence and the White House.
He drafted Robert McNamara's plans for nuclear war- McNamara was secretary of defence during the presidencies of Lyndon Johnson and John F. Kennedy.
Five years ago, after he had finished the book, he tried 17 different publishers and it was rejected. Earlier this year he found a home with Bloomsbury, the publisher of Harry Potter, a book that was also rejected many times.
Why, at last? "The world got scarier", he said in a long interview in the Financial Times last month. "The only silver lining to today's world is that people now want to read my book". Read the rest of this entry »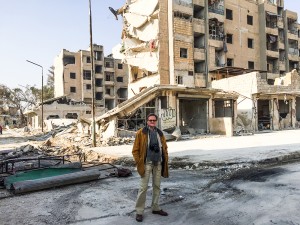 By Jan Oberg*
Fact is that we are dealing here with a conflict that is the most threatening to humankind's survival and it would be rather more easy to solve than most other conflicts.
This has recently been pointed out by TFF Board Member and former Co-President of International Physicians for the Prevention of Nuclear War, IPPNW, 2004-2008, Gunnar Westberg, in a short analysis.
How?
• The West – the EU or NATO, if not the US itself – takes a serious mediation initiative. As long as people talk, they don't start wars. That in itself would de-escalate the tensions and risks in sharp contrast to continued tit-for-tat sandbox thinking and reckless statements, last by defence secretary Mad Dog Mattis at the border between the North and South.
• The vastly superior side stops every military activity in the waters close to the North while South Korea's leadership take up contact with the leadership of the North.
• The type of provisions of Jimmy Carter's old deal with the North Koreans are dusted off and used as inspiration for more: Give the North Koreans all the economic assistance they believe they need and give them civilian energy technology too – as a quid-pro-quo for very tight IAEA inspections and a written guarantee that it will not acquire nuclear weapons as long as the West keeps its side of such a deal. (President George W. Bush just destroyed that deal and thought it appropriate to include North Korea in his Axis Of Evil speech).
• Sign a non-aggression or non-attack pact between North and South Korea and between North Korea and the US. That is, undermine any fears the North Koreans may have. The overwhelming superiority of the adversaries of the North implies that such a pact would be risk-free to write and sign.
• Let North and South Korea freely decide if they want to unify. They have a perfect human and international legal right to do so, it's nobody's business but the Korean people's. The world should assist them in doing so if they want.
• The US and North Korea sign a peace treaty (what exists today is only the 1953 ceasefire agreement). Read the rest of this entry »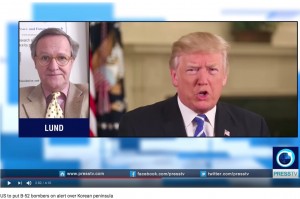 Jan Oberg Comment
A short comment on the news about readying B-52 bombers for – well, you know what. On PressTV, October 23, 2017.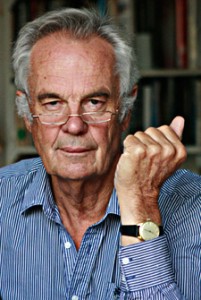 By Jonathan Power
June 6th 2017
It was all smiles out on the range last week when, against a deep blue sky, an American interceptor rocket took out an incoming "enemy" long-range, missile (which in a real attack would be carrying a nuclear warhead). Generals and Congressmen and women jumped for joy.
But what was there to be joyous about?
Over the decades of the Cold War the nuclear deterrent was supposed to be the instrument that kept the peace. MAD, it was called- Mutually Assured Destruction. Simply put, if you attacked me you might catch me by surprise and destroy many of my cities and military bases, but in fact you wouldn't dare do it because beyond surprise is my "second-strike force". Hidden away, deep underground, invulnerable to attack, I can retaliate with that.
So in real life you will not dare attack me and I won't attack you. That is a stalemate. That is deterrence.
Forget morality, forget the chance of a rogue or accidental launch – this is what the military say kept the peace throughout the Cold War, and maybe still does as the ice cap returns, argue its supporters.
However, if there is now going to be a big jump in technology and you can intercept my second-strike with your interceptor rockets we no longer have the surety of MAD. I'm wide open and you can "get me". You no longer fear retaliation and I will have no choice but to surrender after you have demolished some of my cities and military bases.
Fortunately, the technology is still in its early stages. Read the rest of this entry »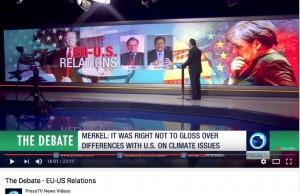 The Debate with Jim Walsh, MIT and Jan Oberg, TFF
Lund, Sweden – May 30, 2017
Last night "The Debate" on PressTV was devoted to the future of European-US relations in the wake of the NATO Summit, President Trump's words and omissions and the – historic – words, in particular, of Chancellor Angela Merkel immediately after.
Undoubtedly, we are at a turning point in these relations in general and for the NATO alliance in particular.
To discuss these issues – past, present and future perspectives – were Jim Walsh, senior research associate at MIT's Security Studies Program, Masschusetts, and Jan Oberg, director of TFF, Lund.
Thanks to PressTV's excellently structured program and interviewer we touched upon a series of aspects and dimensions around which we found both agreements and slight disagreements – all in a sober tone fit for public education and personal reflection.
We hope this debate will stimulate your own thoughts about the future of war, security and peace.
We'd be grateful for your sharing it to media people, students and other academics as well as to decision-makers in the field that you may know.
And a few words about Western mainstream media unwillingness to deal with NATO criticism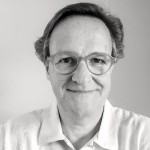 By Jan Oberg
It's as amazing as it is frightening how the West – a group of countries allegedly fighting for truth against propaganda and fake news by others – leads exactly that game itself.
And so is the degree to which Western allegedly free media – meaning free also of political powers that be – continue to ask no questions and do no research. We are obviously living in the post-intellectual age, knowledge having been replaced by marketed and more or less invented, elite self-serving narratives. For instance…
Take a close look at what Gen. Curtis M. Scaparrotti, commander of U.S. European Command, says when testifying before the US House Armed Service Committee. He is also SACEUR – Supreme Allied Commander Europe, the man whose views and actions will decide the fate of 500+ Europeans should there be a major war in this region of the world.
What is says is plain irresponsible. It's beyond the rational. While it may not be fake news, it's an example of ignored, omitted news.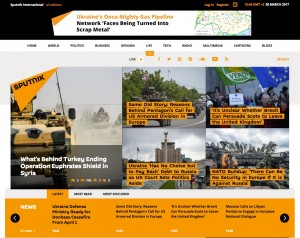 He blows up beyond recognition the so-called Russian threat. There is no single evidence of it in his statement – why it would happen, how, where, with what motives the Moscow would have and – in particular – how likely it is to become reality. He merely asserts it – based upon a wildly exaggerated estimate of his own authority: Read the rest of this entry »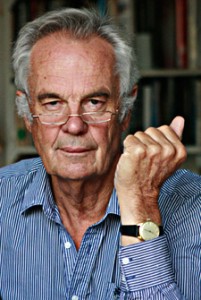 By Jonathan Power
February 7th. 2017
So what does President Donald Trump think about Nato? Twice during his campaign he rubbished it publically, saying it was "obsolete". Yet earlier this month when he met the UK's prime minister, Therese May, it was all hunky dory. He told her he supported Nato 100%.
There are some – a few – influential people who have argued that Nato is indeed obsolete. One of these was William Pfaff, the late, much esteemed, columnist for the International Herald Tribune. Another is Paul Hockenos who set out his views in a seminal article in World Policy Journal. Their words fell on deaf ears.
President George H.W. Bush saw it differently and wanted to see the Soviet Union more involved in Nato's day to day work. President Bill Clinton had another agenda – and one that turned out to be a dangerous one, triggering over time Russia's present day hostility towards the West – to expand Nato, incorporating one by one Russia's former east European allies.
His successors continued that approach with Barack Obama at one time raising a red rag to a bull by calling for the entry into Nato of Ukraine and Georgia. Read the rest of this entry »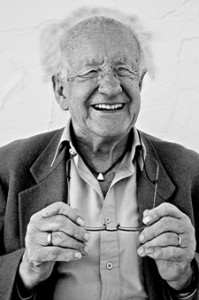 By Johan Galtung
The National Society of High School Scholars, Claes Nobel World Betterment Award
The Carter Center
3 Dec 2016
I am very grateful for the 2016 Claes Nobel World Betterment Award – Claes being the great grandnephew of Alfred – and to the NSHSS-National Society for High School Scholars, here at the Carter Center in Atlanta.
Let me start by praising you for your dedication to Education, focusing on the high school–in the middle, after K and grade school, before college and graduate school–on teachers and students, learning and doing research, treating them with respect, bestowing dignity.
Society has institutions, like Family, Work and Economy. Sports get too much attention, Education too little.
Politics is about leading and being led, Military is about killing not to be killed.
These two get you into trouble. I have heard this afternoon much about leading, leaders, led. Führer and Duce are German and Italian for leader, "duce" also from educare, educate. Hitler and Mussolini.
Be careful. This is vertical and hierarchical even without nazism and fascism. Today we want horizontal social landscapes, with people relating equitably and harmoniously, through shared memberships and networks, both horizontal and inclusive. For mutual inspiration.
As to killing: the USA killed more than 20 million in 37 countries only after 1945 WWII; and has intervened 248 times militarily in other countries since Thomas Jefferson started in Libya in 1801. 20 million killed means 200 million bereaved–family, friends, neighbors, colleagues. They do not take easily to this type of US leadership.
And less than a century earlier two groups of Americans practiced those very same skills and leadership on each other. The Civil War.
Such was history. How about solving the underlying conflicts?
Instead of the 1850 compromise of shame, "keep slavery but give up the confederacy", how about "keep much autonomy, but give up slavery"; for a Community of American States, not U.S.A but C.A.S? And in 1924, how about dropping the Versailles Treaty, removing Hitler's best card? Read the rest of this entry »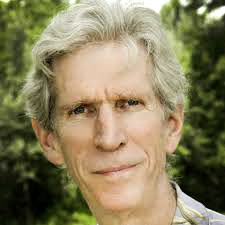 By Gareth Porter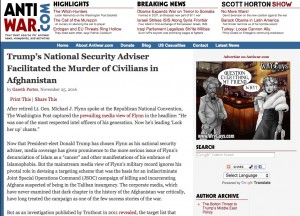 After retired Lt. Gen. Michael J. Flynn spoke at the Republican National Convention, The Washington Post captured the prevailing media view of Flynn in the headline: "He was one of the most respected intel officers of his generation. Now he's leading 'Lock her up' chants."
Now that President-elect Donald Trump has chosen Flynn as his national security adviser, media coverage has given prominence to the more serious issue of Flynn's denunciation of Islam as a "cancer" and other manifestations of his embrace of Islamophobia. But the mainstream media view of Flynn's military record ignores his pivotal role in devising a targeting scheme that was the basis for an indiscriminate Joint Special Operations Command (JSOC) campaign of killing and incarcerating Afghans suspected of being in the Taliban insurgency. The corporate media, which have never examined that dark chapter in the history of the Afghanistan war critically, have long treated the campaign as one of the few success stories of the war.