Archive for the 'Abolition' Category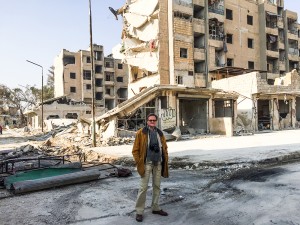 By Jan Oberg*
Fact is that we are dealing here with a conflict that is the most threatening to humankind's survival and it would be rather more easy to solve than most other conflicts.
This has recently been pointed out by TFF Board Member and former Co-President of International Physicians for the Prevention of Nuclear War, IPPNW, 2004-2008, Gunnar Westberg, in a short analysis.
How?
• The West – the EU or NATO, if not the US itself – takes a serious mediation initiative. As long as people talk, they don't start wars. That in itself would de-escalate the tensions and risks in sharp contrast to continued tit-for-tat sandbox thinking and reckless statements, last by defence secretary Mad Dog Mattis at the border between the North and South.
• The vastly superior side stops every military activity in the waters close to the North while South Korea's leadership take up contact with the leadership of the North.
• The type of provisions of Jimmy Carter's old deal with the North Koreans are dusted off and used as inspiration for more: Give the North Koreans all the economic assistance they believe they need and give them civilian energy technology too – as a quid-pro-quo for very tight IAEA inspections and a written guarantee that it will not acquire nuclear weapons as long as the West keeps its side of such a deal. (President George W. Bush just destroyed that deal and thought it appropriate to include North Korea in his Axis Of Evil speech).
• Sign a non-aggression or non-attack pact between North and South Korea and between North Korea and the US. That is, undermine any fears the North Koreans may have. The overwhelming superiority of the adversaries of the North implies that such a pact would be risk-free to write and sign.
• Let North and South Korea freely decide if they want to unify. They have a perfect human and international legal right to do so, it's nobody's business but the Korean people's. The world should assist them in doing so if they want.
• The US and North Korea sign a peace treaty (what exists today is only the 1953 ceasefire agreement). Read the rest of this entry »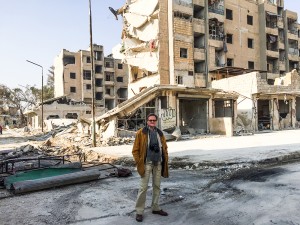 By Jan Oberg*
That's what I hold quite likely in case the present US administration under Donald Trump's formal leadership continues down the path its in-fighting militarist fractions seem to have chosen.
We're in the worst, most dangerous situation since the Cuban Missile Crisis. Sitting down and hoping for the best is neither responsible nor viable or wise.
I can only hope that I will be proved wrong. That the present extremely dangerous tension-building will die down by some kind of unforeseen events or attention being directed elsewhere.
The world could quite well be drifting toward what Albert Einstein called 'unparalleled catastrophe'. It's something we may – or may not – know more about when President Trump returns from his trip to Japan, South Korea, China, Vietnam (APEC where he also likely to meet Russian President Putin) and the Philippines.
Except for 93-year old Jimmy Carter offering to go to North Korea, we witness nobody taking any mediation initiative – not the UN' S-G Guterres, not the EU, not European NATO countries, not BRICS, not single countries like Sweden, not… well, you name them.
It's about denial, about heads deep down in the sand, people hoping for the best at the moment when humanity's future is in the hands of a couple of leaders from whom they would probably not buy a used bicycle.
That this silence all around is a roaring fact, is about as tragic and dangerous as the situation itself. Read the rest of this entry »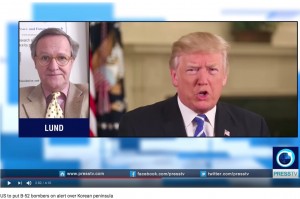 Jan Oberg Comment
A short comment on the news about readying B-52 bombers for – well, you know what. On PressTV, October 23, 2017.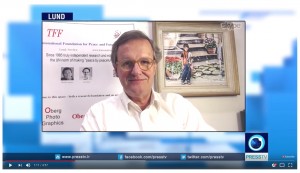 October 19, 2017
Comments on EU leaders stating their support for the nuclear deal with Iran (JCPOA) and sending strong signals to Trump: But more is needed now.
Oberg also asks: Where is the similar statement from NATO, the allegedly peace and security organisation when its leader, the U.S., is moving towards war with Iran?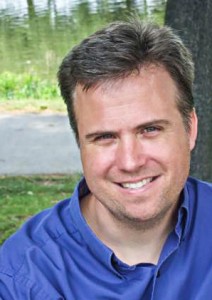 By David Swanson
October 6, 2017
The Nobel Peace Prize was awarded Friday to the International Campaign for the Abolition of Nuclear Weapons (ICAN) — listen to my radio show with one of ICAN's leaders two years ago here.
It's conceivable that some Americans will now learn, because of this award, about the new treaty that bans the possession of nuclear weapons.
This treaty has been years in the works. This past summer 122 nations agreed on the language of it, including these words…
Continue to the original here
By Jan Oberg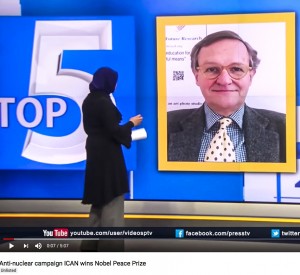 Jan Oberg's comments to Iran's PressTV on this happy occasion.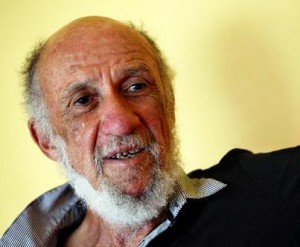 By Richard Falk
Professor emeritus of international law at Princeton University and University of California, Santa Barbara, board member of The Nuclear Age Peace Foundation and TFF Associate since 1985
Finally, the committee in Oslo that picks a winner of the Nobel Peace Prize each year selected in 2017 an awardee that is a true embodiment of the intended legacy of Alfred Nobel when he established the prize more than a century ago.
It is also a long overdue acknowledgement of the extraordinary dedication of anti-nuclear activists around the planet who for decades have done all in their power to rid the world of this infernal weaponry before it inflicts catastrophe upon all living beings even more unspeakable that what befell the cities of Hiroshima and Nagasaki on two infamous days in August 1945.
Such a prize result was actually anticipated days before the announcement by Fredrik Heffermehl, a crusading Norwegian critic of past departures from Nobel's vision by the prize committee.
In making the prediction that the 2017 prize would be given in recognition of anti-nuclear activism Heffermehl prophetically relied on the outlook of the current chair of the Nobel selection committee, a distinguished Norwegian lawyer, Berit Reiss-Andersen, who has publicly affirmed her belief in the correlation between adherence to international law and world peace.
The recipient of the prize is ICAN, International Campaign to Abolish Nuclear Weapons, a coalition of more than 450 civil society groups around the world that is justly credited with spreading an awareness of the dire humanitarian impacts of nuclear weapons and of making the heroic effort to generate grassroots pressure sufficient to allow for the adoption of the UN Treaty on the Prohibition of Nuclear Weapons by 122 UN members on 7 July 2017 (known as the 'BAN Treaty'). Read the rest of this entry »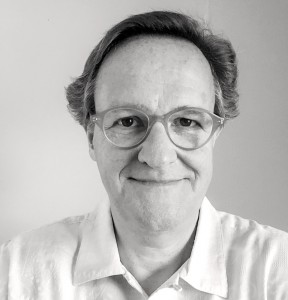 Jan Oberg
TFF co-founder and director
Our thanks to the Nobel Peace Prize Committee for awarding its 2017 Prize to ICAN – the International Campaign to Abolish Nuclear Weapons.
Undoubtedly nuclear disarmament and, ultimately, nuclear abolition is a major – if not the major – goal of humankind. There can be no lasting peace with these weapons and there exists no goal the achievement of which would legitimate the use of this type of weapons.
Even when not used, nuclear weapons cause problems, distrust, risks and pretext for wars – think Russia-NATO, Iraq, the nuclear deal (JCPOA) with Iran, US-North Korea, Israel, India-Pakistan – and documented technical malfunctions, human failures, and accidents with nuclear weapons.
Secondly, this year's award honours the UN Charter, Article 1 of which states the essentially important norm that peace shall be brought about by peaceful means.
It is also in clear support – as was emphasized by the Committee's chairwoman, Berit Reiss-Andersen, herself a lawyer – of the NPT of 1970, the Non-Proliferation Treaty. The NPT states the longterm goal of general and complete disarmament, that the countries who possess nuclear weapons shall, in good faith, negotiate them away as a quid pro quo for others who may want to acquire nuclear weapons abstain from doing so. That is, possession is as important to abolish and a key to secure non-proliferation. Regrettably, all those who possess nuclear weapons have done the opposite of negotiating them away.
Thus, this year's prize is a very important support for international law and the UN – our basic common normative system and foundations of international law that has been ignored (also by the media) and violated time and again during the last 20-30 years.
Third, it is of tremendous importance that this year's award goes to a civil society organisation and not to a government representative. World peace is a massive citizens' desire anywhere, whereas governments (with few exceptions) conduct such policies that trample upon this desire.
Fourth – and no less important than the above, this year's Award honours the essential criteria of Alfred Nobel's will. Importantly, this was emphasized by Reiss-Andersen. Given some of the recent awardees non/anti-peace work, there is a reason to congratulate not only ICAN but also the Committee for getting it absolutely right this year.
May it be the beginning of a new drive on the road toward peace with no more accidents in the ditch.
Those of us who, since 2007, have been engaged in a public information campaign about the Committee's non-adherence, in a number of cases, to Alfred Nobel's will, feel good today.
The Nobel Committee calls it "the world's most prestigious prize" and it is essential that it be awarded only to people whose work falls clearly within the criteria of the will. It is neither a human rights, humanitarian, women's or general do-good prize. It's for everything that has to do with reducing warfare, risks of it, militarism. It is for disarmament, reduction of forces, negotiated solutions to conflicts, peace conferences and international sister- and brotherhood.
Most media do not seem to know that – also not that lots of nominations this year too were totally irrelevant no matter their other, non-peace qualities.
Finally, it is hardly unreasonable to view this year's choice is a mild kick to the countries who have worked against the BAN Treaty that ICAN's work has helped so efficiently to bring about – NATO in particular.
All NATO countries have ignored the BAN Treaty (as has the other nuclear countries Russia, China, India, Pakistan, North Korea and Israel). This only goes to show how important the BAN Treaty is.
But the US is known to have put pressure on NATO members and others such as Sweden with direct threats to them should they sign the BAN Treaty (NATO countries' mainstream media haven't told you much about that whereas they fill you with so far non-documented rumours of Russian interference in other countries).
It's high time to encourage, as the Nobel Committee chair emphasized, all those who possess (or store) nuclear weapons to change their policies and join humanity. They have no right and have never been given a mandate to possess these weapons and thereby threaten, potentially, the survival of humanity.
It's all a matter of political will and moral courage. None of them base their possession of nuclear weapons on laws. The NATO Treaty doesn't mention them at all.
The nomination of ICAN can be seen on the Nobel Peace Prize Watch here.
What Americans Really Think about Using Nuclear Weapons and Killing Noncombatants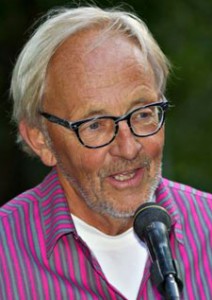 By Gunnar Westberg
TFF Board member
"Revisiting Hiroshima in Iran: What Americans Really Think about Using Nuclear Weapons and Killing Noncombatants"
Scott D. Sagan and Benjamin A. Valentino
International Security, August 2017
This is a summary and a few reflections upon reading a very comprehensive academic study recently published in International Security. See it's full text here.

The nuclear taboo is no longer strong
In this extensive and scholarly report of 67 pages the authors report on several opinion polls they have conducted in order to learn about the attitudes of Americans to the use of nuclear weapons compared to conventional weapons.
They also review the field extensively comparing with other studies.
Shortly after the bombing of Hiroshima and Nagasaki the Americans strongly supported the use of nuclear weapons in that situation. The approval rate decreased to a large degree over the years.
However, when questions were asked regarding the possibility of using nuclear weapons in a contemporary conflict, such as that between USA and Iran, the attitude to the use of nuclear weapons was still surprisingly positive. The "nuclear taboo" is no longer strong.
An attack with nuclear weapons on a major city is accepted by a not much lower percentage of respondents than is a conventional attack.
A clear majority of Americans would approve of using nuclear weapons against the civilian population of an adversary that does not possess nuclear weapons.
It was seen as acceptable by the respondents to kill 2 million civilian Iranian if they believed that such a nuclear strike would save the lives of 20,000 U.S. soldiers fighting in Iran.
About 60% of the American people support this opinion.
In contrast, a 2010 Chicago Council on Global Affairs survey found that 57 per cent of the public agreed that "the U.S. should only use nuclear weapons in response to a nuclear attack by another nation" and that 20 per cent agreed that "the U.S. should never use nuclear weapons under any circumstances".
The principle of "non-combatant immunity", a central principle in international humanitarian law, requires that the military activities should avoid as far as possible damage to the civilian population, compared to the combatant soldiers.
This principle had no strong support by the public opinion in these studies.
It was found that women support nuclear weapons use and violations of noncombatant immunity no less (and in some cases more) than male respondents.
The authors were not surprised by the finding that most Americans place a higher value on the life of an American soldier than the life of a foreign noncombatant.
What was surprising, however, was the radical extent to which they adhered to that preference.
The experiments suggest that the majority of Americans find a 1:100 risk ratio to be morally acceptable.
It should be strongly emphasized that no comparable study has been found for any other population in any other country. It is not known if attitudes in other countries differ from those in the USA.

The Abstract of the study
Numerous polls demonstrate that U.S. public approval of President Harry Truman's decision to drop the atomic bombs on Hiroshima and Nagasaki has declined significantly since 1945.

Many scholars and political figures argue that this decline constitutes compelling evidence of the emergence of a "nuclear taboo" or that the principle of noncombatant immunity has become a deeply held norm.

An original survey experiment, recreating the situation that the United States faced in 1945 using a hypothetical U.S. war with Iran today, provides little support for the nuclear taboo thesis.

In addition, it suggests that the U.S. public's support for the principle of noncombatant immunity is shallow and easily overcome by the pressures of war.

When considering the use of nuclear weapons, the majority of Americans prioritize protecting U.S. troops and achieving American war aims, even when doing so would result in the deliberate killing of millions of foreign noncombatants.

A number of individual-level traits – Republican Party identification, older age, and approval of the death penalty for convicted murderers – significantly increase support for using nuclear weapons against Iran.

Women are no less willing (and, in some scenarios, more willing) than men to support nuclear weapons use.

These findings highlight the limited extent to which the U.S. public has accepted the principles of just war doctrine and suggest that public opinion is unlikely to be a serious constraint on any president contemplating the use of nuclear weapons in the crucible of war.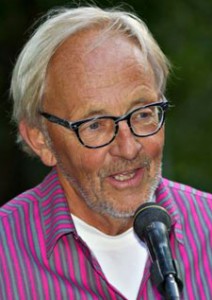 By Gunnar Westberg
Board member of TFF
August 20, 2017
The author has been twice to North Korea and maintains contacts with physicians in the North Korean branch of International Physicians for the Prevention of Nuclear War in that country.
"If your country continues to develop nuclear weapons, you will be attacked, maybe with nuclear weapons". This what we have told our colleagues from North Korea, at visits to Pyongyang or at international meetings. "Oh no," they said. "Look at Saddam Hussein and Mohamad Ghadafi. They gave up their plans for nuclear weapons, and they were attacked".
"Nuclear weapons development is not the only reason for the USA to attack. Oil is the other", we said.
It turns out we were right. North Korea – DPRK – continued on the path to nuclear weapons and the President of the USA threatens to attack. The crisis is, for the moment fading, but is likely to increase when DPRK makes its next move. It should be emphasized that a misunderstanding on either side may provide the spark causing a devastating war.
Nuclear weapons cause wars. Read the rest of this entry »