By Richard Falk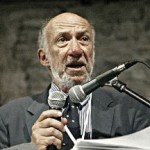 I have had a recurrent struggle to set boundaries on the comments section of this blog. At first, I was determined to have an open forum welcoming critical commentary on any issue, excluding only those comments that seemed struck me as clear instances of hate speech.
This approach seemed to work okay except with respect to Israel/Palestine, which increasingly attracted either long argumentative comments posing a list of rhetorical questions or angry serial comment contributors that insulted me as well as others who had submitted comments that were interpreted by them as being pro-Palestinian or hostile to Israel and Zionism.
There was no symmetry in the sense the blog received no serial or long provocative comments written by those who more or less supportive of the Palestinian struggle for justice. From blog readers I received mixed reactions, but I was most persuaded by those who expressed dismay about the tendency to fill the comments section with insults and counter-insults or with argumentative views that did not invite serious dialogue.
In reaction after some months, I reached the conclusion that it was preferable, on balance, to limit the comment space of my blog to likeminded views on Israel/Palestine. This meant excluding those annoying serial comments and those pro-Israeli comments that struck me as merely argumentative or dismissive of pro-Palestinian positions. In my view, this more restrictive approach did succeed in raising the quality of interaction between my posts and the authors of comments, as well as enhanced the dialogue among comment writers.
At the same time, as might have been predicted, such selective monitoring provoked angry reactions from those whose comments were being excluded. See David Singer, "Palestine-UN Special Rapporteur Bans Free Speech," Canada Free Press. It was claimed that I was violating canons of free speech, and that this was especially wrong, given my position as Special Rapporteur for the UN Human Rights Council. I am not persuaded by these objections. A blog is not necessarily an arena that should observe standards that are respectful free speech or necessarily exhibit openness to all sincerely held viewpoints.
The media governs access to its arenas of expression by its editorial policies, and no one insists that it has no constitutional right to do this, although a newspaper or TV channel is more of a public entity than is a personal blog. If you do not like the editorial approach of say, the Wall Street Journal or Fox TV, you can in a democracy go elsewhere, or find ways to encourage the establishment of more congenial media. Public radio and TV makes a greater effort, partly because of tax policy and funding sources, to be 'objective,' that is, to present opposing responsible viewpoints without taking sides.
Many of us, however, feel that what CNN views as impartial and objective, seems unduly reflective of the mainstream consensus, and is unreceptive to progressive critical viewpoints, especially those associated with the anti-militarist, anti-capitalist portions of the political spectrum.
As far as my UN role is concerned, it seems irrelevant in relation to a private blog that makes no claim to be associated with my formal position, which is essentially voluntary and unpaid. I retain my right as a private citizen to express personal views on a range of public issues, including those that pertain to Israel & Palestine. My reports to the UN are based, to the best of my ability, on an objective assessment of evidence and procedures of impartial interpretation.
My efforts along these lines have been obstructed from the outset by Israel's refusal to cooperate with this undertaking to gather facts even to the minimal extent of granting me access to the Occupied Palestine Territories; in fact, I was expelled from Israel on December 14, 2008 when I tried to carry out a UN mission to examine conditions in the West Bank and East Jerusalem, and was detained for some hours in a prison located near to the Ben Gurion Airport. Israel has been able to sustain this position throughout my tenure as Special Rapporteur, despite numerous attempts to request reconsideration and Israel's treaty obligation as a member of the UN to cooperate with its official undertakings. As in other sectors of Israel's behavior, the realities of impunity shield its officials and government from accountability.
As before, I welcome, and have learned from, a wide range of thoughtful and gracious comments, some critical, some supportive, some inbetween. I have tried to be responsive to well intentioned criticism, learn from my mistakes, and express gratitude to all those who have used the comment section in a constructive spirit. I welcome further discussion on this theme, a continuing struggle to find the right balance for a blog with an avowedly emancipatory political agenda. I offer no apology for this posture of dedication to the pursuit of global justice.
I am most grateful to all those that have given me feedback and support, and made me feel that despite the overcrowded blogosphere, these posts of mine are not completely superfluous wilderness whimperings, and reach a community of co-believers that shares with me the vision that our lives on this planet are spiritual journeys, really pilgrimages.
You make a reasonable case against my blog policy that I have adopted reluctantly. My main disagreement with you is that I do not consider a blog to be a venue for free speech, but rather for civil discourse. I had many complaints about allowing recurrent email that took issue repeatedly and consistently with my views.
This blog has nothing to do with my role as a UN Special Rapporteur, which in any event is a burdensome unpaid position that I do as conscientiously as possible. I consider the blog, a birthday gift from my daughter, to be a semi-private way of communicating with likeminded persons, not that all the comments, such as the one you refer to, are to my liking. I do not expect you to understand or accept my view on this issue, but at least I thought it worthwhile to offer this response, and it leads me to think that I should address the issue briefly in a future post.