By Richard Falk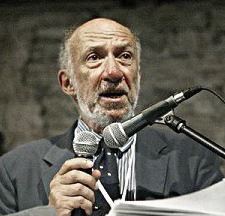 There is something particularly distressing about the ongoing debate on authorizing an internationally illegal and immoral military attack on Syria: a show of political support on the right. Such a 'coming together' of some of the center and much of the right in the American Congress has been sadly absent during Obama presidency until now, whether the issue was health, taxes, social services, keeping the government running, and immigration.
And this support emerges on the rare occasion when a majority of American citizens, not known for their cosmopolitan sentiments or affection for the UN Charter, oppose attacking Syria, as was the British Parliament, and as is public opinion throughout Europe. In such a setting, it is not only international law and the UN are being repudiated in a war/peace situation, but the whole fabric of democratic accountability to law and the judgment of the people.
At least we can conclude that the reactionary tendency in American political life over the course of the last decade or so is consistent in its adherence to irresponsible means in the pursuit of irresponsible ends. It appears that the real selling point for the looming attack on Syria is not for the sake of the Syrians, but to warn the leadership of Iran that it is next on the White House hit list unless it soon surrenders to Washington's demands, echoing those more stridently made by Israel.
Is this what global leadership of the United States has come to mean? To let adversaries be reminded that the global bully means business.
And what about damaging the Obama legacy? There is a loss/loss feeling about the eventual attack, if indeed it should happen. If the attack on Syria is truly limited and does not produce many civilian casualties, his Republican champions, including such hawkish stalwarts as Senators McCain and Graham, will quickly change sides, arguing that doing such a slap on the wrist is worse than doing nothing. The broadening of the Congressional resolution suggests that the hawk support depends on launching a major attack that has much wider ambitions than what Obama seemed to favor in his call to Congress for authorization. Does he heed his earlier concept of the attack or go along with his more militarist supporters?
If, as seems probable, there are casualties, retaliations, escalation, diplomatic fallout, persisting civil strife, cross border spillover effects, then Obama is almost sure to face a grassroots protest movement expressing national and global disaffection, and including some of those Democrats who go along because a 'red line' once drawn by an American president needs to get respect, even if the cost of doing so is irresponsible, irrational, imprudent, illegal, and immoral.
Carrying out Obama's preferred course of action would mean reverting to the once derided 'Nixon madman' approach to foreign policy, that is, inhibiting the Kremlin during the height of the Cold War by making their leaders believe that the American president was trigger-happy and crazy. Do whatever it takes to make sure else that America is feared around the world, endowing even its ill-advised threats with maximum potency.
This iron fist style of 'keeping of the peace' is totally divorced from adherence to international law and support for the UN. It excessively values keeping 'the military option' on the table at all times in the hope of either annihilating its enemies or make them suffer the consequences of opposition to Washington ideas about how to run the world.
If Congress responds with an authorization for force in Syria, and even in a form that exceeds what the president requested, it will no doubt recall the last major Congressional dark folly: the infamous Gulf of Tonkin resolution, giving Lyndon B. Johnson a blank check to widen the Vietnam War in ways of his devising. His first step was to escalate the American engagement by attacking North Vietnam from air and sea in 1965. It is never pleasant to revive bad memories except possibly to avoid another foreign policy fiasco, as well as to deepen the impression that America as a imperial superpower has lost its capacity to learn from past mistakes.
Dear friends, if the only way America can seem strong is to cast itself in the role of global bully, supplanting the earlier somewhat more understandable imperial cover of pax Americana, then the wise and virtuous will conclude, if they have not already, that America is actually weak.
In this century true strength will not be measured by degrees of military dominance and battlefield victories, but by helping to solve the growing agenda of national, regional, and global problems endangering the future of humanity.
Such a constructive path can only be taken if the major states show respect for international law and the UN Charter as the foundational premises of a sustainable world order. Thinking otherwise, that the history will be interpreted from the militarist perspectives of those who base human and societal security on a global war machine places global civilizations, and even the human species, on a slippery slope of extinction, nothing less! At this time, we need to fear more a clash of rationalities than a clash of civilizations, although both should be transcended.
Could it not be offered in response that such thoughts are a hysterical over-reaction to what will be at worst a flash flood soon to be forgotten? Along these lines, it is contended that any attack on Syria is likely to be over in several days (although the current language of the resolution offers a wide open window to war making by extending authorization to 90 days), the reaction by Syria and its friends, if any is forthcoming, will probably be muted, and life in America, the Middle East, and the world will return to what passes for 'normalcy.' Even if we assume that such a moderate unfolding is more or less accurate foretelling, yet even so, the effect would be deeply destructive. It will enable most of us to remain ignorant of an underlying frightening reality: our body politic suffers from this crippling disease of 'martialitus' for which there is no known cure, and at present not even a widely agreed upon diagnosis. Indeed, the disgraceful edifice of global surveillance may have as its primary task suppressing knowledge that our political leaders suffer from severe versions of this disease. Snowden, Manning, and Assange were likely seen to pose such a great danger because they were attempting to remove the geopolitical cataracts clouding our vision of such a distressing political reality. After such knowledge, there would be no forgiveness, only urgent responsibilities. Under these conditions cultivating the false consciousness of normalcy is itself an ominous sign of a collective refusal to acknowledge the disease, much less to begin treating it by such moves as a Congressional resolution requiring the president to obtain authorization for non-defensive force from the United Nations and under all circumstances act in accordance with the requirements of international law as objectively determined. It would be also important to insist that the government move toward fulfilling its obligations under the Nonproliferation Treaty of 1968 by tabling a proposal for phased and verified nuclear disarmament. It may also be appropriate to introduce a resolution in Congress that would make mandatory a declaration of war in all instances where international force was to be used by the United States other than in circumstances of genuinely imminent foreign attack.