Archive for the 'EU security' Category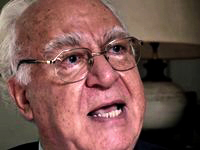 By Farhang Jahanpour
Last year's U.S. presidential election campaign was the most acrimonious in recent history. The debates were personal and bad-tempered. Some email leaks from the Democratic National Committee showed that the committee had been actively trying to undermine Senator Bernie Sanders' presidential campaign in favor of his rival Hillary Clinton, which deprived both of them of victory in the election.
On the Republican side, most candidates engaged in crude personal attacks against each other. Senator Marco Rubio hit an extreme low by referring to Donald Trump's small hands, and Trump retorted that Rubio had "really large ears" and gave him the nickname of "Little Marco".
Trump called Senator Ted Cruz "the single biggest liar" and threatened that "he would spill the beans" on his wife. Trump also constantly referred to his Democratic rival as "Crooked Hillary", with the crowds chanting: "lock her up".
The campaign manifested a level of vulgarity that has been unprecedented in American politics. Based on Trump's comments about women, blacks, Mexicans, Muslims, etc. many American commentators have described him as racist, sexist, homophobic, xenophobic, and narcissistic.
However, alongside those controversial remarks, Trump also gave the impression that if he were elected his presidency would mark a major break with the past and would usher in a more peaceful world and a more constructive relationship with Russia.
Trump strongly criticized the invasion of Iraq, the trillions of dollars that were spent on it and the hundreds of thousands of lives lost. He hinted that his administration would not interfere in the internal affairs of other countries and would concentrate on "making America great again".
Donald Trump won the election on the basis of Electoral College votes, yet his victory was far from impressive. Some 40% of registered voters didn't vote. Of the 60% who voted, Trump got a little more than 28% of the vote. His 62 million votes constituted 18% of America's 340 million people, and Hillary Clinton received nearly three million more popular votes than Trump did.
So, although technically Trump won, he certainly has no decisive mandate. He is also the only president to have come to office with no previous elected post and no public or military service, even at a junior level, and not even having the support of leading Republicans.
An administration filled with generals and millionaires
President Trump formed a cabinet of generals and millionaires, basically to boost his own ego, because he feels strong in the company of generals and rich people. Read the rest of this entry »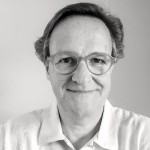 By Jan Oberg
Jan Oberg's comment on Chancellor Merkel's speech at the Munich security conference where she mentioned the duty Europe has to receive refugees and also reiterated that Germany will do its best to increase its military budget to 2% of its GDP.
Apart from this one can only get very sad and pessimistic when reading the comments underneath this sequence: Boundless hate against Merkel herself, racism, anti-Islam, anti-Semitism – and not one (of the first 70+ comments) on the issue of NATO, the risk of war or on what I brought up about the need for new, less militarist policies, less interventionism and better ways of handling the refugees.
Anger and hatred just under the surface, brought out mostly anonymously. No reasoning, just smear.
We still have a long long way to go in terms of public education…
Here the short video comment on PressTV where you can also see those comments.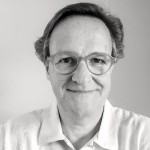 By Jan Oberg
On the occasion of NATO's defence minister meeting on February 15-16 discussing NATO, Ukraine, Crimea, Syria and the eternal threat images which are fake – with former Assistant Secretary of Defence of the United States, Mr. Lawrence J. Korb.
I'm afraid he got some stuff wrong such as the establishment of NATO and whether or not Kosovo is part of the Balkans.
He also believed that NATO's 1999 bombing of Serbia-Kosovo had a UN Security Council mandate.
Enjoy those small moment and the rest where I am trying to present some more general thourght on why the whole NATO philosophy is outdated – the only point where I agree with President Trump…

Media experience and policy
Lots of people in the debate seem to believe there is something strange about being in the "propaganda" media of "enemies of the West" – read the global Iran's PressTV and Russia's Russia Today.
What they don't seem to have acknowledged is that tons of Westerners are being interviewed and do commenting (like myself for years) at these media. Here is Mr. Korb with me at Iran's international TV channel.
What they also don't know is something I am sorry to report: I've met attempts at manipulation and "editing" and censorship with a series of Western mainstream media, not the least in my native Denmark, but I have not experience any of that even once with Russia Today and PressTV. Very decent professionals!
So much for the free press and for the propaganda channels. My personal problems is, which is which?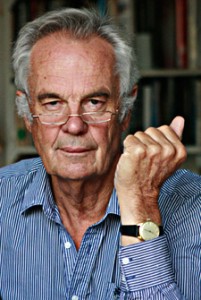 By Jonathan Power
February 7th. 2017
So what does President Donald Trump think about Nato? Twice during his campaign he rubbished it publically, saying it was "obsolete". Yet earlier this month when he met the UK's prime minister, Therese May, it was all hunky dory. He told her he supported Nato 100%.
There are some – a few – influential people who have argued that Nato is indeed obsolete. One of these was William Pfaff, the late, much esteemed, columnist for the International Herald Tribune. Another is Paul Hockenos who set out his views in a seminal article in World Policy Journal. Their words fell on deaf ears.
President George H.W. Bush saw it differently and wanted to see the Soviet Union more involved in Nato's day to day work. President Bill Clinton had another agenda – and one that turned out to be a dangerous one, triggering over time Russia's present day hostility towards the West – to expand Nato, incorporating one by one Russia's former east European allies.
His successors continued that approach with Barack Obama at one time raising a red rag to a bull by calling for the entry into Nato of Ukraine and Georgia. Read the rest of this entry »
Comment by Jan Oberg
The Malta EU meeting is expressive of militarism, colonialism and racism in one. Is it time perhaps to call the EU the Evil Union? People outside, in the rest of the world sees this and will draw their conclusions.
And an – admittedly unconventional – proposal on what to do with the politicians who are responsible for the destruction of Libya.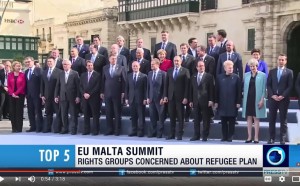 TFF director Jan Oberg comments on the important, positive commitment of the EU foreign policy chief on the JPCOA with Iran.
By Jan Oberg
– who speaks to PressTV about The Jungle camp in Calais and children gone missing since it was destroyed.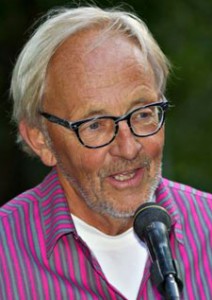 By Gunnar Westberg
Formuleringen ""NATO:s nya, mer aggressiva kärnvapenpolicy" har två grunder, nämligen de nya vapnen och de nya formuleringarna av doktriner.
Jag föreslår att vi, när vi talar om NATO och kärnvapen, använder formuleringar liknande den första meningen. Vill man förklara sig ger andra meningen ett svar. Men det är under alla omständigheter bra om man har tillgång till nedanstående argument:
De gamla B61 var symboliska vapen. De skulle, enligt ofta upprepade försäkringar, inte användas. De var en pant på att USA inte skulle överge Europa vid ett sovjetiskt/ryskt anfall. USA har föreslagit att dessa vapen skulle tas bort, men öst-europeiska NATO-medlemmar och framför allt Frankrike (!) har starkt reagerat emot.
De nya vapnen är B 61-12. Denna bomb skiljer sig från tidigare versioner av B61 som var "gravity bombs", d v s föll fritt från bombplanet. B 61-12 är styrbart och har därför en träffsäkerhet inom 30 m radie. B 61-12 har en variable laddning på 0,3-340kt. Bomben förefaller vara kapabel att penetrera mer än 3 m vanlig jord innan den detonerar. Effekten på djupet blir därför flera gånger större än en bomb av motsvarande laddning skulle ge utan penetrerande förmåga.
B 61-12 blir alltså ett effektivt vapen mot vissa underjordiska mål. Bomberna har sannolikt en plats i nya, ännu inte offentliga doktriner om kärnvapen-användning, i motsats till avskräckning. Read the rest of this entry »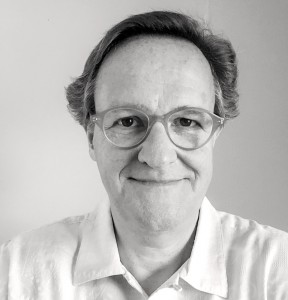 By Jan Oberg

TFF Series "The New Cold War" # 6
How did Western Europe survive the much stronger Soviet Union & Warsaw Pact 30-40 years ago? A pact that had about 70% of NATO's military expenditures where today's Russia has 8%? How did we get on after the Soviet invasion of Hungary and Czechoslovakia – and a Union with much more global military and political influence?
Europe did so through a well-maintained military capacity, or superiority, technical superiority and, of fundamental importance to security – confidence-building measures (CBM).
And through a political leadership by personalities who knew what the 2nd World War had implied and why it must never happen again. One towering figure of course being Willy Brandt, the German chancellor who had himself been a refugee in Norway during the war.
CBMs were meant to both uphold a high level of war-fighting capacity while also seeking military early information/warning, attending each other's military exercises, etc. They resulted in the establishment of the very important OSCE – Organisation for Security and Co-operation (then C for Conference) in Europe with the Helsinki Final Act of 1 August1975. It contained politico-military, economic, environmental and human rights dimensions – 'baskets' that were seen as related to each other and which served as dialogue points between the two blocs.
The visionary President Urho Kekkonen of Finland was credited as the main architect of the CSCE – and his Finland was neutral but upheld a co-operation agreement with the Soviet Union.
Finland was also the only country in the European space that could show opinions polls according to which the people felt equidistant to both blocs.
The simple but brilliant idea was this: We need dialogue to feel secure. It was also called Detente. And it implied a disarmament dimension – negotiations about how to mutually scrap weapons in a measured and verifiable manner that both sides had decided they no longer needed.
These negotiations included not only conventional weapons but also the arsenals of nuclear weapons.
In the domain of nuclear weapons, the Non-Proliferation Treaty, NPT, was signed in 1970 and carried four very important provisions:
1) the world shall move towards general and complete disarmament and the nuclear weapons shall be abolished;
2) those who have nuclear weapons shall negotiated them down, in principle to zero and
3) as a quid pro quo for that all non-nuclear weapons shall abstain from obtaining nuclear weapons – and
4) countries who want nuclear energy shall be assisted to introduce this civilian energy technology.
All this happened in the era of Detente and CBM. How had that become possible? Read the rest of this entry »
Commenting on PressTv on July 22, 2016 after yet another tragedy in the Mediterranean.
But how much did the media cover that in comparison with the Nice tragedy – and Hollande's killing of 120 innocent civilians as revenge for Nice (which at the time was not known to have any connections to ISIS or similar)?