By Biljana Vankovska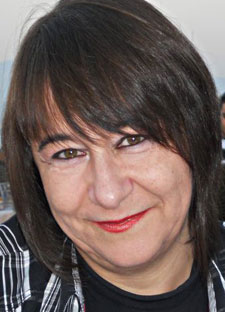 In the eve of the holiday season last year I had decided to devote my column to a nonconventional theme. Instead of a usual text for this time of a year I wrote about happiness, the one that is not a gift of/by the state/politics but the one that is achieved in spite of it. My readers graded it quite poorly. Aware that the same may happen again I have decided to dedicate this last column in 2011 to a similar issue. This time it is a short and unexpected tractate in defence of love.
I say "unexpected" not only because love is not deemed an appropriate topic for a newspaper column but also because in the public discourse she is treated as a refugee, an orphan or a money-making topic. Love (somewhat like ethics) has been expelled from the public sphere as pathetic and undeserving except when it appears in a form of love for nation, state, ethnicity or religion.
So what's going on with love in the individuals' intimate sphere? She is an object of interest in the yellow media that vulgarize it, portraying and mocking it as romantic foolishness or piquancy that makes profit. Incentive for my column in defence of love came from a columnist who has recently declared love clinically dead: no money, no love. In his 'wise' words, with no money, in poverty, there could be no love. Money is what brings together yellow media and 'green' columnists, although later allegedly cry over love's death, presenting it as socio-economic issue.
In this vulgar-materialistic interpretation, love (including its erotic side) is dumped on her knees, humiliated and financially valuated. Full stomach, along with the full wallet, is a key precondition for love's appearance (my colleague-columnist even makes a wrong equation between love and marriage).
In time of general deceit equally false is the opposite stand that glorifies "power of love" and gives her divine dimension regardless the context. Such a forged love story appeared on the publishing/Hollywood market a few years ago: the American public (led by Oprah) hungrily swallowed an invented moving narrative about love born in a Nazi camp. It almost proved Adorno wrong when he said that after Auschwitz it is barbaric to write poetry.
Apparently, just a few decades later the public readily embraced a sweetened story of love born in a place created to serve death. Love that triumphs over death has been eternal preoccupation of many novelists and poets but now it gets a new vigor thanks to the masters of virtual reality and mass propaganda. Rosenblatt, the author of the forged love story, later on tried to explain his motivation as virtuous as all he wanted was to bring back hope and happiness to the people. Obviously, many want to be lied to even in a bizarre manner. Luckily, Macedonia is neither Hollywood not concentration camp in spite of the numerous attempts to present it in either way.
It's not a coincidence that I felt urge to address this issue. The holiday season imposes its own themes, which are mostly artificial: the cities are beautified and enlightened so that their ugliness is temporarily covered, while the people put on their smiling faces while exchange their best wishes among themselves. The terror of happiness seems to reign everywhere. Artificial criteria of beauty and happiness accompany commercialization of happiness, success and pleasure, and love is not exempted from this public show.
But true love is a joy by her own merits. She does not need special occasions in order to be celebrated or lived. Overwhelmed by inflation of (mostly courteous) wishes for happiness and love, few truly reflect on their essence. Against the dominant belief, there are far too many people with fat wallets and full stomachs who are not happy, and even less loved or able to love. However, it would be wrong to jump to the opposite conclusion that poor and hungry people are, by definition, more open and able to recognize the happiness of love.
The main character from my colleague's column could not get married because (according to his words) he did not have conditions for that (small salary, no apartment of his own, etc.) and he could not find a decent girl due to the moral decadence in the society that does not respect traditional values. If this 'hero' was an archetype there would have been no hope for the mankind. Happily, love is blind and does not know discrimination: she affects both rich and poor, those on the North and in the South, in the EU and far from it, regardless the race, social status and education. She does not care if the time, the place or age is right!
The amateurish attempt to prove a strong correlation between the wallet and ability to love somebody is correct only in somebody's 'socio-economic' analyses and columns. Love herself does not permit generalizations or statistical operations: she is always only one of its kind and incomparable. That's why each of us believes that love has begun with our experience. Only a coward or egoist will always be able to find an excuse that the time is not ripe, the government's economic policy is wrong, the apartments are too small or s/he should first get into NATO/EU.
Wise old Pascal said that the heart has reasons that reason cannot know. Thus love is all about here and now and not a rational choice or the pocket. To love has never and nowhere been an easy matter. It is not even today… It has always presupposed overcoming barriers, those of one's own fear (from failure), but also the social, ethnic, religious, cultural, educational, racial…
Just recollect the most beautiful Arundathi's book "The God of small things"! A verse that is particularly dear to me reads: "it is so hard to love you on a place as imperfect as the world, where everything tries to break and to silence us, where everything deceives and separates us". True love awakens asleep feelings of beauty, makes us seek harmony between serenity (being at home with somebody) and passion, but most of all love is about selflessness and sacrifice for the sake of the wellbeing of the beloved one.
Hesse wrote that love isn't there to make us happy, while Blake adds that love builds a Heaven in Hell's despair. Thus it's greater happiness to be a victim of love ache than not to love with a silly excuse that you "haven't acquired the necessary living conditions". The hero from my colleague's column should not be pitied for not having higher living standard and for not having married, but for not being in love at all.
Instead of classical greeting card, and rather as a reminder, my dear friend Linda from Jordan sent me Neruda's poem that reads
You start dying slowly
If you do not risk what is safe for the uncertain,
If you do not go after a dream,
If you do not allow yourself,
At least once in your lifetime,
To run away from sensible advice…
And my message to you these days is alike: live now, love now! Do not wait till better conditions are created, do not wait until a new merry Christmas or a new two thousand and something year to come!