Archive for the 'Israel/Palestine' Category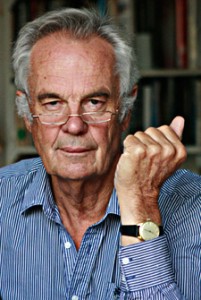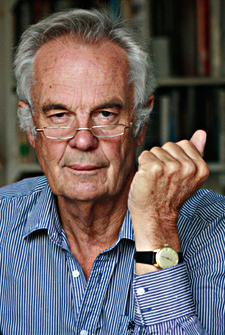 By Jonathan Power
Poets as diverse as William Blake and Yehuda Amichai have sung the praises of the heavenly Jerusalem, a land without strife or rancour, war or bitterness, envy, acquisitiveness or hatred. Until last week and President Donald Trump's decision to recognize Jerusalem as Israel's de facto capital, Israel, Fatah, Hamas and their common interlocutor, the US, had the historic opportunity to take a giant step towards making the present day Jerusalem acquire, at least in some of its aspects, the earthly prototype of the heavenly Jerusalem. Some of us have long hoped to see whether the work over decades of many imams, rabbis, ministers and priests could bear fruit. The secular politicians may be the ones doing the negotiations and ordering the compromises but it is the teachers of the three great deistic religions who have been charged from above to exert their mandate to teach compassion, goodness, tolerance and brotherhood, and make a non-aligned Jerusalem the centre that brings the three Abrahamic religions into an embrace.
These traits of virtue, as common to them all as is their God, is being tested in the hottest of fires. Have their peoples imbibed the true message of their faith? The question for this Christmas month is can enough of them stand up against the new alliance of Trump and prime minister Benjamin Netanyahu? Read the rest of this entry »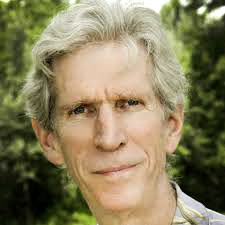 By Gareth Porter
In September 2007, Israeli warplanes bombed a building in eastern Syria that the Israelis claimed held a covert nuclear reactor that had been built with North Korean assistance. Seven months later, the CIA released an extraordinary 11-minute video and mounted press and Congressional briefings that supported that claim.
But nothing about that alleged reactor in the Syrian desert turns out to be what it appeared at the time. The evidence now available shows that there was no such nuclear reactor, and that the Israelis had misled George W. Bush's administration into believing that it was in order to draw the United States into bombing missile storage sites in Syria. Other evidence now suggests, moreover, that the Syrian government had led the Israelis to believe wrongly that it was a key storage site for Hezbollah missiles and rockets.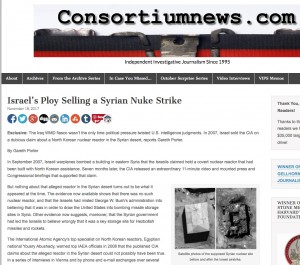 Continue reading Porter's investigative report at ConsortiumNews.com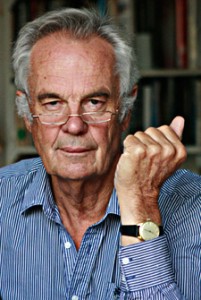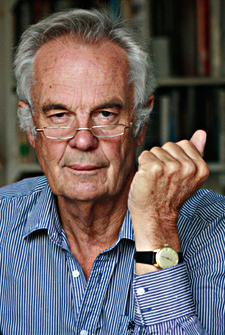 By Jonathan Power
November 7, 2017
Even former US president Jimmy Carter who single handily (without much Jewish appreciation) did more to make Israel secure than any other living person confesses neither he nor anyone can change the march of demographics.
Within the boundaries of the Holy Land there are just over 6 million Jews and 6 million Palestinians. The Palestinian birth rate is almost three times that of the Israeli Jews. If anything the Jewish population is starting to fall as an increasing number of Jews decide that Israel has no future for them and emigrate.
Another former US president, Richard Nixon, when asked by Patrick Buchanan how he saw the future of Israel, turned down his thumb "like a Roman emperor at the gladiators' arena".
Perhaps we are witnessing the death of Israel by a thousand cuts, the friction of conflict and the attrition of population. Read the rest of this entry »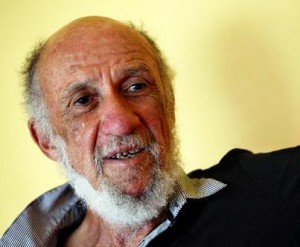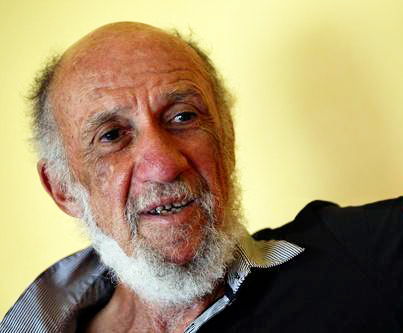 By Richard Falk
Prefatory Note
This post is a slightly modified version of my presentation to the Human Rights Commission of the Italian Parliament on October 11, 2017. The Commission is composed of members of Parliament and chaired by Hon. Pia Elda Locatelli, representing the city of Bergamo. The presentation was followed by a discussion, and a generally favourable response on the central issue of switching from an emphasis on 'occupation' to 'apartheid.'
An Overview of Present Realities
We meet at a difficult time from the perspective of the Palestinian people: several developments nationally, regionally, and internationally now deprive Palestinians of that glimmer of hope that comes from seeing light at the end of the tunnel; more fully appraised, the situation is not as bleak for Palestinians as the picture of their struggle being painted from a realistic perspective.
A series of factors pointing in both directions can be identified, first to highlight the negative developments from a Palestinian perspective, and then to set forth several developments that are positive with regard to the Palestinian national movement aiming for decades to achieve a just and sustainable peace.
(1) The foreign policy priorities of regional and international political actors have increasingly shifted attention away from the Palestinian ordeal; developments internal to Israel have deliberately accentuated this inattention to Palestinian goals and rights; of special relevance in these regards are the ongoing wars and turmoil in Syria, Yemen, Libya, and Iraq, as well as deteriorating relations and rising tensions of the Iran/US relationship.
Further, there are the moves toward normalization of relations with Israel by the Gulf countries, especially Saudi Arabia; and the unsteady diplomatic approach of the Trump presidency that seems accurately interpreted as supportive of whatever the Israeli government chooses to do, including even accelerated settlement expansion and a rejection of the Palestinian right of self-determination.
(2) Israel and Zionist support groups have launched a variety of initiatives designed to convince the Palestinians that they have been defeated, that their struggle is essentially futile at this stage, and they should move on for their own sake, overtly renouncing their struggle and posture of resistance.
The pro-Zionist Middle East Forum, founded by Daniel Pipes has even sponsored a so-called 'victory caucus' that basically proclaims an Israeli victory as a way of demoralizing Palestinian activism and global solidarity efforts by treating Palestinian goals as a lost cause. Read the rest of this entry »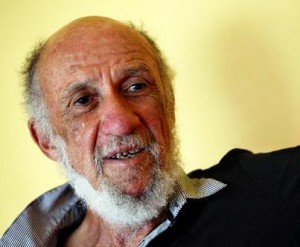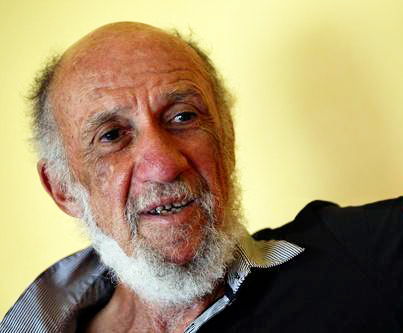 By Richard Falk
International law is mainly supportive of Palestinian grievances with respect to Israel, as well as offering both Israelis and Palestinians a reliable marker as to how these two peoples could live normally together in the future if the appropriate political will existed on both sides to reach a sustainable peace.
International law is also helpful in clarifying the evolution of the Palestinian struggle for self-determination over the course of the last hundred years. It is clarifying to realize how the law itself has evolved during this past century in ways that bear on our sense of right and wrong in the current phase of the struggle.
Yet at the same time, as the Palestinians have painfully learned, to have international law clearly on your side is not the end of the story. The politics of effective control often cruelly override moral and legal norms that stand in its way, and this is what has happened over the course of the last hundred years with no end in sight.
The Relevance of History
2017 is the anniversary of three crucial milestones in this narrative:
(1) the issuance of the Balfour Declaration by the British Foreign Secretary a hundred years ago pledging support to the World Zionist Movement in their campaign to establish a homeland for the Jewish people in Palestine;
(2) the passage of UN General Assembly Resolution 181 seventy years ago proposing the partition of Palestine between the two peoples along with the internationalization of the city of Jerusalem as a proposed political compromise between Arabs and Jews; and
(3) the Israel military occupation of the West Bank, East Jerusalem, and the Gaza Strip over fifty years ago after the 1967 War.
Each of these milestones represents a major development in the underlying struggle.
Each combines an Israeli disregard of international law the result of which is to inflict major injustices on the Palestinian people. Without due regard for this past, it will not be possible to understand the present encounters between Israelis and Palestinians or to shape a future beneficial for both peoples that must take due account of the past without ignoring the realities of the present.
Israel is sophisticated about its use of international law, invoking it vigorously to support its claims to act in ways often motivated by territorial ambitions and national security goals, while readily evading or defying international law when the constraints of its rules interfere with the pursuit of high priority national goals, especially policies of continuous territorial encroachment at the expense of reasonable Palestinian expectations and related legally entrenched rights.
To gain perspective, history is crucial, but not without some unexpected features. Read the rest of this entry »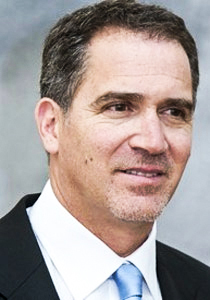 By Miko Peled
Israel breathes a sigh of relief as trump leaves the region with no offer of a "deal" allowing it to continue to kill, displace, arrest and torture Palestinians take their land and water and give it to Jews.
Trump's visit to Jerusalem was like Cesar coming to visit the far away provinces. Israel welcomed him with smiles, flags and a perfectly orchestrated military parade, while Palestinians signaled their feelings by staging an all-out general strike – the first all out strike that included 1948 Palestine in over twenty years.
The strike and protests, the significance of which likely went over Trumps head, was also an expression of solidarity with hunger-striking prisoners who at this point have gone without food for close to forty days.
Continue reading this article on Miko Peled's extremely important blog.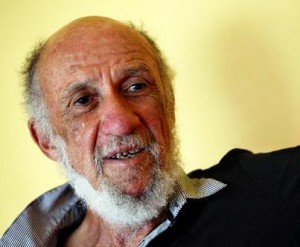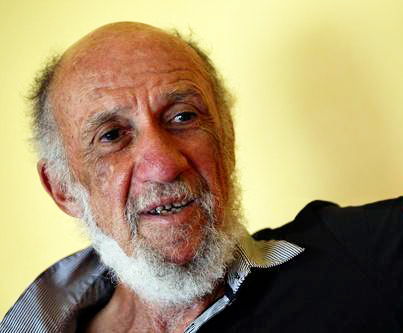 By Richard Falk
In his first overseas trip since moving into the White House, Donald Trump is leaving behind the frustrations, allegations, rumors, and an increasing sense of implosion that seems to be dooming his presidency during its second hundred days.
At the same time, a mixture of curiosity and apprehension awaits this new leader wherever he goes making his visit to the Middle East and Europe momentous occasions for the host governments, wide eyed public, and rapacious media.
We need to remember that in this era of popular autocrats and surging right-wing populists, Trump is a 'hero of our time.'
Even if all had gone smoothly for the new president in his home country, there should be expressions of deep concern about his travel itinerary.
He visits first the two countries with which the United States has 'special relationships' in the Middle East, Saudi Arabia and Israel. What has long made them 'special' are a series of pre-Trump departures from realist and normative foreign policy orientations by successive American presidencies. These departures were motivated by oil geopolitics, arms sales and strategic alliances, hostility to Iran, and a disguised American sweet spot for foreign royalty.
It is has long been obvious that uncritical deference to Israeli priorities has seriously undermined U.S. foreign policy in the Middle East, which would have benefitted much more from policies designed to encourage peace and stability by refraining from regime-changing interventions, massive arms sales, and a diplomacy of respect for the politics of national self-determination.
Most remarkably, the U.S. Government has for decades winked at the billions of support given by Saudi members of the royal family to Wahabism, that is, to promote fundamentalist Islam, throughout the Muslim world. The first words uttered by Trump on his arrival in Riyadh were that it 'an honor' to be visiting.
Then came signed deals adding up to $110 billions in arms sales and the declaration of a common strategic vision, that is, a super-alliance, called an 'Arab NATO' in some circles, a dagger aimed at Iran's heart. Why turn a blind eye toward the Saudi role in fanning the flames of jihadism while ramping up a military threat to relatively passive Iran that reelected Hassan Rouhani as its president, who has consistently championed moderation at home and normalization abroad.
How can we explain this? Read the rest of this entry »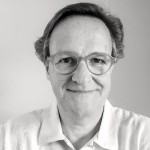 By Jan Oberg
The role – again – of marketing companies in selling wars
Few wars have been so thoroughly media-managed and marketing-loaded as that on Syria. No wonder arms deals are too – otherwise citizens around the world would protest loudly that their tax money is spent on destruction and more destruction and all the promises of the past that this – or that – arms deal will increase security and peace in the world have turned out to be fake information – disinformation – and an integral part of what can only be termed "fearology" by governments against their own people.
One must therefore welcome Russia Today's excellent research by Alexey Yaroshevsky also on this dimension.
This report is high-speed but listen carefully to it as it points out two US companies associated with this deal and US-Saudi relations with questionable image – a report that also highlight to some extent the roles of both Bill and Hillary Clinton in all this: the Qorvis MSLGroup and Burson-Marsteller.
In passing one cannot but deplore that it is Russia Today, not its Western peers, that does the research on the role of PR and marketing firms.
NATO in Gulf with Denmark as a liaison?
Back to NATO in Kuwait and what it may mean.
Here is what the United Arab Emirates' daily The National reported on January 24, 2017. Interestingly, Kuwait, Qatar, Bahrain and the UAE are members of ICI – the Istanbul Cooperation Initiative – while Saudi Arabia and Oman plan to join. This is exactly the coalition we have mentioned above.
Three days later the same sources quotes the Danish ambassador in the UAE: "Nato officials are expected to visit in coming months after the Danish embassy in Abu Dhabi becomes the country's go-between with the bloc, said Merete Juhl, the Danish ambassador. Read the rest of this entry »