Archive for the 'Cold War – new' Category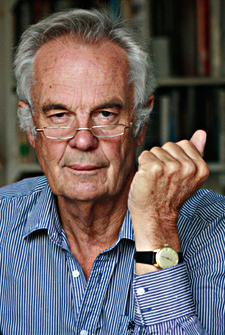 By Jonathan Power
August 1, 2017
Now a few recent words from Jack Matlock who was US ambassador to Moscow under presidents Reagan and Bush senior:
"The Ukraine crisis is a product, in large part, of the policy of indefinite expansion of Nato to the east. If there had been no possibility of Ukraine ever becoming part of Nato, and therefore Sevastopol (the ex-Soviet naval port in Crimea) becoming a Nato base Russia would not have invaded Crimea."
He goes on to say: "Americans have lived for nearly two centuries with the Monroe Doctrine [which forbids non-Americans to seize land or intervene in Latin America]. Why don't we understand that other countries are sensitive about military bases from potential rivals not only coming up to their borders, but taking land which historically they have considered theirs.
These are extremely emotional issues – issues that are made to order for any authoritarian leader that wants to strengthen his rule". In a recent issue of Foreign Affairs, Alexander Lukin, vice-president of the Diplomatic Academy of the Russian Ministry of Foreign Affairs, adds a point: "It was only a matter of time before Russia finally reacted to Western encirclement".
Matlock's final point is that, "You have almost a clique in Washington that just can't look at any atrocity in the world without wanting the US to get involved militarily." [Despite Iraq and Libya which are falling to pieces, perhaps to be followed by Afghanistan.]
Matlock was the top Soviet expert in the Reagan Administration before he became ambassador. His great predecessor in this role, George Kennan, went to his grave warning that an expansion of Nato would be totally counterproductive. Read the rest of this entry »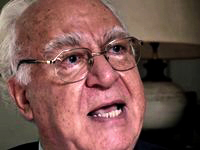 By Farhang Jahanpour
TFF Board member
June 29, 2017
TFF PressInfo # 419
On Monday 26th June, the White House released a statement saying that the United States had "identified potential preparations for another chemical attack by the Assad regime…" It went on to say: "If, however, Mr. Assad conducts another mass murder attack using chemical weapons, he and his military will pay a heavy price."
Nikki Haley, the US ambassador to the United Nations, followed that statement by tweeting, "Any further attacks done to the people of Syria will be blamed on Assad, but also on Russia & Iran who support him killing his own people."
On Tuesday morning, speaking on BBC 4 Today programme, the British Defence Minister Sir Michael Fallon was asked how Britain would respond to another American attack on Syria, and he responded "we will support" future US action in response to the use of chemical weapons in Syria.
With these unsubstantiated statements on Syria, the Trump Administration is dragging the world towards the law of the jungle. As if the situation in the Middle East was not bad enough, these warlike statements have made the situation much worse, and are in fact leading us towards a major confrontation in the Middle East with unimaginable consequences.
Some 14 years ago, in total violation of international law and without any authorization by the Security Council, former US President George W. Bush launched a barbaric attack on Iraq, which destroyed the country, killed and wounded more than a million people, and gave rise to ISIS that has since waged a campaign of terrorism throughout the world.
Far from having learned any lessons from that disastrous mistake, the Trump Administration seems intent on committing a similar mistake on a grander scale. During the campaign, Candidate Trump accused the former US Administration of having created ISIS, not indirectly but deliberately. He spoke about America having spent six trillion dollars on illegal wars in the Middle East and having nothing to show for it. He vowed that he would not be interested in regime change and was intent on resolving international disputes through negotiations and deals.
Whether he has changed his mind or whether the neocons in the Administration and the deep state have infiltrated and dominated his administration makes little difference. The clear fact is that the Trump Administration is acting in a dangerous and arrogant way and is dragging the world towards another catastrophe.
Shortly after coming to power, President Donald Trump and his disgraced National Security Advisor Michael Flynn singled Iran out for condemnation and put her on notice, despite the fact that the Iranian government had spent hundreds of hours in constructive talks not only with the United States, but with all the permanent members of the Security Council plus Germany and had reached a landmark agreement that was then endorsed by the Security Council.
The agreement blocked all the paths to Iran's acquisition of nuclear weapons, even if she ever had any intention of manufacturing them, something that Iran has denied, and years of investigation have not provided a shred of evidence to the contrary.
President Trump chose Saudi Arabia, the home of Wahhabi fundamentalism that has provided the ideological framework for nearly all the militant Sunni terrorist groups from Al Qaeda, to the Taliban, to Boko Haram and finally to ISIS and its various affiliates, which have created mayhem throughout the world, including the 9/11 terrorist attacks in the United States, as the venue for his first foreign visit. While in Riyadh, he bizarrely formed a "coalition against extremism" with Saudi leaders at its head.
However, as Trump made absolutely clear in his speech to the unelected Arab monarchs, the main aim of the coalition was to unite those Sunni potentates against Iran.
In the past few weeks, America has launched a number of attacks on the positions of the forces allied with the Syrian government in their battle against ISIS. On 18th May and 6th June, Read the rest of this entry »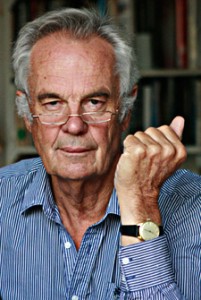 By Jonathan Power
June 6th 2017
It was all smiles out on the range last week when, against a deep blue sky, an American interceptor rocket took out an incoming "enemy" long-range, missile (which in a real attack would be carrying a nuclear warhead). Generals and Congressmen and women jumped for joy.
But what was there to be joyous about?
Over the decades of the Cold War the nuclear deterrent was supposed to be the instrument that kept the peace. MAD, it was called- Mutually Assured Destruction. Simply put, if you attacked me you might catch me by surprise and destroy many of my cities and military bases, but in fact you wouldn't dare do it because beyond surprise is my "second-strike force". Hidden away, deep underground, invulnerable to attack, I can retaliate with that.
So in real life you will not dare attack me and I won't attack you. That is a stalemate. That is deterrence.
Forget morality, forget the chance of a rogue or accidental launch – this is what the military say kept the peace throughout the Cold War, and maybe still does as the ice cap returns, argue its supporters.
However, if there is now going to be a big jump in technology and you can intercept my second-strike with your interceptor rockets we no longer have the surety of MAD. I'm wide open and you can "get me". You no longer fear retaliation and I will have no choice but to surrender after you have demolished some of my cities and military bases.
Fortunately, the technology is still in its early stages. Read the rest of this entry »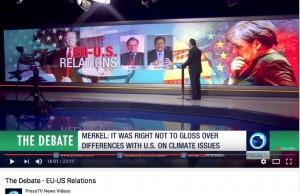 The Debate with Jim Walsh, MIT and Jan Oberg, TFF
Lund, Sweden – May 30, 2017
Last night "The Debate" on PressTV was devoted to the future of European-US relations in the wake of the NATO Summit, President Trump's words and omissions and the – historic – words, in particular, of Chancellor Angela Merkel immediately after.
Undoubtedly, we are at a turning point in these relations in general and for the NATO alliance in particular.
To discuss these issues – past, present and future perspectives – were Jim Walsh, senior research associate at MIT's Security Studies Program, Masschusetts, and Jan Oberg, director of TFF, Lund.
Thanks to PressTV's excellently structured program and interviewer we touched upon a series of aspects and dimensions around which we found both agreements and slight disagreements – all in a sober tone fit for public education and personal reflection.
We hope this debate will stimulate your own thoughts about the future of war, security and peace.
We'd be grateful for your sharing it to media people, students and other academics as well as to decision-makers in the field that you may know.
This is TFF Live on Facebook on the occasion of NATO's Summit in Brussels on May 25, 2017.
We use TFF Live on Facebook because it is handy, personal and interactive and because such live broadcasts have a larger organic spread that texts, images, links and even YouTube videos. And we want to make use of the technological developments as they help TFF reach out to ever more.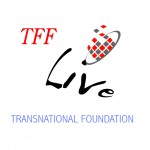 I feel very strongly about the harmful modes of operation of this US$ 900 billion giant element of the global Military-Industrial-Media-Academic Complex (MIMAC) and shall therefore be most grateful if you would spread it. This is the url of it. Thanks!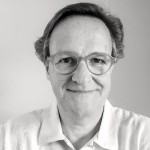 By Jan Oberg
Today, I am proud to say that NATO has a new home in the Gulf region. And that we have opened a new chapter in our deepening partnership.

NATO S-G, Jens Stoltenberg, in Kuwait on January 24, 2017
The Secretary-General also said this new home's "potential is enormous".
President Trump arrived on his first trip abroad to Saudi Arabia on May 19, 2017 and big things are supposed to happen, including Saudi Arabia presenting itself as a innovative, visionary leader of the region.
His visit must be seen in the light of a number of events and trends, and in what follows we do like the military when it scans the horizon for enemies: we look for patterns – not the least Saudi Arabia's "surprising new military goals" as Forbes' Ellen Wald appropriately calls them.
Or, as they say – we connect some dots that, invariable, Western mainstream media have no capacity and probably also no interest in connecting.
This pattern consists of at least these events and long-term trends:
1. The broadening of NATO cooperation with Gulf countries – one may even see a Middle Eastern NATO branch emerge.
2. Saudi Arabia's evident leadership in building a new multi-national army announced a couple of years ago and allegedly having 100.000 troops as a goal. This is an extension of the Gulf Cooperation Council's and its old to-be-replaced military arm, the Peninsula Shield Force
3. The intensified image in the US under Trump of Iran as a threat and a 'ganging up' against it.
4. The war on Syria's territory with hundreds of foreign conflict participants including NATO country Turkey and allies such as Saudi Arabia, the Gulf States and NATO members such as England and France – all in support of anti-government/regime change and pro-terrorists.
5. The second Cold War – very different from the first – between NATO and Russia which also has a Middle East dimension in that Russia is a vital partner of the Syrian government and the Syrian Arab Army.
6. The conflict formation that has Israeli as it's centre – Hezbollah, Iran, Syria (the Golan Heights), etc. If you want to know what Israel wants to use Trump's visit for it's clear from this analysis: More confrontation with Iran and cooperation with Saudi Arabia, also concerning Syria.
7. NATO's obvious crisis – the new Cold War around Ukraine; its second largest military member, Turkey, working closely with arch enemy Russia, ongoing trans-Atlantic conflicts about burden sharing etc.
This will suffice as an illustration of the complex web of inter-connected issues. There are surely more and we can't go through them all in this short article.
By way of introduction it should be mentioned that NATO has, as alliance, been engaged in the Middle East for a long time – through the Mediterranean Dialogue begun in 1994 and "elevated" to the Istanbul Cooperation Initiative ten years later in 2004.
What's going on now is, however, on a quite different scale.
The US-Saudi Arabia arms deal
The US and Saudi Arabia are to sign a huge – yet another – arms deal, valued at US$ 110 billion and, over a ten-year period perhaps mounting to as much as US$ 300 billion. It's been facilitated by Trump's son-in-law, Jared Kushner in a rather unconventional way.
Given that Saudi Arabia is the world 3rd largest military spender – i.e. directly after the US and China and, thus, bigger than Russia – this project must be seen in the realm of irrational militarism outside any domain of policies for peace in the Middle East.
And it's important to keep proportions and priorities clear in these affairs. OECD's Development Assistance Committee (DAC) spent more than $135bn (£90bn) in 2015 – i.e. the world's richest countries give about half of the value of this single arms deal to help poor countries manage and eradicate poverty.
It is a clear example of the vested interests of the Military-Industrial-Media-Academic Complex (MIMAC) that threatens the very survival of humanity and is way beyond democratic control. Western mainstream media's very subdued coverage of this – extreme – dimension of US foreign policy in general makes them complicit and justifies their inclusion in the MIMAC concept.
It goes without saying that this deal is marketed to the world as promoting stability, security and peace and as an important element in the global War On Terror. Given all the other weapons that have been pumped into the Middle East region the last 4-5 decades and all the countries that have been more or less turned into ruins – it's quite obvious why, as usual, there is no intellectual connection between this deal and the said goals.
For NATO and the mantras, media and marketing is everything.
Russia Today has done a rather decent piece of research on this (see below). Among other things, it makes clear that the deal includes weapons that have little, if anything, to do with fighting terrorism. One of them is the Terminal High Altitude Area Defense (THAAD) missile defense system from Lockheed Martin that the US is also stuffing down the throat of South Korea.
To be able to win war, not to prevent them.
If for a moment one applies some kind of security political logics to this deal, it's obvious that this build-up is directed – in the longer term perspective and with Israeli support, one must assume – against Iran and Syria. Israel's official view is expressed here – official because otherwise this minister would have been fired for such statements.
The military expenditure "correlation of forces"
Military expenditures is not the only measure of military might. Neither is it an indicator of who would win a war; contemporary history is full of examples of big spenders losing wars when attacking countries with smaller military budgets.
That said, if you do a search on "world military expenditures" you'll get a sense of who is willing and able to invest in the military and, also, a rough measure of both proportional allocation to the military sector and, above a certain level, an index of on dimension of militarism.
There are indexes by SIPRI and by the IISS and others – and here are the rough 'correlation of forces' pertaining to the countries we talk about here:
• Saudi Arabia is the 3rd or 4th largest military spender on earth after the US, China and perhaps Russia.
• Saudi Arabia spends about between US$ 64 and 82 billion annually (depending on source you consult), growing 20% per year and that is the extremely high 10 % of its GDP. Read the rest of this entry »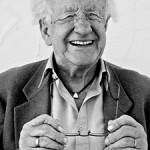 By Johan Galtung
A key slogan during the student revolt in Paris May 1968, soon 50 years ago, was Imagination au pouvoir! Bring imagination to power!
We were there, walking with thousands from Champs-Élysées to Place Etoile where a stentorian voice commanded us to sit in small groups in the circles under the Arch to "discuss the situation". So we did.
France is now suffering from more imagination deficit than ever. To call Le Pen-Front National "extreme right" when the issue is for or against the EU is not helpful.
Left-right was 20th century politics.
Why not think bigger, beyond EU: for or against EURASIA, Russia-China are ready? Trade fills trains London-Beijing; a West-East axis, not the old colonial obsession with North-South (neo)colonialism.
And how about both, EURASIAFRICA? They hang together geographically.
Another word for imagination is creativity. Read the rest of this entry »