Archive for the 'Migration and refugees' Category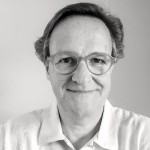 By Jan Oberg
Jan Oberg's comment on Chancellor Merkel's speech at the Munich security conference where she mentioned the duty Europe has to receive refugees and also reiterated that Germany will do its best to increase its military budget to 2% of its GDP.
Apart from this one can only get very sad and pessimistic when reading the comments underneath this sequence: Boundless hate against Merkel herself, racism, anti-Islam, anti-Semitism – and not one (of the first 70+ comments) on the issue of NATO, the risk of war or on what I brought up about the need for new, less militarist policies, less interventionism and better ways of handling the refugees.
Anger and hatred just under the surface, brought out mostly anonymously. No reasoning, just smear.
We still have a long long way to go in terms of public education…
Here the short video comment on PressTV where you can also see those comments.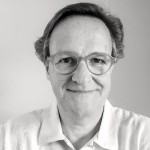 By Jan Oberg
On the occasion of NATO's defence minister meeting on February 15-16 discussing NATO, Ukraine, Crimea, Syria and the eternal threat images which are fake – with former Assistant Secretary of Defence of the United States, Mr. Lawrence J. Korb.
I'm afraid he got some stuff wrong such as the establishment of NATO and whether or not Kosovo is part of the Balkans.
He also believed that NATO's 1999 bombing of Serbia-Kosovo had a UN Security Council mandate.
Enjoy those small moment and the rest where I am trying to present some more general thourght on why the whole NATO philosophy is outdated – the only point where I agree with President Trump…

Media experience and policy
Lots of people in the debate seem to believe there is something strange about being in the "propaganda" media of "enemies of the West" – read the global Iran's PressTV and Russia's Russia Today.
What they don't seem to have acknowledged is that tons of Westerners are being interviewed and do commenting (like myself for years) at these media. Here is Mr. Korb with me at Iran's international TV channel.
What they also don't know is something I am sorry to report: I've met attempts at manipulation and "editing" and censorship with a series of Western mainstream media, not the least in my native Denmark, but I have not experience any of that even once with Russia Today and PressTV. Very decent professionals!
So much for the free press and for the propaganda channels. My personal problems is, which is which?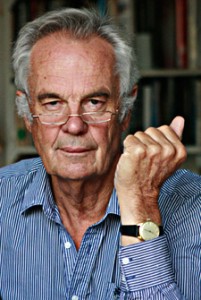 By Jonathan Power
February 7th. 2017
So what does President Donald Trump think about Nato? Twice during his campaign he rubbished it publically, saying it was "obsolete". Yet earlier this month when he met the UK's prime minister, Therese May, it was all hunky dory. He told her he supported Nato 100%.
There are some – a few – influential people who have argued that Nato is indeed obsolete. One of these was William Pfaff, the late, much esteemed, columnist for the International Herald Tribune. Another is Paul Hockenos who set out his views in a seminal article in World Policy Journal. Their words fell on deaf ears.
President George H.W. Bush saw it differently and wanted to see the Soviet Union more involved in Nato's day to day work. President Bill Clinton had another agenda – and one that turned out to be a dangerous one, triggering over time Russia's present day hostility towards the West – to expand Nato, incorporating one by one Russia's former east European allies.
His successors continued that approach with Barack Obama at one time raising a red rag to a bull by calling for the entry into Nato of Ukraine and Georgia. Read the rest of this entry »
Comment by Jan Oberg
The Malta EU meeting is expressive of militarism, colonialism and racism in one. Is it time perhaps to call the EU the Evil Union? People outside, in the rest of the world sees this and will draw their conclusions.
And an – admittedly unconventional – proposal on what to do with the politicians who are responsible for the destruction of Libya.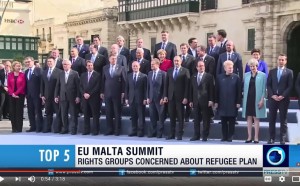 By Jan Oberg
I shot this simple video out of the window on December 13, 2016. I wonder about Aleppo and say #keepfocusonaleppo

© Jan Oberg 2016
Here in the Sheikh Najjar Industrial City outside Aleppo lived and worked 40,000 people. It had 50% of Syria's industrial capacity.
Today – after the occupation by Western-backed militants and terrorist groups, this is what is left.
I wonder why the Syrian government did not destroy this industrial city between 2000 and 2012. We are told that all this destruction is caused only by that side and the dictator kills his own.
I wonder where the terrorists used the weapons and spent the money they got from NATO countries – Turkey in particular – Saudi and Qatar since they did not do any of this here – according to Western media and the White Helmet reporters and a series of humanitarian organisations.
I also wonder where the Western left is? Solidarity with the workers who lived here?
No many among them defend this and want to arm this or that group even more.
The more I study, the more I wonder.
And something doesn't seem right.
By Jan Oberg
Commentinng on President Rouhani's plea for tolerance and no borders on Press TV, January 28, 2017
By Jan Oberg
This is one of several stories I just have to tell.
You can see the original in large format here.

The destruction of Eastern Aleppo, Syria by Jan Oberg on Exposure
Subscribe to this Exposure page. Then you'll automatically receive a mail when new photo (and text) stories are posted.
Grateful too if you share with others or on social media. We need help to spread a broader truth about the conflict in and around Syria.
Here a little more as background to the coming series:
TFF Photo Story


Lund, Sweden, December 27, 2016


Of course you have seen media images of the destruction in Syria. But not these taken in mid-December when Eastern Aleppo was liberated.


We live in a time when images – real and fake – influence perceptions more than ever.


My photos are real. Documentary. They reflect my role as witness on the spot at a time when only a handful of Westerners were present.


At a time, too, when all the mainstream media were conspicuously absent – as were the dual-purpose White Helmets who have delivered quite a few of the theatrical images from this war.


As a conflict and peace researcher and photographer I take pride in using not only analytical texts but also the medium of photography.


I am anyhow unable to describe just in words what I have seen.


Thanks to modern technology the small, smart, independent and truthful of this world can compete, to some extent, with the multi-billion dollar marketing and propaganda machines.


This is the first of a series to appear in weeks to come that will give you an impression of both life in Damascus, Eastern Aleppo's destruction, the destruction in Aleppo's old town, the human victims of this horrific war on Syria, the celebrations at the liberation of Aleppo etc. 


I do not believe that pictures of wars and victims will, in and of themselves, lead people to think of peace. Hiroshima films have done little to eliminate nuclear weapons. 


But in this particular case I do believe it is necessary to document just how big, systematic and unjustified the destruction of Aleppo has been – not only for those who built it and lived there over 7000 years but also to humanity, to all of us.


With what right did all the parties contribute to this utterly heartless and meaningless destruction? 


How did it come to this surreal level of violence wrought upon a historic cultural and industrial city and its vast majority of innocent fellow human beings? 


Will we ever learn – not only that war is stupid but also that this type of destruction cannot conveniently for some be blamed on one single side? 


All parties who used violence have blood on their hands.


Aleppo's blood.   


This is the first of a series of stories that I must tell as a witness to an event that more intelligent and civilised generations in the future will have nothing but contempt for.


And if you ask me which side I am on, the answer is simple:


I'm on No government's. No military's. No leader's.


I'm on the side of the tens of thousands of innocent, suffering Syrian citizens. Nobody deserves this!


I am on the side of the underlying, perfectly legitimate conflicts and not on the side of anybody's violence.


And I do admit to have a particular problem with those – many – who interfered violently in the internal affairs of Syria and did only harm and no good.


Syria's future is for the Syrians – all of them – to decide.
TFF Conflict and Peace Report Syria # 3
By Jan Oberg
In spring 2011 I was invited by then Danish foreign minister, Villy Søvndal, to be a keynote speaker at a conference in Copenhagen arranged by the ministry and the Danish Institute for International Studies (DIIS) with experts, then UN mediator Kofi Annan's adviser, scholars, diplomats and, most importantly, a number of Syrian (opposition) politicians and civil society representatives.
The minister left the conference when he had opened it and, like most politicians today, obviously did not give priority to listen to the input of this high-level group present in the conference room.
I made these major points, trying to be as educative as I possibly could:
1) Look at conflicts as if they are problems to be solved – adhere to the peace research concept of the ABC conflict triangle and study A for Attitudes, B for Behaviour and C for the Contradiction/conflict that stands between people. (Cf. Johan Galtung). It's a classical model that can be applied by virtually anyone.
2) Remember that there are always more than two parties to international conflicts – this is a kind of civil war but also part of the international wars – or aggressions – conducted since the assault on Afghanistan October 7, 2001.
3) Apply this model to another simple methods, namely that of Diagnosis, Prognosis and Treatment (DTP) – try to be conflict doctors instead of Realpoliticians. That is the only – only – way in which you can approach peace in the future and prevent a huge war with thousands of dead and much destruction.
So ABC and DPT – extremely simple for anyone who wants to understand conflict and help conflict-stricken peoples and countries to solve them and not just use conflicts as opportunities to promote one's own more or less noble interests.
But he spoke of his next trip, I think to Paris, where the "Friends of Syria" – a group initiated by then-French President Sarkozy who was responsible for much of Libya's destruction – were planning to meet. Intuitively I felt things were already going wrong there and then.
I then added Read the rest of this entry »
By Jan Oberg
- who speaks to PressTV about The Jungle camp in Calais and children gone missing since it was destroyed.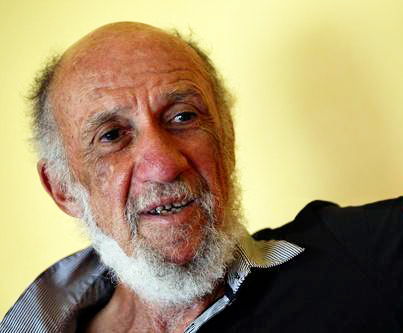 By Richard Falk
I am republishing my review essay that appeared in International Dialogue: A Multilateral Journal of World Affairs 6:2016.
It discusses two excellent studies of humanitarian intervention, a post-colonial trope allowing the United States and West Europeans to feel morally satisfied while projecting military power to distant lands, often with devastating consequences for the people being protected, and sometimes, even being rescued from tyranny and brutal repression.
In some respects, what progressive critics call 'regime-change' the champions of such policy like the terminology of 'humanitarian intervention,' or even better, 'Responsibility to Protect' or R2P.
Donald Trump interestingly portrayed Hillary Clinton accurately as a regime-change advocate, and pledged not to make such mistakes if elected. We will wait, see, and hope that at least this time, he means what he says.
The Middle East has been the testing ground for this 'new geopolitics' but its antecedents can be traced back several centuries as the Klose edited collection of essay clearly demonstrates.
Both studies are notable for highlighting the non-humanitarian motivations that accompany such undertakings, which are often hidden from public view, and need to be highlighted to comprehend this latest twist in the conduct of international relations.]
Fabian Klose (ed).
The Emergence of Humanitarian Intervention: Ideas and Practice from the Nineteenth Century to the Present
Cambridge University Press, 2016. 364pp.
Rajan Menon
The Conceit of Humanitarian Intervention
Oxford University Press, 2016. 235pp