Archive for the 'Russia' Category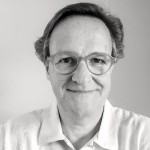 By Jan Oberg
Jan Oberg's comment on Chancellor Merkel's speech at the Munich security conference where she mentioned the duty Europe has to receive refugees and also reiterated that Germany will do its best to increase its military budget to 2% of its GDP.
Apart from this one can only get very sad and pessimistic when reading the comments underneath this sequence: Boundless hate against Merkel herself, racism, anti-Islam, anti-Semitism – and not one (of the first 70+ comments) on the issue of NATO, the risk of war or on what I brought up about the need for new, less militarist policies, less interventionism and better ways of handling the refugees.
Anger and hatred just under the surface, brought out mostly anonymously. No reasoning, just smear.
We still have a long long way to go in terms of public education…
Here the short video comment on PressTV where you can also see those comments.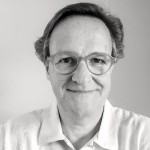 By Jan Oberg
On the occasion of NATO's defence minister meeting on February 15-16 discussing NATO, Ukraine, Crimea, Syria and the eternal threat images which are fake – with former Assistant Secretary of Defence of the United States, Mr. Lawrence J. Korb.
I'm afraid he got some stuff wrong such as the establishment of NATO and whether or not Kosovo is part of the Balkans.
He also believed that NATO's 1999 bombing of Serbia-Kosovo had a UN Security Council mandate.
Enjoy those small moment and the rest where I am trying to present some more general thourght on why the whole NATO philosophy is outdated – the only point where I agree with President Trump…

Media experience and policy
Lots of people in the debate seem to believe there is something strange about being in the "propaganda" media of "enemies of the West" – read the global Iran's PressTV and Russia's Russia Today.
What they don't seem to have acknowledged is that tons of Westerners are being interviewed and do commenting (like myself for years) at these media. Here is Mr. Korb with me at Iran's international TV channel.
What they also don't know is something I am sorry to report: I've met attempts at manipulation and "editing" and censorship with a series of Western mainstream media, not the least in my native Denmark, but I have not experience any of that even once with Russia Today and PressTV. Very decent professionals!
So much for the free press and for the propaganda channels. My personal problems is, which is which?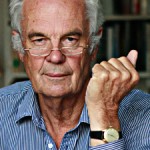 By Jonathan Power
January 24th 2017.
The great flaw in ex-president Barack Obama's record was his policy towards Russia. Going against everything he had said and written about before he became president, one action after another antagonised the Russians – his early proclamation that he wanted Georgia and Ukraine in NATO, his de facto coalition of convenience for a crucial couple of days with the anti-democratic, anti-Russian, neo-fascist, demonstrators in Ukraine, the further expansion of NATO, despite an earlier promise not to, made by President H.W. Bush, to the Soviet president, Mikhail Gorbachev, and his inability to cooperate with the Russians and Iranians over Syria.
No wonder the Russians are reported to be delirious that Donald Trump is now president, a man who has said nice things about Russia's President Vladimir Putin.
If the two meet sometime soon maybe there will be an end to this unnecessary hostility. The Moscow-Washington relationship is the most important political issue in the world and this may well be the last chance to get it right.
Russia and the US have never fought each other in the 200 years of their relationship. Russia aided the North during the Civil War and sent warships to prevent England and France supporting the confederacy. During the World Wars the two were close allies.
However, they came near to catastrophic war during the Cold War when Russia armed Cuba with nuclear weapons. This will never happen again. It chilled the blood down to zero on both sides. But one can imagine limited armed clashes on the Estonian-Russian border, nuclear sabre rattling, a more intimate alliance between China and Russia, an urge to sabotage, as was done during the Cold War, any diplomacy or interventions made by the other and a continuation of both countries keeping their long-range nuclear weapons on hair-trigger alert.
Under H.W. Bush post-Cold War relations got off to a good start. Nevertheless, the US treated Russia as a defeated nation that could be taken advantage of. Read the rest of this entry »
By Jan Oberg
This is one of several stories I just have to tell.
You can see the original in large format here.

The destruction of Eastern Aleppo, Syria by Jan Oberg on Exposure
Subscribe to this Exposure page. Then you'll automatically receive a mail when new photo (and text) stories are posted.
Grateful too if you share with others or on social media. We need help to spread a broader truth about the conflict in and around Syria.
Here a little more as background to the coming series:
TFF Photo Story


Lund, Sweden, December 27, 2016


Of course you have seen media images of the destruction in Syria. But not these taken in mid-December when Eastern Aleppo was liberated.


We live in a time when images – real and fake – influence perceptions more than ever.


My photos are real. Documentary. They reflect my role as witness on the spot at a time when only a handful of Westerners were present.


At a time, too, when all the mainstream media were conspicuously absent – as were the dual-purpose White Helmets who have delivered quite a few of the theatrical images from this war.


As a conflict and peace researcher and photographer I take pride in using not only analytical texts but also the medium of photography.


I am anyhow unable to describe just in words what I have seen.


Thanks to modern technology the small, smart, independent and truthful of this world can compete, to some extent, with the multi-billion dollar marketing and propaganda machines.


This is the first of a series to appear in weeks to come that will give you an impression of both life in Damascus, Eastern Aleppo's destruction, the destruction in Aleppo's old town, the human victims of this horrific war on Syria, the celebrations at the liberation of Aleppo etc. 


I do not believe that pictures of wars and victims will, in and of themselves, lead people to think of peace. Hiroshima films have done little to eliminate nuclear weapons. 


But in this particular case I do believe it is necessary to document just how big, systematic and unjustified the destruction of Aleppo has been – not only for those who built it and lived there over 7000 years but also to humanity, to all of us.


With what right did all the parties contribute to this utterly heartless and meaningless destruction? 


How did it come to this surreal level of violence wrought upon a historic cultural and industrial city and its vast majority of innocent fellow human beings? 


Will we ever learn – not only that war is stupid but also that this type of destruction cannot conveniently for some be blamed on one single side? 


All parties who used violence have blood on their hands.


Aleppo's blood.   


This is the first of a series of stories that I must tell as a witness to an event that more intelligent and civilised generations in the future will have nothing but contempt for.


And if you ask me which side I am on, the answer is simple:


I'm on No government's. No military's. No leader's.


I'm on the side of the tens of thousands of innocent, suffering Syrian citizens. Nobody deserves this!


I am on the side of the underlying, perfectly legitimate conflicts and not on the side of anybody's violence.


And I do admit to have a particular problem with those – many – who interfered violently in the internal affairs of Syria and did only harm and no good.


Syria's future is for the Syrians – all of them – to decide.
TFF Conflict and Peace Report Syria # 3
By Jan Oberg
In spring 2011 I was invited by then Danish foreign minister, Villy Søvndal, to be a keynote speaker at a conference in Copenhagen arranged by the ministry and the Danish Institute for International Studies (DIIS) with experts, then UN mediator Kofi Annan's adviser, scholars, diplomats and, most importantly, a number of Syrian (opposition) politicians and civil society representatives.
The minister left the conference when he had opened it and, like most politicians today, obviously did not give priority to listen to the input of this high-level group present in the conference room.
I made these major points, trying to be as educative as I possibly could:
1) Look at conflicts as if they are problems to be solved – adhere to the peace research concept of the ABC conflict triangle and study A for Attitudes, B for Behaviour and C for the Contradiction/conflict that stands between people. (Cf. Johan Galtung). It's a classical model that can be applied by virtually anyone.
2) Remember that there are always more than two parties to international conflicts – this is a kind of civil war but also part of the international wars – or aggressions – conducted since the assault on Afghanistan October 7, 2001.
3) Apply this model to another simple methods, namely that of Diagnosis, Prognosis and Treatment (DTP) – try to be conflict doctors instead of Realpoliticians. That is the only – only – way in which you can approach peace in the future and prevent a huge war with thousands of dead and much destruction.
So ABC and DPT – extremely simple for anyone who wants to understand conflict and help conflict-stricken peoples and countries to solve them and not just use conflicts as opportunities to promote one's own more or less noble interests.
But he spoke of his next trip, I think to Paris, where the "Friends of Syria" – a group initiated by then-French President Sarkozy who was responsible for much of Libya's destruction – were planning to meet. Intuitively I felt things were already going wrong there and then.
I then added Read the rest of this entry »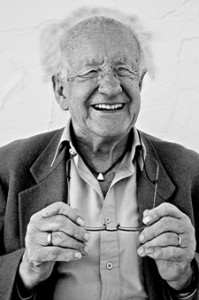 By Johan Galtung
"View" meaning not only a glimpse from above, but a position taken on the world on which the US electorate is now dumping Donald Trump.
That world is today basically multi-polar, maybe with 8 poles: 1) Anglo-America, 2) Latin America-Caribbean, 3) African Unity, 4) Islam-OIC from Casablanca to Mindanao, 5) European Union, 6) Russia more region than state, 7) SAARC from Nepal to Sri Lanka, 8. ASEAN, Australia-New Zealand. [See list of abbreviations with links to the mentioned organisations under the article]
And thre is the multi-regional Shanghai Cooperation Organization, SCO, with China and Russia, Islamic countries, India and Pakistan.
There is a waning state reality, smaller states being increasingly absorbed into regions.
There is a waxing region reality with the above eight; adding West Asian, Central Asian and Northeast Asian regions, maybe eleven.
There is a global reality based on IGOs, inter-governmental organizations, with the United Nations on top; TNCs, the transnational corporations, with the US-based on top so far; and INGOs, international non-governmental organizations, with religions on top.
Now, insert into all of that something concrete from William Blum's Anti-Empire Report #146 and his Rogue State.
From WWII, the USA has: Read the rest of this entry »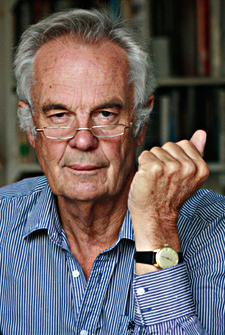 By Jonathan Power
November 22nd 2016
Trotsky, the one-time close comrade of Lenin, reportedly said, "You may not be interested in war but war is interested in you".
This is how it seems to have been with President Barack Obama when it comes to his policy towards Russia.
Having come to power with President Vladimir Putin open to a closer relationship after the aggressive pushing forward of Nato's frontier during the time of presidents Bill Clinton and George W. Bush Obama will leave the presidency with a state of hostility between the Russia and the US that most thought had evaporated once the Cold War ended in 1991.
Now, instead of a life time of peace and cooperation ahead of us, as was widely thought, we have Russia engaged in nuclear sabre rattling and the US expanding the frontier of Nato even further right up to Russia's border and trying to put the heat on over Russia's involvement in the upheavals in Ukraine, using economic sanctions.
Some observers talk about war between the West and Russia. Although this could not happen as long as Angela Merkel is Chancellor of Germany and France remains French it may be a "damned close-run thing" (as the Duke of Wellington was supposed to have said after victory over Napoleon at the battle of Waterloo).
It is up to President-elect Donald Trump Read the rest of this entry »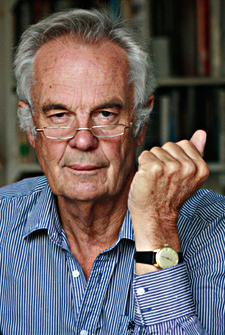 By Jonathan Power
November 8th 2016.
An interesting question is what would happen to American foreign policy if President Barack Obama were allowed to have another four year term in office?
It would be a less interventionist presidency than what is about to become. This is not to say that I think the way Obama has handled the war in Afghanistan has been successful. Nor do I believe the attack on Libya was a sensible idea. Nor do I think the way he dealt with Russia and Ukraine in the last four years has been anything but counterproductive.
But I do believe the world would be an even messier place if he had not been president. Syria would have been invaded with ground troops. Iraq would have been replicated.
I think confrontation with China over the ownership of the contested islands in the South China and East China seas would have been more serious than it has been.
There would have been no bringing back Cuba in from the cold. (Cuba was the home of the missile crisis of 1962 when the world came terrifyingly near to a nuclear war.)
Most important, there would have been no nuclear deal with Iran. Iran's research which could have led to the making of a nuclear bomb (not that I think it had any intention of going that far) would have continued.
At some point Israel would have bombed Iran's reactors Read the rest of this entry »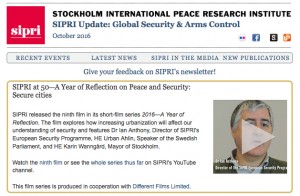 By Jan Oberg
Is there a new cold war? And what steps can be taken by whom to reduce tension and make peace?
Indeed highly relevant issues in an era of European history where the characteristics of a new Cold War are becoming ever more significant. And a good intellectual way to celebrate an important research institute's 50th Anniversary, namely SIPRI – Stockholm International Peace Research Institute.
Now, what was this SIPRI supposed to be 50 years ago as the brainchild of, among others, brilliant visionary sociologist and social democratic politician Alva Myrdal who later became Sweden's disarmament ambassador, wrote an impressive book on disarmament and security and received the Nobel Peace Prize in 1982?
If you go to its entry at Wikipedia, it is very clearly spelled out in 1966 (my italics):
"A Swedish Royal Commission chaired by Ambassador Alva Myrdal proposed in its 1966 report to establish an institute, later named the Stockholm International Peace Research Institute, SIPRI. The Institute's research should seek to contribute to "the understanding of the preconditions for a stable peace and for peaceful solutions of international conflicts" and the Commission recommended that research be concentrated on armaments, their limitation and reduction, and arms control. The Commission also recommended that SIPRI work be of "an applied research character directed towards practical-political questions [which] should be carried on in a constant interchange with research of a more theoretical kind"."
However, here is today's research programs of SIPRI – also from Wikipedia:
• The SIPRI Yearbook
• Euro-Atlantic Security and Arms Control
• Armed Conflict and Conflict Management
• Non-Proliferation and Export Controls
• Chemical and Biological Warfare
• Military Expenditure and Arms Production
• Arms Transfers
• IT Projects: "Facts on International Relations and Security Trends" and "An Internet-Based Early Warning Indicators System for Preventive Policy"
The character of this program is pretty obvious:
SIPRI studies wars and arms and very little, if at all, peaceful solutions to international conflicts and the – theoretical – conditions of a stable peace.
So here are Read the rest of this entry »