Archive for the 'World order/governance' Category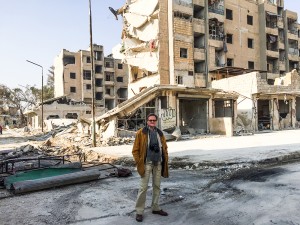 By Jan Oberg*
Fact is that we are dealing here with a conflict that is the most threatening to humankind's survival and it would be rather more easy to solve than most other conflicts.
This has recently been pointed out by TFF Board Member and former Co-President of International Physicians for the Prevention of Nuclear War, IPPNW, 2004-2008, Gunnar Westberg, in a short analysis.
How?
• The West – the EU or NATO, if not the US itself – takes a serious mediation initiative. As long as people talk, they don't start wars. That in itself would de-escalate the tensions and risks in sharp contrast to continued tit-for-tat sandbox thinking and reckless statements, last by defence secretary Mad Dog Mattis at the border between the North and South.
• The vastly superior side stops every military activity in the waters close to the North while South Korea's leadership take up contact with the leadership of the North.
• The type of provisions of Jimmy Carter's old deal with the North Koreans are dusted off and used as inspiration for more: Give the North Koreans all the economic assistance they believe they need and give them civilian energy technology too – as a quid-pro-quo for very tight IAEA inspections and a written guarantee that it will not acquire nuclear weapons as long as the West keeps its side of such a deal. (President George W. Bush just destroyed that deal and thought it appropriate to include North Korea in his Axis Of Evil speech).
• Sign a non-aggression or non-attack pact between North and South Korea and between North Korea and the US. That is, undermine any fears the North Koreans may have. The overwhelming superiority of the adversaries of the North implies that such a pact would be risk-free to write and sign.
• Let North and South Korea freely decide if they want to unify. They have a perfect human and international legal right to do so, it's nobody's business but the Korean people's. The world should assist them in doing so if they want.
• The US and North Korea sign a peace treaty (what exists today is only the 1953 ceasefire agreement). Read the rest of this entry »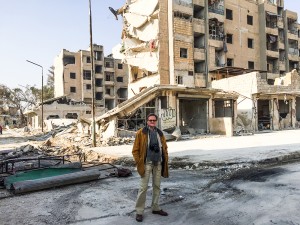 By Jan Oberg*
That's what I hold quite likely in case the present US administration under Donald Trump's formal leadership continues down the path its in-fighting militarist fractions seem to have chosen.
We're in the worst, most dangerous situation since the Cuban Missile Crisis. Sitting down and hoping for the best is neither responsible nor viable or wise.
I can only hope that I will be proved wrong. That the present extremely dangerous tension-building will die down by some kind of unforeseen events or attention being directed elsewhere.
The world could quite well be drifting toward what Albert Einstein called 'unparalleled catastrophe'. It's something we may – or may not – know more about when President Trump returns from his trip to Japan, South Korea, China, Vietnam (APEC where he also likely to meet Russian President Putin) and the Philippines.
Except for 93-year old Jimmy Carter offering to go to North Korea, we witness nobody taking any mediation initiative – not the UN' S-G Guterres, not the EU, not European NATO countries, not BRICS, not single countries like Sweden, not… well, you name them.
It's about denial, about heads deep down in the sand, people hoping for the best at the moment when humanity's future is in the hands of a couple of leaders from whom they would probably not buy a used bicycle.
That this silence all around is a roaring fact, is about as tragic and dangerous as the situation itself. Read the rest of this entry »
By Jan Oberg
Why is the UN still so important – in spite of having had its Charter violated repeatedly during the last 25 years?
Why should we not – cynically – side with the cynical and powerful countries that want to undermine and marginalise the world's finest organisation with the most Gandhian-like document ever signed by governments?
What is the real UN and what does its Charter really say?
Jan Oberg tries to cover some of the answers in this 6 min video produced as Facebook Live on October 24, 2017.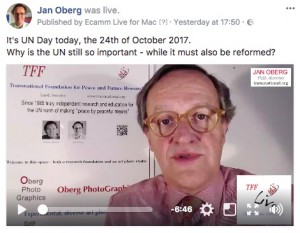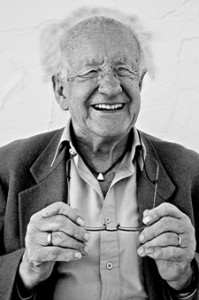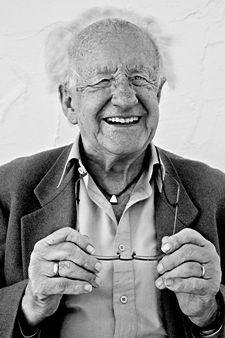 By Johan Galtung
Liu Xiaobo passed away. What is the – not so hidden – truth about him?
Answer: His speeches and writings show enthusiasm for the 100-year English colonization of Hong Kong, wishing 300 years colonization of China, celebrating the US war in Afghanistan, hoping for atomic weapons. He got the Nobel Peace Prize for democratization of China, had the freedom of speech, but the prize communicated as a provocation. The prize could easily have been given to their Charter, not to Liu Xiaobo.
Norway's security – what are the threats?
Answer: Given the location, an invasion by USA or Russia to prevent the other from doing so. The situation is reminiscent of the threat from England, Germany and USSR to prevent one of the other from doing so in 1940; what happened was England and Germany violating Norwegian neutrality, fighting a battle on Norwegian territory. USSR nothing till they fought German troops in the extreme North losing more soldiers to liberate Norway than Norway during the war, stopping when the Norwegian government in refuge in London told them to do so, thereby making it possible for Germany to destroy Northern Norway.
Norway's defense today – what is the story?
Answer: A one-sided offensive capacity directed at Russia for a first or second strike, the coast and inland defenseless with 248 of 249 districts ("Heimevernet", home land defense) incapable of their job.
Why Russia as Chosen Enemy; the real story, the alternatives? Read the rest of this entry »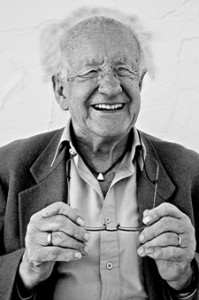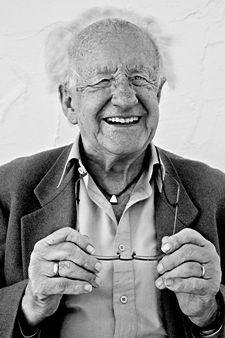 11 September 2017
A world map shows the West is big, from the Atlantic to the Pacific oceans, from the Arctic Ocean to the Mediterranean-Black Sea-Russian border; but not that big. However, that is only Europe. Add Anglo-America, USA-Canada, from the Pacific to the Atlantic oceans, from the Arctic Ocean to Mexico. The West is huge, enormous.
It covers geographically the Northern Arctic and temperate zones.
It houses religiously the three Christianities, much of Judaism, but not Islam. Muslims and all others count as minorities, here and there.
It is the seat of another major faith, Enlightenment: humanism-liberalism-marxism-nationalism-statism-capitalism-regionalism.
It is the seat of the major IGOs, NGOs and TNCs in the world.
It identifies West as "developed", and Rest as "developing".
West has attacked, invaded, conquered, colonized almost all the Rest of the world (China only partly, Japan only recently, from 1945).
The overwhelming majority of wars are intra-West, or West-Rest. Read the rest of this entry »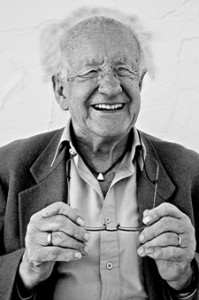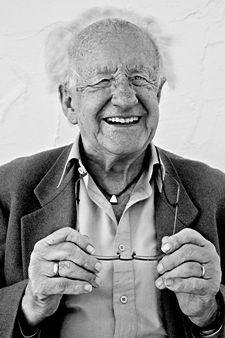 By Johan Galtung
"Pentagon Study Declares American Empire Is 'Collapsing,'" is the title of an essay by Nafeez Ahmed, analyzing the study.
Sounds interesting. His subtitle: "Report demands massive expansion of military-industrial complex to maintain global 'access to resources'". Sounds familiar.
Using excerpts from the Pentagon study made by Nafeez Ahmed, and deeply grateful to him, here are our comments.
Based on some work in the field – The Decline and Fall of the US Empire; And Then What?, TRANSCEND University Press, 2010 [i] – Pentagon is a key institution in the USA, next to the White House-Congress-Wall Street. How it sees its own role in the USA and in the world is of primary importance to understand where USA is heading. Read the rest of this entry »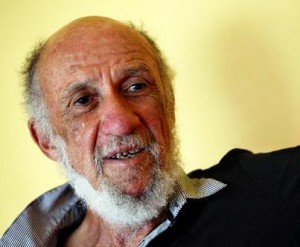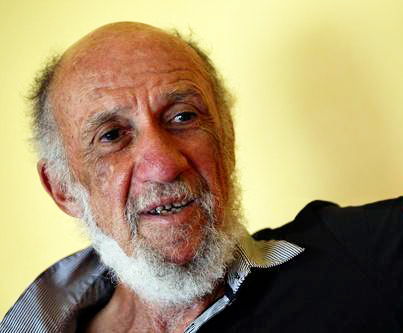 By Richard Falk
We are living amid contradictions whether we like it or not, driving expectations about the future toward opposite extremes.
Increasingly plausible are fears that the 'sixth extinction' will encompass the human species, or at least, throw human society back to a technology of sticks and stones, with a habitat limited to caves and forests.
This dark vision is countered by gene-editing designer promises of virtual immortality and super-wise beings programming super-intelligent machines, enabling a life of leisure, luxury, and security for all.
Whether the reality of such a scientistic future would be also dark is a matter of conjecture, but from a survival perspective, it offers an optimistic scenario.
On political levels, a similar set of polar scenarios are gaining ground in the moral imagination, producing national leaders who seem comfortable embracing an apocalyptic telos without a second thought.
The peoples of the world, entrapped in a predatory phase of global capitalism, are using their democratic prerogative to shut down dissent, rationality, and science. Read the rest of this entry »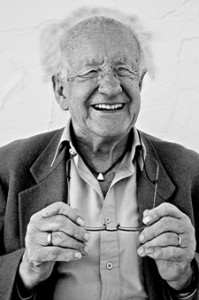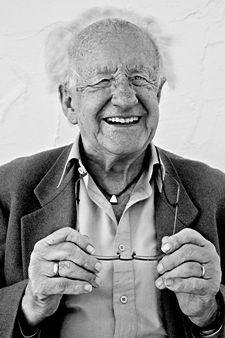 By Johan Galtung
3 July 2017
There are many of them – of different kinds – in world geography. We can try to identify the characteristics of their peacefulness.
Or we can start by identifying belligerent societies and then see peaceful societies as their negations. Let us try this one first.
Belligerent societies have a track record of violence across border, on the territory of others, often invoking "defense"– preventive, pre-emptive, proactive. For that they need weapons, arms, as an army or not. And the weapons, with their carriers, must be long range, offensive, to work across borders, inside another society.
By negating, we get three characteristics of peaceful societies:
1) having only short range defensive weapons for defensive defense;
2) having no weapons, arms, at all, nor the capacity to make them;
3) having a track record of no war, no attack across borders.
Comment:
No. 3, no track record, is no guarantee for the future.
No. 2, no arms, is no guarantee they cannot start making or importing.
No. 1, defensive defense, is no guarantee against longer range arms.
Peaceful societies may change? Yes, so may belligerent societies. They may stop attacking others, abolish their army (Costa Rica) or not get one–about 30 societies–or have defensive defense (Switzerland).
Have a look at the world: about 200 societies, countries, states. There may be border skirmishes, but attacks are rare. One reason: very few can afford submarines, ocean navy, tanks, bombers, missiles. An army only to defend the borders – the inland with militia – and if occupied non-military defense–rooted in doctrine to be credible, costs less.
Most countries practice offensive defence unwittingly.
The [1]->[2]->[3] scenario is a good peaceful society policy.
However, look at another approach. Read the rest of this entry »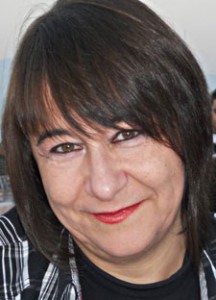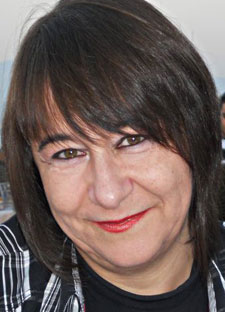 By Biljana Vankovska
Text of report by Macedonian newspaper Nova Makedonija on 12 June
Commentary by Biljana Vankovska: "Russia ante portas!"
The UK The Guardian recently issued a bombastic report based on certain intelligence leaks, apparently resembling WikiLeaks, that revealed the big and terrifying secret of the Russian bad boys working on Macedonia's distancing from the West for nearly 10 years through the use of old-fashioned methods (strange and mysterious spies and conspirators) and sophisticated means of influence via public diplomacy and "soft power".
This crown "evidence" has fitted in perfectly with the subtle campaign that a number of national media has been leading for a while now, promoting the "intimidating notion" of the Macedonians regarding Russia as a friendly country. An opinion poll on our foreign political orientations has indicated that as many as 17 per cent of the respondents have a positive view on Russia.
Imagine, these impertinent persons have dared reduce the incredible 95 per cent of people who support the West, which was typical only of [Albanian communist leader] Enver Hoxha's Albania and Bulgaria during [Bulgarian communist leader] Zhivkov's era!
This thesis is being reiterated ad nauseam and serves a double purpose: first, it should prove the harmful effects of the perfidious policies of the VMRO-DPMNE's [Internal Macedonian Revolutionary Organization-Democratic Party for Macedonian National Unity] fake patriots and, second, such an approach of the journalists' genuine shock and concern is a preventive disciplinary measure for those who – Heaven forbid – would dare criticise the West.
It is interesting that The Guardian report deals with the "self-leakage" of the Macedonian Counterintelligence Agency and that the text was prepared by famous Macedonian journalists.
The story of Russia's clout, spread through the media propaganda of our journalists who think that it is virtuous to play into the West's hands, has (once again) imposed our country as an instrument to settle a score between the great powers. Read the rest of this entry »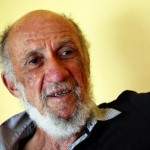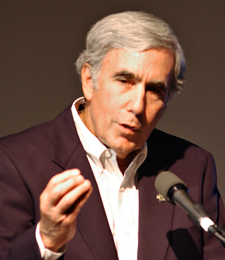 By Richard Falk* and David Krieger**
TFF PressInfo # 420
June 30, 2017
Prefatory Note
This jointly authored essay was initially published in The Hill on May 30, 2017 under the title, "Averting the Ticking Time Bomb of Nukes in North Korea." We did not choose such a title that is doubly misleading: our contention is not that North Korea is the core of the problem, but rather the retention of nuclear weapons by all of the states pose both crises in the context of counter-proliferation geopolitics and with respect to the possession, deployment, and development of the weaponry itself; a second objection is with the title given the piece by editors at The Hill.
While acknowledging the practice of media outlets to decide on titles without seeking prior approval from authors, this title is particularly objectionable. The term 'nukes' gives an almost friendly shorthand to these most horrific of weapons, and strikes a tone that trivializes what should be regarded at all times with solemnity.
Alarmingly, tensions between the United States and North Korea have again reached crisis proportions. The United States wants North Korea to curtail any further development of its nuclear weapons program, as well as to stop testing its missiles. North Korea evidently seeks to bolster its security by acquiring a sufficiently robust deterrent capability to discourage an attack by the United States.
The unpredictable leaders of both countries are pursuing extremely provocative and destabilizing patterns of behavior. Where such a dangerous interaction leads no one can now foresee. The risk of this tense situation spiralling out of control should not be minimized.
It is urgent that all governments concerned make a sober reassessment in a timely manner. The following questions need to be addressed:
• What can be done to defuse this escalating crisis?
• What should be done to prevent further crises in the future?
• What could be learned from recurrent crises involving nuclear weapons states?
It is discouraging that the White House continues to rely mainly on threat diplomacy. It has not worked in responding to North Korea's nuclear ambitions for the past few decades, and it is crucial to try a different approach.
Currently, there are mixed signals that such a shift may be underway. President Trump has turned to China, imploring that it use its leverage to induce Kim Jong-un to back down, and has even mentioned the possibility of inviting Kim for crisis-resolving talks. Also relevant and hopeful is the election of Moon Jae-in as the new president of South Korea, and his insistent calls for improved relations with the North.
In the end, no reasonable person would opt for another war on the Korean Peninsula. The only rational alternative is diplomacy. But what kind of diplomacy?
American reliance on threat and punitive diplomacy has never succeeded in the past and is almost certain to fail now. We assuredly need diplomacy, but of a different character.
It is time to abandon coercive diplomacy and develop an approach that can be described as restorative diplomacy. Coercive diplomacy relies on a zero/sum calculus consisting of military threats, sanctions, and a variety of punitive measures. Read the rest of this entry »