Archive for the 'Libya' Category
Comment by Jan Oberg
The Malta EU meeting is expressive of militarism, colonialism and racism in one. Is it time perhaps to call the EU the Evil Union? People outside, in the rest of the world sees this and will draw their conclusions.
And an – admittedly unconventional – proposal on what to do with the politicians who are responsible for the destruction of Libya.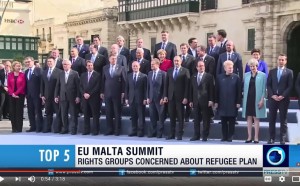 By Jan Oberg
Commentinng on President Rouhani's plea for tolerance and no borders on Press TV, January 28, 2017
TFF Conflict and Peace Report Syria # 3
By Jan Oberg
In spring 2011 I was invited by then Danish foreign minister, Villy Søvndal, to be a keynote speaker at a conference in Copenhagen arranged by the ministry and the Danish Institute for International Studies (DIIS) with experts, then UN mediator Kofi Annan's adviser, scholars, diplomats and, most importantly, a number of Syrian (opposition) politicians and civil society representatives.
The minister left the conference when he had opened it and, like most politicians today, obviously did not give priority to listen to the input of this high-level group present in the conference room.
I made these major points, trying to be as educative as I possibly could:
1) Look at conflicts as if they are problems to be solved – adhere to the peace research concept of the ABC conflict triangle and study A for Attitudes, B for Behaviour and C for the Contradiction/conflict that stands between people. (Cf. Johan Galtung). It's a classical model that can be applied by virtually anyone.
2) Remember that there are always more than two parties to international conflicts – this is a kind of civil war but also part of the international wars – or aggressions – conducted since the assault on Afghanistan October 7, 2001.
3) Apply this model to another simple methods, namely that of Diagnosis, Prognosis and Treatment (DTP) – try to be conflict doctors instead of Realpoliticians. That is the only – only – way in which you can approach peace in the future and prevent a huge war with thousands of dead and much destruction.
So ABC and DPT – extremely simple for anyone who wants to understand conflict and help conflict-stricken peoples and countries to solve them and not just use conflicts as opportunities to promote one's own more or less noble interests.
But he spoke of his next trip, I think to Paris, where the "Friends of Syria" – a group initiated by then-French President Sarkozy who was responsible for much of Libya's destruction – were planning to meet. Intuitively I felt things were already going wrong there and then.
I then added Read the rest of this entry »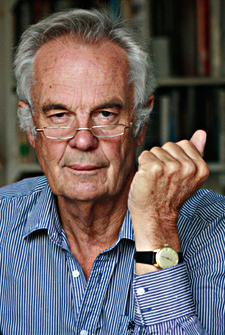 By Jonathan Power
November 8th 2016.
An interesting question is what would happen to American foreign policy if President Barack Obama were allowed to have another four year term in office?
It would be a less interventionist presidency than what is about to become. This is not to say that I think the way Obama has handled the war in Afghanistan has been successful. Nor do I believe the attack on Libya was a sensible idea. Nor do I think the way he dealt with Russia and Ukraine in the last four years has been anything but counterproductive.
But I do believe the world would be an even messier place if he had not been president. Syria would have been invaded with ground troops. Iraq would have been replicated.
I think confrontation with China over the ownership of the contested islands in the South China and East China seas would have been more serious than it has been.
There would have been no bringing back Cuba in from the cold. (Cuba was the home of the missile crisis of 1962 when the world came terrifyingly near to a nuclear war.)
Most important, there would have been no nuclear deal with Iran. Iran's research which could have led to the making of a nuclear bomb (not that I think it had any intention of going that far) would have continued.
At some point Israel would have bombed Iran's reactors Read the rest of this entry »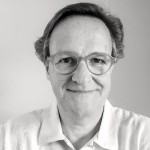 By Jan Oberg
Added at the bottom on November 23, 2016:
The – bizarre – White Helmet Mannequin Challenge video;
The Swedish Institute of International Affairs's event with the White Helmets on November 24;
The Right Livelihood Award Foundation's Award Ceremony to take place on November 25
While thousands of humanitarian organisations around the world are struggling fiercely with diminishing support from governments and the public, one has achieved a surprising amount of support from Western governments in a surprisingly short period of time and gained a surprising attention from mainstream media and ditto political elites: The Syrian Civil Defence or White Helmets.
Their name of course makes you think of the UN's Blue Helmets and white is the colour of those who should be protected in harm's way – and the colour of innocence. However, for many years there has been an Argentinian relief organisation with the same name.
The SCD or White Helmets counts nearly 3.000 rescue workers who operate in very dangerous areas in rebel-held territories in Syria and claims that it has, in three years, rescued about 70.000 lives according to its Twitter account (or 65 per day).
Contrary to what you might think, it isn't a Syrian organisation because Syria has its own organisation, incidentally also called Syria Civil Defence, which was established in 1953 and is registered with ICDO, the International Civil Defence Organisation, since 1972.
The White Helmets seems to have an annual budget of US$ 30 million and has raised a total support of well over US$ 100 million. And it seems that they operate exclusively in war zones in which the fighting against the Syrian government and the Syrian Arab Army takes place, i.e. in 'liberated' areas where hundreds of groups and some 80 countries, mainly NATO members, Gulf states and Saudi-Arabia, operate.
On the White Helmets' briefing page it is stated that "funding for their humanitarian relief work is received from the aid budgets of Japan, Denmark, the Netherlands, the United Kingdom and the United States."
Here is how the Foreign Ministry in Copenhagen explains the roughly US$ 9 million to the White helmets from Denmark, a country that bombs in both Iraq and Syria.
Other civil society and humanitarian organisations inside Syria have not been so fortunate. You've probably not heard that much about the Syrian Arab Red Crescent and its work? How much/little support have they received from Western humanitarian-concerned governments? And in general, civil society organisations in Syria – women, peace, human rights, culture, etc. – have received nothing like US$ 100 million in a few years and no one has such a flashy media appearance as the White Helmets.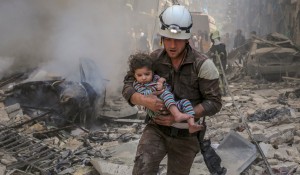 Photo from the White Helmets' homepage
The White Helmets was started in 2013 by James Le Mesurier who seems to have tried a little of everything everywhere, including the grey zones of special forces and intelligence in virtually all NATO wars, Yugoslavia in particular. He later set up a foundation in Holland to gather the funds. Here is a recent account by Scott Ritter, former US Marine Corps intelligence officer and weapons inspector in Iraq with tremendous knowledge of things Middle East:
"The organizational underpinnings of the White Helmets can be sourced to a March 2013 meeting in Istanbul between a retired British military officer, James Le Mesurier—who had experience in the murky world of private security companies and the shadowy confluence between national security and intelligence operations and international organizations—and representatives of the Syrian National Council (SNC) and the Qatari Red Crescent Society. Earlier that month, the SNC was given Syria's seat in the Arab League at a meeting of the league held in Qatar.

At that meeting, the SNC assumed Syria's seat, and the Arab League authorized member states to actively provide support, including arms and ammunition, to the Syrian rebels. The Qataris, working through the SNC, helped assemble for Le Mesurier $300,000 in seed money from Japan, the United States and the United Kingdom for a seven-day course designed to train and equip a 25-person rescue team, recruited by the SNC, for duty in so-called "liberated areas" of Syria. The SNC made available a pair of Syrian activists—Raed Saleh and Farouq Habib—to assist Le Mesurier in this work.
The group is – as will be seen below – treated as uncontroversial in virtually all Western mainstream media. However, there is enough material with documentation to merit caution. Read the rest of this entry »
By Jan Oberg
- speaking out on PressTV on September 24, 2016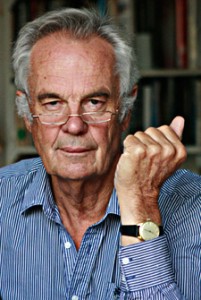 By Jonathan Power
September 6th 2016
The French ambassador to the US from 1902 to 1924, Jean-Jules Jusserand, observed that distant powers could not easily threaten the US because "On the north, she has a weak neighbour; on the south, another weak neighbour; on the east fish and on the west, fish".
The coming of the submarine-based nuclear missile has not changed that. Apart from the fact that no enemy would dare use them for fear of retaliation, and that there is no country in the world that feels that hostile to America (accept North Korea), the fact is America is too big and too far away to be invaded and dominated. There could not be a blitzkrieg by a foreign army across the mid-west or a Vichy America.
The real tragedy of 9/11 is just as a majority of the US electorate had settled into a post-Cold War comfort zone with the new president, George W. Bush, not being overly pushy or confrontational in foreign affairs, America was jolted so badly that a large proportion of its electorate – maybe half – has been paranoid ever since. Enemies are once again seen under the bed.
Enough of the electorate have persuaded themselves that they are insecure Read the rest of this entry »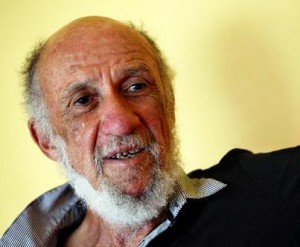 By Richard Falk
The Case for Disengagement
A few years ago Barack Obama made much of an American pivot to East Asia, a recognition of China's emergence and regional assertiveness, and the related claim that the American role in Asia-Pacific should be treated as a prime strategic interest that China needed to be made to respect.
The shift also involved the recognition by Obama that the United States had become overly and unsuccessfully engaged in Middle Eastern politics creating incentives to adjust foreign policy priorities. The 2012 pivot was an overdue correction of the neocon approach to the region during the presidency of George W. Bush that reached its climax with the disastrous 2003 intervention in Iraq, which continues to cause negative reverberations throughout the region.
It was then that the idiocy of 'democracy promotion' gave an idealistic edge to America's military intervention and the delusion prospect of the occupiers receiving a warm welcome from the Iraqi people hit a stone wall of unanticipated resistance.
In retrospect, it seems evident that despite the much publicized 'pivot' the United States has not disengaged from the Middle East. Its policies are tied as ever to Israel, and its fully engaged in the military campaigns taking place in Syria and against DAESH.
In a recent article in The National Interest, Mohammed Ayoob, proposes a gradual American disengagement from the region. He makes a highly intelligent and informed strategic interest argument based on Israel's military superiority, the reduced Western dependence on Gulf oil, and the nuclear agreement with Iran.
In effect, Ayoob convincingly contends that Read the rest of this entry »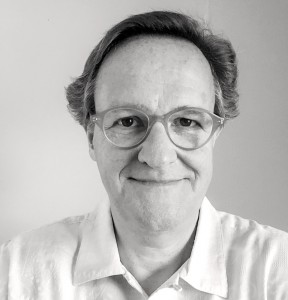 By Jan Oberg
Hillary Rodham Clinton was nominated last night by the Democratic Party as its candidate for the U.S. Presidency. She may well win on November 8.
What a tragedy for Western democracy that the leader of what is still called the free, democratic world cannot produce better candidates than Trump and Clinton through a disgustingly commercialized and corrupt political process where candidates like Jill Stein – did you ever hear of that candidate? – doesn't have a chance because she cannot mobilize the funds.
As a European intellectual with a life-long commitment to peace and democracy, I find little reason to celebrate.
And why the total focus on a few individuals at the top but not the structures that will run them both, such as the Military-Industrial-Media-Academic Complex (MIMAC); the cancer in many societies, including Russia, that President Eisenhower warned the world about in his farewell speech already in 1961?
How short the media memory! Hillary Clinton's nomination celebrated all over the mainstream press as a victory for the party – preventing it from splitting – and for all women.
But how can people – women in particular – really believe in such genderism: that she will be a better president for the US and the world because she's a woman? Hasn't the world learnt anything from the inverse racism:that Obama would be a great president because he is black?
How blind the media to militarism, war and other violence: Not one media focuses on the Clinton's well-documented fascination with violence and war.
It's time to refresh the memory of the Clintons:
Bill Clinton's record
From 1994 BC broke all promises made by his predecessors and other Western politician to Gorbachev about "not expanding NATO an inch". He started out in Tblisi, Georgia. I happened to be there, spoke with the U.S. representative to the country and got a sense what was coming. Later too in Yugoslavia.
There is a straight line from that fatal arrogance to today's Second Cold War in Europe, Ukraine having – predictably – to be the this-far-and-no-longer country of that mindless and reckless expansion that should never have happened.
BC's interventionist record is also forgotten: He bombed in Afghanistan, Sudan, Iraq, Bosnia, Kosovo and Serbia – the latter much much worse from any point of view than the Russian annexation of Crimea. It was based on the fake Rambouillet "talks" between Serbs and Kosovo-Albanians, his public lies about there being an ethnic cleansing of all Albanians in Kosovo coming from Slobodan Milosevic whom he called a new Hitler.
No such plan was ever found – and I know a bit about it because I was a goodwill adviser both to three governments in Belgrade and to the non-violent Kosovo-Albanian leadership under Ibrahim Rugova.
It was Clinton's Secretary of State, Madeleine Albright, who masterminded much of it and is on record for saying that it was politically justifiable that the sanctions on Iraq had killed 500.000 innocent people. And they continued.
And she, having survived as a refugee child in Belgrade, Serbia, with her Czechoslovakian family during the Second World War and spoke Serbian is on record for hatred of the Serb people.
Conveniently, the West has forgotten it all. BC is such a charming man (who just told us at the reality show-like democratic convention how much he loves his wife).
His administration was one of the most militarist.
Hillary Clinton's record
There is no excuse for having forgotten her record. GFrom 2009 to 2013, she served as Secretary of State under Obama, the US president who has been engaged in warfare during more days than any other US President according to the New York Times.
HC has supported all the wars she could and she was a mastermind of the war in Libya. One remembers the film clip showing her happiness at Khadafi's death.
She is a Cold Warrior, anti-Russia, anti-Putin Russians will be great for fighting Putin.
Her war-promoting record is as long as it is well-documented.
The most solid documentation is that of professor Stephen Zunes. Read the rest of this entry »
Commenting on PressTv on July 22, 2016 after yet another tragedy in the Mediterranean.
But how much did the media cover that in comparison with the Nice tragedy – and Hollande's killing of 120 innocent civilians as revenge for Nice (which at the time was not known to have any connections to ISIS or similar)?