Archive for the 'Jan Oberg' Category
By Jan Oberg

"The Debate" on April 16, 2017 with Richard Millett and Jan Oberg illustrates quite well two distinctly different perspectives on conflicts in general and Syria in particular.
Its focus is on the difference in media coverage of the terrible events in Khan Seykhoun and al-Rashideen but there is much more to it.
I'll keep on struggling for the conflict and peace perspective against the violence perspective that sees black-and-white only and continues the seemingly eternal blame game – and thus legitimates more, rather than less, warfare.
Happy if you care to share and continue the – meta – debate!
TFF Live
April 12, 2017
The secretaries of state, Tillerson and Lavrov meet today. We seem to enter a stage of what must appropriately be perceived as a frosty new Cold War.
In the worst of cases this can lead to a new Cuban Missile Crisis. God forbid!
By Jan Oberg
With this sad event we introduce TFF Live on Facebook.
You'll find the original on Jan Oberg's public page here and that is where you can best comment on it and share it (only if you are at Facebook).
Or comment below here.
Media comments by Jan Oberg
The intellectual level of NATO's policies leaves a lot to be desired. This was illustrated during Secretary of State, Tillerson's, visit to NATO on March 31, 2017.
Everything stated lacks causal argument, evidence and reference to reality.
I call it absurd theatre and argue that Europe must recognize that it is – has been – under mental and political occupation by the US.
The US is in Europe for the sake of the US, not Europe. And it wants Europe to pay more to NATO to boost the defence of the US, not to help create peace in the European space.
See my comments at length at Iran's PressTV.

And a few words about Western mainstream media unwillingness to deal with NATO criticism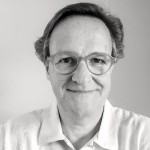 By Jan Oberg
It's as amazing as it is frightening how the West – a group of countries allegedly fighting for truth against propaganda and fake news by others – leads exactly that game itself.
And so is the degree to which Western allegedly free media – meaning free also of political powers that be – continue to ask no questions and do no research. We are obviously living in the post-intellectual age, knowledge having been replaced by marketed and more or less invented, elite self-serving narratives. For instance…
Take a close look at what Gen. Curtis M. Scaparrotti, commander of U.S. European Command, says when testifying before the US House Armed Service Committee. He is also SACEUR – Supreme Allied Commander Europe, the man whose views and actions will decide the fate of 500+ Europeans should there be a major war in this region of the world.
What is says is plain irresponsible. It's beyond the rational. While it may not be fake news, it's an example of ignored, omitted news.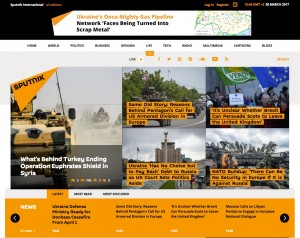 He blows up beyond recognition the so-called Russian threat. There is no single evidence of it in his statement – why it would happen, how, where, with what motives the Moscow would have and – in particular – how likely it is to become reality. He merely asserts it – based upon a wildly exaggerated estimate of his own authority: Read the rest of this entry »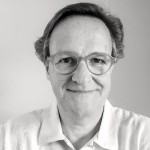 By Jan Oberg



Lund, Sweden – March 24, 2017




Can the almost total destruction of Eastern Aleppo be used constructively? 



Only if we are willing to ask and dialogue about this: 



Why does the world go on investing US$ 2000 billion annually in warfare and US$ 30 in all the UN does – only to create destruction of people, places, past and future?



How absurd, how meaningless – indeed how far must it go to destroy the West itself – before we learn to conflict intelligently?

The Meaninglessness Of War by Jan Oberg on Exposure



•



I've see much destruction during my work in conflict zones the last 25 years. But nothing compares with Aleppo and the destruction of Syria and its people.


Nothing – absolutely nothing – can justify this barbarian process, not even an alleged dictatorship and ruthless regime policies. 



We must learn from Aleppo and all the other places:


- to hate violence and war, not each other;

- to stop siding with some presumed good violence that shall combat evil violence because there is no (good) violence that is better than dialogue;



- to criminalize arms trade to conflict zones and never let a private arms trader or goverment at large when they profit and make peace impossible;



- to learn the tools of conflict-resolution and do what we have all promised to do: struggle first for peace by peaceful means as stated in the UN Charter.



• 



My photo series "The Meaninglessness of War: Aleppo" aim to encourage you to think deeply – much deeper than siding with one or the other side. 



We need a tectonic shift in the theories and practises of international politics and conflict management. ASAP.



Otherwise the rest will one day be just that: Silence. 



A global Aleppo.



Side instead with peace, decency, truth and humanity. And learn your Gandhi and other wise thinkers. Get out of the box! The group think! 



And the future of the world will be so much more promising. Even bright.
The Meaninglessness Of War: Aleppo
All the photo series at Exposure.
•
By Jan Oberg
Commenting on Iran's PressTV on how Iran may handle the ever more negative attitude of the US/Trump and reiterating his proposal for some kind of truth and reconciliation process between the two countries.
By Jan Oberg
On Iran's PressTV
March 4, 2017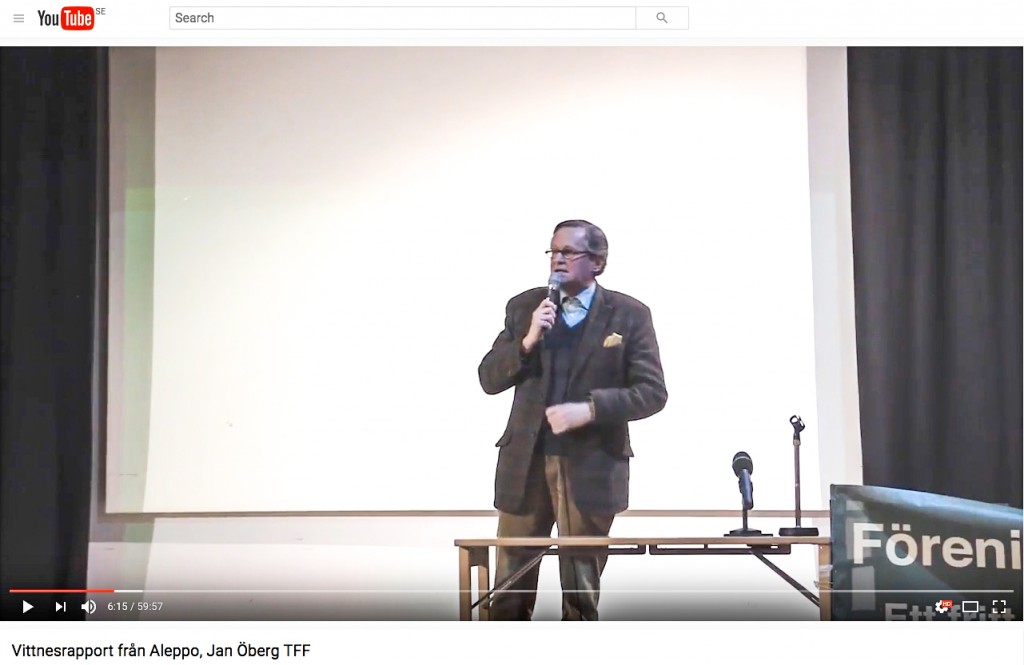 Videoinspelning av Jan Öbergs föredrag i Stockholm februari 2017

Inspelningen är uppdelad i två delar:
Del 1: Vittnesrapport från Aleppo
60 min.
Del 2: Debatt och vägar till fred i Syrien
45 min.

Bakgrund
10-14:e december 2016 vistades Jan Öberg i Aleppo. Med sin unika erfarenhet från staden ifrågasätter han den gängse massmediarapporteringen, argumenterar för ett nytt sätt att se på konflikter på och ger förslag till den nödvändiga fredsprocessen.

Moderator
Anders Björnsson, författare

Datum
Lördag 25 februari kl. 14-16, Bagarmossens Folkets Hus, Stockholm

Arrangörer
Föreningen Syriensolidaritet, Folket i Bild Kulturfront – Stockholmsavdelningen, FiB-juristerna m.fl.

Jan Öberg rapporterar
– Jag kunde fritt tala med vem jag ville, och fotografera som jag ville. Jag gick omkring utan säkerhet, polis eller annat skydd. Många tackade mig för att jag var i Aleppo vid befrielsen.
– Förstörelsen av Aleppo är värre än jag någonsin trott – efter att ha sett Sarajevo, Mostar och Vukovar. Den stora förstörelsen är från gatustriderna – en mindre del ifrån luften.
– Ingen av dem många jag pratade med hade sett de Vita Hjälmarna. Däremot träffade jag frivilliga från Syriens Röda Halvmåne som var mycket professionella.
– De jag pratade med uttryckte sin glädje över frihet efter fyra års belägring och uttryckte tacksamhet över regeringens och ryssarnas insatser.

Öbergs fotoberättelser
Se också Jan Öbergs fotoserier med bakgrunds- och förklarande text här.

TFF PressInfo och andra artiklar – av vilka många handlar om Syrien – finns på TFF:s blogg här.