Archive for the 'Islamophobia' Category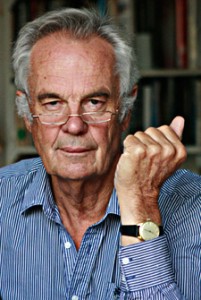 By Jonathan Power
April 4th 2017
The long talked-about referendum in Turkey will happen on April 16th. In effect voters have to decide whether the president, Recep Erdogan, in theory the incumbent of a relatively modest political post, should now be given the powers of the president and prime minister together.
Combined with a large majority in Parliament he would have enormous power to shape Turkey around his pro-Islamic agenda. Although working within a democratic system Erdogan is in many ways a populist, rather in the mould of President Donald Trump.
Shortly after his Justice and Development Party first won an election in 2003 I was in Turkey and my first question to the people I interviewed was does the party have a "secret agenda"- that is was planning at some future date to make the country Islamist. "Definitely not", was the almost universal response.
How wrong they were. Or perhaps they weren't. Maybe over the years Erdogan has changed his spots.
Either way Turkey now confronts a situation where populism, Islamism and nationalism are becoming Turkey's dominant forces. This is dangerous for Turkey.
Its highly educated, secular-minded, middle class will have less influence and indeed will be singled out and prosecuted, as many journalists, professors, novelists and judges are these days. Turkey will become even more anti the European Union – and what a mistake it was not to admit Turkey when twelve years ago it was knocking loudly on the door and was rebuffed.
The Islamist forces so strong today would have been Read the rest of this entry »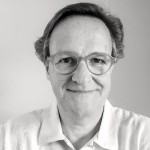 By Jan Oberg



Lund, Sweden – March 24, 2017




Can the almost total destruction of Eastern Aleppo be used constructively? 



Only if we are willing to ask and dialogue about this: 



Why does the world go on investing US$ 2000 billion annually in warfare and US$ 30 in all the UN does – only to create destruction of people, places, past and future?



How absurd, how meaningless – indeed how far must it go to destroy the West itself – before we learn to conflict intelligently?

The Meaninglessness Of War by Jan Oberg on Exposure



•



I've see much destruction during my work in conflict zones the last 25 years. But nothing compares with Aleppo and the destruction of Syria and its people.


Nothing – absolutely nothing – can justify this barbarian process, not even an alleged dictatorship and ruthless regime policies. 



We must learn from Aleppo and all the other places:


- to hate violence and war, not each other;

- to stop siding with some presumed good violence that shall combat evil violence because there is no (good) violence that is better than dialogue;



- to criminalize arms trade to conflict zones and never let a private arms trader or goverment at large when they profit and make peace impossible;



- to learn the tools of conflict-resolution and do what we have all promised to do: struggle first for peace by peaceful means as stated in the UN Charter.



• 



My photo series "The Meaninglessness of War: Aleppo" aim to encourage you to think deeply – much deeper than siding with one or the other side. 



We need a tectonic shift in the theories and practises of international politics and conflict management. ASAP.



Otherwise the rest will one day be just that: Silence. 



A global Aleppo.



Side instead with peace, decency, truth and humanity. And learn your Gandhi and other wise thinkers. Get out of the box! The group think! 



And the future of the world will be so much more promising. Even bright.
The Meaninglessness Of War: Aleppo
All the photo series at Exposure.
•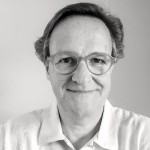 By Jan Oberg
Three perspectives on the Syrian conflict formation
The Syrian conflict formation is hugely more complicated than we've been told by Western politicians (all mainstream in spite of democratic features) and mainstream/dependent media.
To some there are only internal aspects and it's called a civil war only. That's a necessary but not sufficient aspect.
The same goes for the only regional perspective focusing on e.g. the Israel-Palestine conflict, Iran's, Saudi-Arabia's, Turkey's roles and policies.
To others, everything can be explained from the point of view of Western interventionism/imperialism. That's also a necessary but not sufficient aspect.
To understand anything of the Syrian conflict formation – and there are very many layers, dimensions and participants over the last 100 years – we need all three basic approaches.
But given that Westerners are likely to have been informed by Western media and politicians they are likely to grossly underestimate the third, the Western-global dimension.
And that narrative is likely to be politically correct, to underestimate the nasty sides of the West the last good 100 years in the region and present the West as basically good guys interested in peace, democracy and freedom.
This bias has been reinforced by what is probably the most massive marketing/public relation effort in any modern war – in the style of the fake news story about Saddam's soldiers throwing out babies from their incubators in Kuwait City. In order words, pure invention/lies/planted stories/rumours and PSYOPs – psychological operations selling unverifiable stories to influence our hearts and mind in a single policy-promoting direction.
The US/CIA involvement in Syria over the last 68 years is well-documented and easy to access – but never pointed out by the intellectually lazy who think it is enough to just point out that everything is the fault of the "dictator" and his "regime".
The US worked on deliberately de-stabilising Syria years before 2011 (as documented by WikiLeaks and others) when the peaceful demonstrations took place. The Western military support to RIOTs (Rebels, Insurgents, Opposition and Terrorists – most of the latter) was stepped up and while many point out that the US under Obama didn't "do anything", it can be argued that NATO countries acted in a variety of ways, too many and wrong-headed ways – none of them serving a politically negotiated solution, peace or democracy in Syria.
The agenda was foreign interference, promoted military foreign presence (aggression) in international law terms and regime change. One more regimes change, that is, after the earlier completely failed ones in Iraq and Libya.
A series of Western NGOs – no longer Non but NEAR-Governmental Organisations – were part and parcel of the policy, increasingly involved and funded by the Western/NATO/Turkish-Saudi-Gulf-Israeli strategy of de-stabilization – such as US-based Avaaz and French foreign ministry manufactured media outfits such as the Syrian Media Incubator Aleppo Media Centre, the SMART News Agency, the media work of the White Helmets which did humanitarian work only among RIOT fighters and relatives (and stole the name of Syrian Civilian Defence from Syria's own organisation with that name from 1953).
They came in on the civilian media narrative-creating side. And there are others. Since the days of Yugoslavia, think tanks, human rights and humanitarian organisations have been drawn in – and accepted – to serve specific political interventionist agendas in spite of calling themselves independent, not-for-profit etc. This co-optations spells, potentially, the end of civil society as well as of the open and critical debate about governments' policies.
All of this continued and was stepped up also after it had become clear that the legitimate, peaceful, democratic, anti-govenment opposition in Syria had been completely sidelined and/or overtaken by Syrian militants and foreigners with guns in their hands.
The West did not get cold feet, it stepped up it regime-change policies in all kinds of ways, regrettably also by massive NGO-investments in proxi- and other pro-war campaigns.
No one thought of the consequences for the huge majority of the innocent Syrian people who had never touched a gun, or thought of doing so.
And two more perspectives: Don't focus on the violence and the evil guy only – it's war-promoting
No one seems to even have asked the question Read the rest of this entry »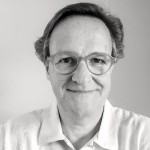 By Jan Oberg
Jan Oberg's comment on Chancellor Merkel's speech at the Munich security conference where she mentioned the duty Europe has to receive refugees and also reiterated that Germany will do its best to increase its military budget to 2% of its GDP.
Apart from this one can only get very sad and pessimistic when reading the comments underneath this sequence: Boundless hate against Merkel herself, racism, anti-Islam, anti-Semitism – and not one (of the first 70+ comments) on the issue of NATO, the risk of war or on what I brought up about the need for new, less militarist policies, less interventionism and better ways of handling the refugees.
Anger and hatred just under the surface, brought out mostly anonymously. No reasoning, just smear.
We still have a long long way to go in terms of public education…
Here the short video comment on PressTV where you can also see those comments.

Comment by Jan Oberg
The Malta EU meeting is expressive of militarism, colonialism and racism in one. Is it time perhaps to call the EU the Evil Union? People outside, in the rest of the world sees this and will draw their conclusions.
And an – admittedly unconventional – proposal on what to do with the politicians who are responsible for the destruction of Libya.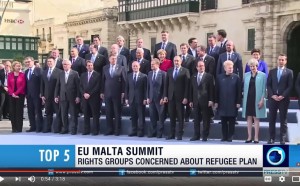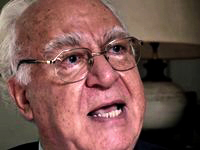 By Farhang Jahanpour
I have just spent a couple of miserable hours reading General Michael Flynn's and Michael Ledeen's book, The Field Of Flight. He will be President Trump's national security adviser. And, frankly, I don't know where to begin.
As someone who is opposed to the regime of the mullahs and would like to see the end of that regime through peaceful and democratic means, I truly cannot understand the reason for what one can call the irrational hostility and the depth of hatred of people like Flynn and Michael Ledeen towards Iran. Of course they are entitled to their feelings of hatred and hostility towards Iran and Muslims as a whole, but they are not entitled to their facts.
It is really amazing to see how without any concern for the facts Flynn jumps from one subject to another, Read the rest of this entry »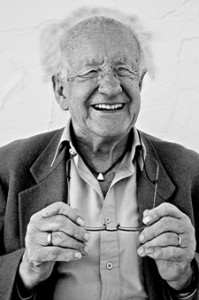 By Johan Galtung
Editorial, 5 September 2016
Nº 445 – TRANSCEND Media Service
Watching Christianity nearly a century–fundamentalist Christians fighting ritualistic Christians fighting secularism, generally moving fundamentalism–>ritualism–>secularism–maybe the same for Islam? Their similarities make "Islam right now" a repetition of Christianity; their differences shout, Watch Out! Let us see where this leads us.
Violence-prone fundamentalist evangelical Christians are still on top of the USA and some Nordic countries; but much less in ritualistic Catholic-Orthodox Christianity, meaning by far most of Europe. Beauty of worship, the psychology of confession, less verbalism; all help.
Secularism makes faith so metaphorical for many that Christianity becomes only a ritual for Christmas-Easter, baptism-marriage-funeral (if there are no secular alternatives). Result: empty churches.
Our secular age makes literal faith in dogmas difficult, and that tears at the faith. But this is where two major differences enter:
Islam is much less dogmatic, there is much less to tear at, only the readily acceptable shahada, faith in one Alla'h and his prophet Muhammad;
If that faith turns metaphorical, Islam has the other four pillars of Islam to fall back upon: prayer together, sharing, fasting, pilgrimage, every day, a whole month every year, once a life.
The point of gravity in Islam moves more easily from faith to practice; and may stop there. There is much built-in outer practice that will survive a decrease in inner faith. Result: full mosques.
Moreover, the four pillars are compatible with key secular values….
Continue here at Transcend Media Service, TMS. – where you'll also find some comments and debates.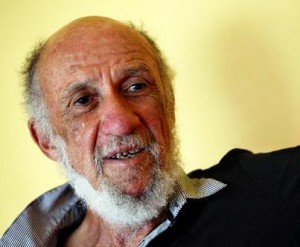 By Richard Falk
August 10, 2016
Prefatory Note
An earlier version was published by Middle East Eye on August 10, 2016. It seems so important at this time for the sake of the future of Turkey that the West look at the country and its political circumstances in a far more balanced way than how the situation has been portrayed since the coup. How to explain this imbalance is another matterthat should be explored at some point, but for now is largely put aside.
Much uncertainty remains in Turkey, but there is enough evidence of positive tendencies to raise a tentative banner of hope. Being a witness to the political atmosphere in Turkey that has emerged after the failed coup of July 15th puts me at odds with the secular consensus in the West, which looks up at the sky and sees only dark, ominous clouds of human rights abuse and autocratic leadership.
What I have experienced and observed so far is quite different, a sky with much blue in it.
There are two opposed, although overlapping, tendencies present that seemed to be responsive to the political priorities that top the post-coup government agenda: sustaining the anti-coup unity by shifting political gears within the AKP leadership circles in the direction of "inclusive democracy" and pragmatism, and with it, a retreat from the polarizing claims of "majoritarian democracy" that greatly intensified after the 2011 national elections and were particularly evident in the clumsy, unacceptable way the Turkish government handled the Gezi Park demonstrations two years later.
The most important concrete embodiment of this post-15 July move toward inclusiveness has been a series of initatives intended to create a common front between the three leading political parties in the country, including the CHP (secular mainstream) and MHP (nationalist rightest) opposition parties.
This has been reinforced by several other developments, Read the rest of this entry »
Commenting on PressTv on July 22, 2016 after yet another tragedy in the Mediterranean.
But how much did the media cover that in comparison with the Nice tragedy – and Hollande's killing of 120 innocent civilians as revenge for Nice (which at the time was not known to have any connections to ISIS or similar)?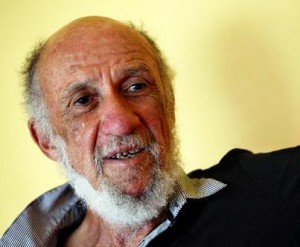 By Richard Falk
What follows are preliminary reactions to both the BREXIT vote and the world according to Trump, but also a commentary on the related alienation of large segments of the public that are being badly served by both the established elites and their demagogic adversaries.
The failures of neoliberalism, the successes of digitization, the scourge of random violence, and more broadly, the dilemmas posed by late modernity are among the root causes of this global crisis of legitimate governance, which is deepened while being mishandled by unprecedented ecological challenges, extremely irresponsible geopolitical leadership, and a variety of ultra-nationalist backlashes against the encroachments of economic globalization.
Imagining the World After the Cold War
After the end of the Cold War there were various projections that tried to anticipate the likely future of the world in broad interpretative strokes. Three of the most influential conjectures by three prominent American authors received attention in the public sphere: those of Francis Fukuyama, Samuel Huntington, and Robert Kaplan.
Fukuyama challenged conventional political imagination with his provocative claim that with the collapse of the Soviet version of state socialism and the triumph of capitalist liberalism the world had reached 'the end of history.' It was also somewhat dubious that Fukuyama validated his views by reference to the Hegelian contention that history is made by the march and interplay of ideas rather than through the agency of material forces.
In this respect history came to a supposedly glorious end because there was no grander possible political vision than that of market-based constitutionalism, epitomized by the American political system. Even the most casual observer of the global scene must have noticed the befogged Western optic through which Fukuyama saw the world.
Huntington, no less provocative or biased, although less comforting for the West, anticipated a 'the clash of civilizations' as the sequel to the Cold War, especially stressing the confrontation between the liberal West and the non-West or simply 'the rest.' His suggestive emphasis was on blood-soaked fault lines between states, civilizations, and peoples associated with Islam and the Western polities descending from the Enlightenment tradition as it unfolded in Europe, taking root in North America and elsewhere.
Kaplan, also punctured the Fukuyama triumphalist tone of geopolitical serenity, by writing Read the rest of this entry »