Archive for the 'EU politics/economics' Category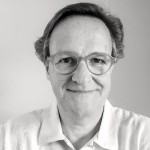 By Jan Oberg
General Ratko Mladic has finally been sentenced – to life – for crimes committed in Bosnia during the Yugoslav dissolution wars in the 1990s.
That motivated Prince Zeid Ra'ad Al Hussein, the UN High Commissioner for Human Rights, to make a statement to the effect that "Mladic is the epitome of evil, and the prosecution of Mladic is the epitome of what international justice is all about."
But that statement is, if anything, the epitome of exemplary nonsense, pro-Muslim bias and something the UN S-G ought to distance himself from since it is a purely political statement.
The media – in the West in particular – have of course lapped it up. Most media people today are too young to have any personal experience of the events some 25 years ago and would have to read thick books to understand some of it.
The verdict's political effect – whether intended or not – is to justify the horrible way the so-called "international community" intervened in the Yugoslav complex of intertwined conflicts with an inverse proportion between its intellectual understanding and its brutality.
Now, if you think I am thereby defending Mr. Mladic, let me say that there are strong reasons to believe that he is guilty of much including some of the killings in the massacre of Srebrenica.
Essentially, the argument of this article is not about Mladic. It's about the Zeid Ra'ad Al Hussein's unacceptably politicized – but hopefully well-intentioned – statement.
But the Jordanian prince – who was with UNPROFOR in Yugoslavia at the time and should know better – anyhow got it all wrong because:
• The human evil card is a cheap one to play that doesn't explain anything. Any serious intellectual knows that there are very complex economic, political, historical and other factors associated with crimes of this type. What happened in Srebrenica can't be reduced to one man's evil as little as the Second World War can be reduced to the single person Hitler.
• What made Srebrenica happen was, among other things, that the six safe zones the UN Security Council had established was never made safe by the UN members. Then UNPROFOR top General Wahlgren of Sweden whom I knew very well had required around 30.000 more UN troops to make those zones safe for refugees to be in; the international community gave him only 1200 Turks with a Turkey firmly sympathising with the fundamentalist Muslim leadership in Bosnia under Alija Izetbegovic.
• Interestingly, the safe zones were not de-militarised. The international community – the US? – had permitted Izetbegovic's government to place its ammunition depots and troops inside these zones – from which they could then make excursion out and fire into Serbian villages while Serbs obviously could not fire into safe zones filled with refugees.
• In addition, the UN as such was bankrupt at the time – member states such as the US having ignored to pay its dues to the organisation. Read the rest of this entry »
By Per Gahrton
Former Member of the European Parliament, Green Party of Sweden
PhD Sociology
Lund, Sweden, October 2017
A lecture at the XI Congress of Ukrainian European Studies Association, Kharkiv National University, October 20, 2017
Introduction: Sweden-Ukraine ties
A couple of days ago Swedish media reported that a wild boar, shot some 200 kilometres north of Stockholm, had been found to contain ten times more radioactivity than permitted by the health authorities. As you may guess, this radioactivity emanated from the Tjernobyl nuclear disaster in 1986. This shows that we live in one globalized world and that my Sweden and your Ukraine are linked together.
Another example of Swedish-Ukrainian common experience might be the battle of Poltava in June 1709, which according to Wikipedia resulted in the "beginning of Sweden's decline as a Great Power". As belligerents, Wikipedia lists on one side Sweden and Ukraine, on the other Russia.
However, this military defeat against the Tsar may have been a blessing for the Swedes, because afterwards the Swedish people toppled the dictatorship of the king and introduced what is called The Times of Freedom (Frihetstiden), when a four-chamber parliament including peasants, ruled the country for half a century. Though it was not a full-fledged democracy (women and the poorest men were excluded) it was a starting point, well before the French Revolution.
About hundred years later Sweden suffered another defeat against Russia, which in 1809 conquered Finland, a country that until then had been an integral part of the Swedish kingdom.
Although many Swedes wanted to retake Finland, today most historians think that perhaps even this defeat was a blessing, for two reasons: First, the inevitable Finnish struggle for independence – which celebrates its 100th anniversary this year – was not conducted against Sweden but against Russia. And secondly, the political elite decided, as expressed by the famous poet Esaias Tegnér, to "reconquer Finland inside the borders of Sweden" which meant to build a peaceful and rich society and give up wars and dreams of territorial expansion and great power status.
Since then Sweden has been militarily non-aligned and has seen no war for more than 200 years.
Examples of Scandinavian conflict-resolution
However, earlier throughout history Scandinavia has been an arena for endless internal wars, mainly between the Danish and Swedish kingdoms. Like so often people have fought with those who should be their closest friends – their neighbours. Read the rest of this entry »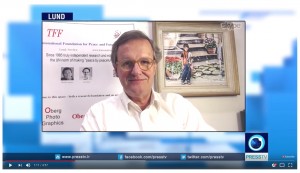 October 19, 2017
Comments on EU leaders stating their support for the nuclear deal with Iran (JCPOA) and sending strong signals to Trump: But more is needed now.
Oberg also asks: Where is the similar statement from NATO, the allegedly peace and security organisation when its leader, the U.S., is moving towards war with Iran?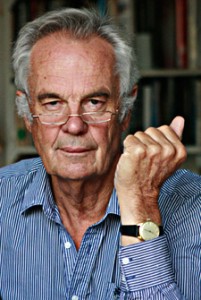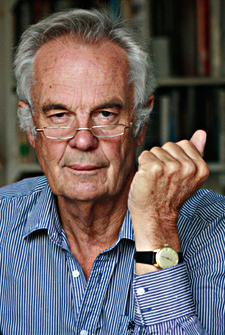 By Jonathan Power
September 19th 2017
"It's not over until the fat lady ends her song"- so goes the adage, referring to the often overweight soprano who sings the last aria in Wagner's opera, Gotterdammerung.
British prime minister, Theresa May, is not fat in a bodily sense, but she is fat-headed, convinced of her own righteousness over Brexit, although she herself voted Remain in the Brexit referendum and then changed her opinion so she could win enough votes from Brexit members of parliament to become prime minister.
Fortunately, for those who believe that the European Union is a force that welds together the former warring nations of Europe who precipitated World Wars 1 and 2 into a well-run economic and political union and thus has ensured that Europe has achieved its longest period of peace in 2000 years, the fat lady has just got going on her long aria.
Indeed, her voice is gaining timbre as it becomes clear that the Remainers still have a chance of defeating Ms May and her inward looking, self-destructive, supporters who would have had Winston Churchill on their backs if he were still alive – he was a great believer in a unified Europe.
Fortunately for Europe, as Ms May goes backwards Chancellor Angela Merkel goes forward. Read the rest of this entry »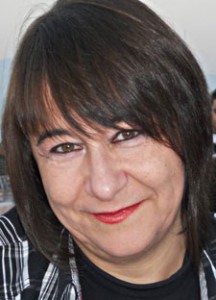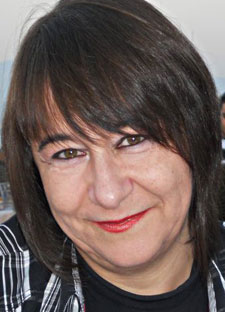 By Biljana Vankovska
Text of report by Macedonian newspaper Nova Makedonija on 12 June
Commentary by Biljana Vankovska: "Russia ante portas!"
The UK The Guardian recently issued a bombastic report based on certain intelligence leaks, apparently resembling WikiLeaks, that revealed the big and terrifying secret of the Russian bad boys working on Macedonia's distancing from the West for nearly 10 years through the use of old-fashioned methods (strange and mysterious spies and conspirators) and sophisticated means of influence via public diplomacy and "soft power".
This crown "evidence" has fitted in perfectly with the subtle campaign that a number of national media has been leading for a while now, promoting the "intimidating notion" of the Macedonians regarding Russia as a friendly country. An opinion poll on our foreign political orientations has indicated that as many as 17 per cent of the respondents have a positive view on Russia.
Imagine, these impertinent persons have dared reduce the incredible 95 per cent of people who support the West, which was typical only of [Albanian communist leader] Enver Hoxha's Albania and Bulgaria during [Bulgarian communist leader] Zhivkov's era!
This thesis is being reiterated ad nauseam and serves a double purpose: first, it should prove the harmful effects of the perfidious policies of the VMRO-DPMNE's [Internal Macedonian Revolutionary Organization-Democratic Party for Macedonian National Unity] fake patriots and, second, such an approach of the journalists' genuine shock and concern is a preventive disciplinary measure for those who – Heaven forbid – would dare criticise the West.
It is interesting that The Guardian report deals with the "self-leakage" of the Macedonian Counterintelligence Agency and that the text was prepared by famous Macedonian journalists.
The story of Russia's clout, spread through the media propaganda of our journalists who think that it is virtuous to play into the West's hands, has (once again) imposed our country as an instrument to settle a score between the great powers. Read the rest of this entry »
Comment by Jan Oberg
Contrary to many media reports, I take a more cautious approach – until we see some concrete results in the wake of this meeting.
In addition, the two meet at a very problematic time for the EU – and it seems that there were a series of foreign policy issues that they did not even touch.
For the EU to re-invent itself, something much grander, more visionary than President Macron's economic piecemeal approach will be needed.
So until further I choose to paraphrase Shakespeare's Hamlet – "Words. Words. Words."

Comments made on RT – Russia Today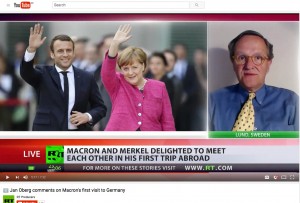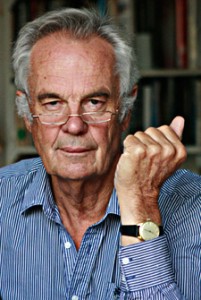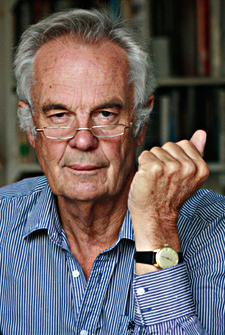 By Jonathan Power
The result of the first round of the French presidential election has given the Euro-pessimists a knock over the head. About time too.
The European Union is not going to face break up. Big crises come but they also go. The Euro currency crisis was not dealt with as well as it should have been – austerity was the policy of the long way round – but it passed.
The great immigration crisis has been contained and the number of would-be refugees has fallen sharply.
The British say they are leaving, but how the biggest political paradox of my lifetime will be squared remains to be seen – a parliament with a majority of its members in favour of staying in Europe but with a government trying to get out as fast as it can with the support of most MPs of the two largest parties.
Moreover, there is another quite counterproductive consequence of Brexit – pushing Scotland to break from the United Kingdom. Leaving big, grand, Europe to become a truncated little England makes no sense at all. When the penny finally drops I expect the UK to reverse course on Brexit – or to disintegrate.
With or without Britain the EU will remain the world's best example of political unity. Peoples who have fought each other for thousands of years no longer do. No other part of the planet is so Read the rest of this entry »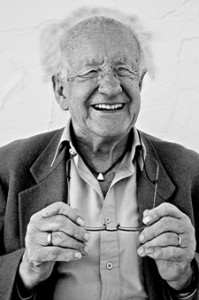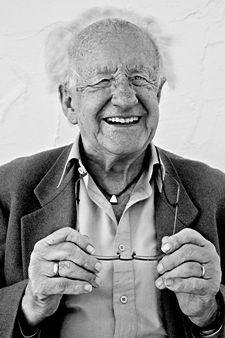 By Johan Galtung
Starting with EU at 60, making small states (Luxembourg!) big by being members of something bigger, but making bigger, even imperial, states smaller by being "members". The Netherlands is small: Wilders suffered a humiliating defeat. But the UK is big with imperial past: old, rural people voted Brexit out of EU anonymity, but into what? Master in their own house? With problems with Ireland and the Celtic fringe–Scotland, Wales–even threatening UK survival? Can Anglo-America, UK even more under USA, compensate for that? They may want back; the obvious EU strategy being to adjust to many Brexit points.
France is also big and imperial. But Le Pen-Front National will not defeat a majority seeing EU as a French creation (Monnet, Schuman) and the Communauté Française as carried by the mystique of the French language anyhow. Frexit would make France smaller. France will stay.
Germany and Italy were imperial: Hitler once ruled the biggest Europe ever, Mussolini some of Africa. But they were defeated and defined as illegitimate, not "civilizzatrice". Italy's apology for the 1911 warfare may have model character. They will both stay in the EU.
UK outside and France inside are now paying the heavy immigration price for devastation wrought by their empires; with no EU solidarity.
The EU will survive, two- or multi-speed with the euro as common, not single currency. Strengthened by having no US Trojan horse, UK, controlling EU foreign-defense policy. Weakened into irrelevance by the neoliberalism of their constitution. See Alan Johnson "Why Brexit is essential for Britain" NYT 29 Mar 2017, a view from the left.
Russia–czarist, Bolshevik, Putin Orthodox Christian–and China–nationalist, Mao communist, Xi Shi Youming Buddhist, his Zhengding friend (NYT 25-26 Mar 2017): unforgivably big in area and population, well above the 27 EU members. The USA is no. 3 on both, giving a total rank of 6; China 5, Russia 10. EU is in that Big League.
China, economic growth at 6,5%, is still a world growth engine, and SCO benefits from India and Pakistan membership. Read the rest of this entry »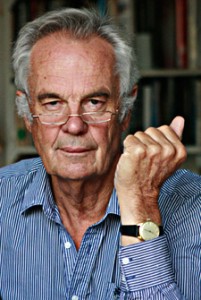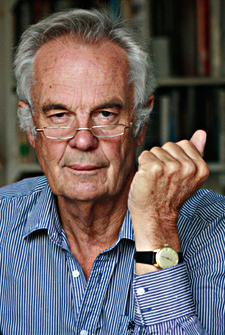 By Jonathan Power
April 4th 2017
The long talked-about referendum in Turkey will happen on April 16th. In effect voters have to decide whether the president, Recep Erdogan, in theory the incumbent of a relatively modest political post, should now be given the powers of the president and prime minister together.
Combined with a large majority in Parliament he would have enormous power to shape Turkey around his pro-Islamic agenda. Although working within a democratic system Erdogan is in many ways a populist, rather in the mould of President Donald Trump.
Shortly after his Justice and Development Party first won an election in 2003 I was in Turkey and my first question to the people I interviewed was does the party have a "secret agenda"- that is was planning at some future date to make the country Islamist. "Definitely not", was the almost universal response.
How wrong they were. Or perhaps they weren't. Maybe over the years Erdogan has changed his spots.
Either way Turkey now confronts a situation where populism, Islamism and nationalism are becoming Turkey's dominant forces. This is dangerous for Turkey.
Its highly educated, secular-minded, middle class will have less influence and indeed will be singled out and prosecuted, as many journalists, professors, novelists and judges are these days. Turkey will become even more anti the European Union – and what a mistake it was not to admit Turkey when twelve years ago it was knocking loudly on the door and was rebuffed.
The Islamist forces so strong today would have been Read the rest of this entry »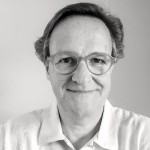 By Jan Oberg



Lund, Sweden – March 24, 2017




Can the almost total destruction of Eastern Aleppo be used constructively? 



Only if we are willing to ask and dialogue about this: 



Why does the world go on investing US$ 2000 billion annually in warfare and US$ 30 in all the UN does – only to create destruction of people, places, past and future?



How absurd, how meaningless – indeed how far must it go to destroy the West itself – before we learn to conflict intelligently?

The Meaninglessness Of War by Jan Oberg on Exposure



•



I've see much destruction during my work in conflict zones the last 25 years. But nothing compares with Aleppo and the destruction of Syria and its people.


Nothing – absolutely nothing – can justify this barbarian process, not even an alleged dictatorship and ruthless regime policies. 



We must learn from Aleppo and all the other places:


– to hate violence and war, not each other;

- to stop siding with some presumed good violence that shall combat evil violence because there is no (good) violence that is better than dialogue;



– to criminalize arms trade to conflict zones and never let a private arms trader or goverment at large when they profit and make peace impossible;



– to learn the tools of conflict-resolution and do what we have all promised to do: struggle first for peace by peaceful means as stated in the UN Charter.



• 



My photo series "The Meaninglessness of War: Aleppo" aim to encourage you to think deeply – much deeper than siding with one or the other side. 



We need a tectonic shift in the theories and practises of international politics and conflict management. ASAP.



Otherwise the rest will one day be just that: Silence. 



A global Aleppo.



Side instead with peace, decency, truth and humanity. And learn your Gandhi and other wise thinkers. Get out of the box! The group think! 



And the future of the world will be so much more promising. Even bright.
The Meaninglessness Of War: Aleppo
All the photo series at Exposure.
•