Posts Tagged 'conflict analysis'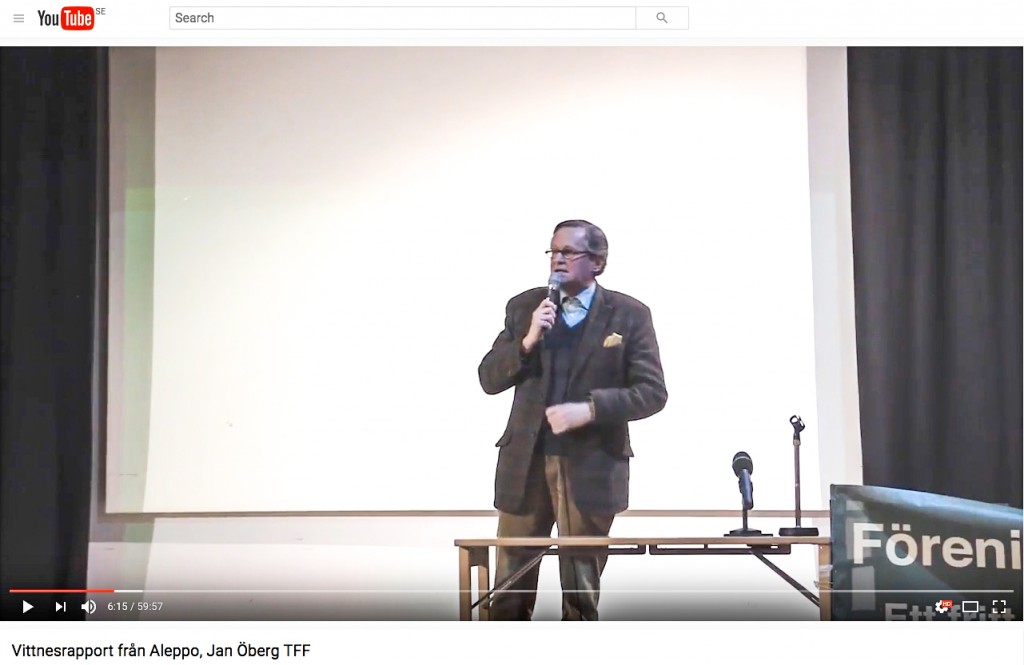 Videoinspelning av Jan Öbergs föredrag i Stockholm februari 2017

Inspelningen är uppdelad i två delar:
Del 1: Vittnesrapport från Aleppo
60 min.
Del 2: Debatt och vägar till fred i Syrien
45 min.

Bakgrund
10-14:e december 2016 vistades Jan Öberg i Aleppo. Med sin unika erfarenhet från staden ifrågasätter han den gängse massmediarapporteringen, argumenterar för ett nytt sätt att se på konflikter på och ger förslag till den nödvändiga fredsprocessen.

Moderator
Anders Björnsson, författare

Datum
Lördag 25 februari kl. 14-16, Bagarmossens Folkets Hus, Stockholm

Arrangörer
Föreningen Syriensolidaritet, Folket i Bild Kulturfront – Stockholmsavdelningen, FiB-juristerna m.fl.

Jan Öberg rapporterar
– Jag kunde fritt tala med vem jag ville, och fotografera som jag ville. Jag gick omkring utan säkerhet, polis eller annat skydd. Många tackade mig för att jag var i Aleppo vid befrielsen.
– Förstörelsen av Aleppo är värre än jag någonsin trott – efter att ha sett Sarajevo, Mostar och Vukovar. Den stora förstörelsen är från gatustriderna – en mindre del ifrån luften.
– Ingen av dem många jag pratade med hade sett de Vita Hjälmarna. Däremot träffade jag frivilliga från Syriens Röda Halvmåne som var mycket professionella.
– De jag pratade med uttryckte sin glädje över frihet efter fyra års belägring och uttryckte tacksamhet över regeringens och ryssarnas insatser.

Öbergs fotoberättelser
Se också Jan Öbergs fotoserier med bakgrunds- och förklarande text här.

TFF PressInfo och andra artiklar – av vilka många handlar om Syrien – finns på TFF:s blogg här.

TFF Conflict and Peace Report Syria # 3
By Jan Oberg
In spring 2011 I was invited by then Danish foreign minister, Villy Søvndal, to be a keynote speaker at a conference in Copenhagen arranged by the ministry and the Danish Institute for International Studies (DIIS) with experts, then UN mediator Kofi Annan's adviser, scholars, diplomats and, most importantly, a number of Syrian (opposition) politicians and civil society representatives.
The minister left the conference when he had opened it and, like most politicians today, obviously did not give priority to listen to the input of this high-level group present in the conference room.
I made these major points, trying to be as educative as I possibly could:
1) Look at conflicts as if they are problems to be solved – adhere to the peace research concept of the ABC conflict triangle and study A for Attitudes, B for Behaviour and C for the Contradiction/conflict that stands between people. (Cf. Johan Galtung). It's a classical model that can be applied by virtually anyone.
2) Remember that there are always more than two parties to international conflicts – this is a kind of civil war but also part of the international wars – or aggressions – conducted since the assault on Afghanistan October 7, 2001.
3) Apply this model to another simple methods, namely that of Diagnosis, Prognosis and Treatment (DTP) – try to be conflict doctors instead of Realpoliticians. That is the only – only – way in which you can approach peace in the future and prevent a huge war with thousands of dead and much destruction.
So ABC and DPT – extremely simple for anyone who wants to understand conflict and help conflict-stricken peoples and countries to solve them and not just use conflicts as opportunities to promote one's own more or less noble interests.
But he spoke of his next trip, I think to Paris, where the "Friends of Syria" – a group initiated by then-French President Sarkozy who was responsible for much of Libya's destruction – were planning to meet. Intuitively I felt things were already going wrong there and then.
I then added Read the rest of this entry »