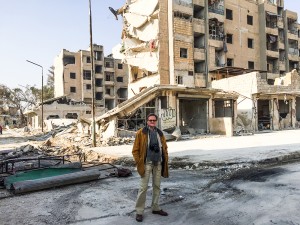 By Jan Oberg
It's probably unusual that a research organisation's photos go viral – and do so in spite of the mainstream media's manifest lack of interest in their story.
But the photos I took in Aleppo in Syria December 10-14, 2016 have been seen here by well over 100.000 people around the world, exclusively by organic, non-paid online sharing.
In addition they've been linked to and presented by media in the alternative press and social media in about 20 countries, sites such as Telesur, Heise/Telepolis and Pressenza literally reaching millions.
I am proud of having helped bring out the story of these people unworthy, as it seems, of the attention of the West. Because they were the majority from Eastern Aleppo who were happy to be liberated and remained in what is now government-controlled areas.

Keep focus on Aleppo – #keepfocusonaleppo
Aleppo's liberation was a local, national, regional and global event. Why?
Because of Aleppo's history, beauty, architecture and industrial importance (50% of Syria's industrial capacity within the huge Sheikh Najjar Industrial City).
Because, before the war, it had swelled from about 2 million to some 3 million people due to the environmental crisis that hit Syria.
Because its Eastern part was occupied in 2012 by what I call RIOTs – Rebels, Insurgents, Opposition, Terrorists – most of the latter – who over 4,5 years created a living hell for the innocent citizens in that part.
Because of the complete and systematic destruction of this cultural jewel, Aleppo, predominantly by street-to-street fighting (max 5-10% of it caused by bombardments from the air).
Because RIOTs were supported with money, weapons and ammunition by the US, France, Britain and Turkey in particular – i.e. most of NATO – plus Saudi Arabia, the Gulf States – and most media reports have come from that side of the war.
Because Aleppo's liberation was a turning point in this six years' long evil war that has created the largest humanitarian crisis anywhere in the world since 1945.
What happened didn't fit the dominant, deceptive Western media narrative. The large majority of people in Eastern Aleppo went to the dictator's (" ") government-controlled side while a minority – the RIOT fighters/occupiers and their families – went to Turkey, Idlib and other RIOT-controlled areas.
More about the importance of Aleppo in TFF PressInfo # 405.
But do see the pictures of the incomprehensible, surreal destruction and of the victims of Aleppo. The victims who were happy to have been liberated from 4,5 years of hell. About these victims you have heard almost nothing since mid-December last year.
The photos are unique since I was among the first twenty or so to get in there and talk with and photograph these people – freely. I was the only person from Scandinavia.
No leading Western mainstream media were present there and then. They sat in Beirut, Istanbul and Berlin telling you stories about the likely "new Srebrenica", massacres and even 'genocide' that would follow when Syria's dictator again controlled Aleppo.
It turned out to be just that. Fake news.
My photos were Real news. You won't see them at CNN, BBC, New York Times, Reuters, AFP, AP and those who repeat them.
The destruction of Eastern Aleppo, Syria
(Please respect the © provisions of these images)
And more photo stories to come from Syria.
5 Responses to "TFF PressInfo # 404: Unique Aleppo photos seen by over 100.000 people but not in mainstream media"