By Richard Falk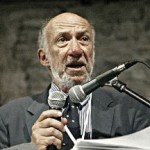 There is ongoing militant expression of Palestinian resistance to the abuses of Israel's 45 years of occupation and de facto annexation of the West Bank and East Jerusalem, and five year blockade of Gaza taking the form of a series of hunger strikes. Recourse to this desperate tactic of courageous self-sacrifice is an extreme form of nonviolence, and should whenever and wherever it occurs be given close attention.
Palestinians have protested by hunger strikes in the past but failed to inspire the imagination of the wider Palestinian community or shake the confidence of Israeli officialdom. Despite the averted gaze of the West, especially here in North America, there are some signs that this time the hunger strikes have crossed a historic threshold of no return.
These strikes started by the individual exploit of a single person, Khader Adnan, at the end of 2011. Dragged from his home in the village of Arraba near Jenin by a night raid by dozens of Israeli soldiers, humiliated and roughed up in the presence of his two- and four-year old daughters, carried away shackled and blindfolded, roughly interrogated, and then made subject to an administrative decree for the eighth time in his young life, Adnan's inner conscience must have screamed 'Enough!' and he embarked on an open-ended hunger strike.
He continued it for 66 days, and agreed to take food again only after the Israeli authorities relented somewhat, including a pledge not to subject Adnan to a further period of administrative detention unless further incriminating evidence came to the surface. Upon release, Adnan to depersonalize his ordeal insisted on visiting the families of other Palestinians currently under administrative detention before returning to his own home.
He has spoken out with firm gentleness and invited persons of conscience everywhere to join in the struggle to induce Israel to abandon administrative detention, and the accompanying violations of Palestinian human rights. Khader Adnan's open letter to the people of the world is reproduced below to convey the tone and substance of his struggle.
Following Adnan, and inspired by him, was Hana Shalabi, a young Palestinian woman subject to a similar abusive arrest, accompanied by humiliations associated with her dress and sexual identity. Shalabi was from the village of Burqin also near Jenin, and had been released a few months earlier in October 2011 as part of the prisoner exchange that was negotiated to obtain the release of the sole Israeli captive, Gilad Shalit. She had seldom strayed from her family home prior to the re-arrest on February 16, 2012, and her life was described as follows by her devoted sister, Zahra: "The four months between October and February were trouble-free days, bursting with dreams and ambitions. Hana loved to socialize and meet with people. She was busy with getting her papers in order to register for university, with her eyes set on enrolling at the American University in Jenin. She wanted to get her driver's license, and later buy a car. She went on a shopping spree, buying new carpets and curtains for her bedroom. . .and she dreamed of getting married and of finding the perfect man to spend the rest of her life with."
It is little wonder that when arrested in the middle of the night she reacted in the manner described by Zahra: "She was panicking, and kept repeating over and over again that she was not going with the soldiers because she didn't do anything."
As with Adnan, Shalabi was released after she was in critical condition, but in a vindictive manner, being sent to live in Gaza for three years, thereby separated from her family and village, which were her places of refuge, love, and nurturing. She also made it clear that her experience of resistance was not meant for herself alone, but was intended to contribute to the struggle against prison abuse and the practice e of administrative detention, but even more generally as engagement in the struggle for Palestinian rights, so long denied.
The example set by Adnan and Shalabi inspired others subject to similar treatment at the hands of the Israelis arrest and prison service. Several Palestinians detained by administrative detention decrees commenced hunger strikes at the end of February, and as many as 1650 others, and possibly more, initiated a massive hunger strike on Palestinian Prisoner's Day, April 17th that is continuing, and has been named 'the battle of empty stomachs.' The main battlefield is the mind of the oppressor, whether to give in and seem weak or remain firm and invite escalating censure, as well as Palestinian militancy, should any of those now in grave condition die.
The latest news suggests that Bilal Diab and Thaer Halahleh, continuing their hunger strike that started on February 28th of this year, are clinging to life by a thread. A few days ago they were both been finally transferred to civilian hospitals. Mr. Halahleh after the 70th day without food announced that he was no longer willing even to drink any water or accept further medication.
As might be expected the voices of concern from the international community have been muted and belated. The International Committee of the Red Cross has finally expressed in public its concern for the lives of these strikers.
More persuasively, several human rights NGOs, including Physicians for Human Rights–Israel have been reminding Israel of its obligation to allow family visits, which prison authorities have repeatedly denied, despite it being an accepted tenet of medical ethics that is affirmed in Israel's Patient's Rights Law.
On May 7, 2012 the Israel's High Court of Justice denied urgent petitions for release from administrative detention filed on behalf of Mr. Diab and Mr. Halahleh. The Court in a classic example of the twisted way judges choose to serve the state rather than the cause of justice declared: "Hunger strikes cannot serve as an element in a decision on the very validity of administrative detention, since that would be confusing the issue."
Would it be so confusing to say that without some demonstration of evidence of criminality rejecting such a petition amounts to imposing a death sentence without even the pretensions of 'a show trial' that relies on coerced confessions? Israel's highest judicial body leaves no doubt about their priorities by invoking anti-terrorism as a blanket justification, saying that Israel "should not have to apologize for securing its own safety."
Other reports that the Israeli government has yet to feel pressure from European governments to act in a more humanitarian manner in response to these hunger strikes, but is worried that such pressure might come soon. After remaining silent for a long time, Robert Serry, the UN Envoy to the Middle East, a few days ago timidly issued a public statement saying that he was 'deeply troubled' by the near death condition of the Mr. Diab and Mr. Halahleh.
On a wider canvas, the hunger strikes are clearly having some effect on Israeli prison policy, although it is not clearly discernible as yet. The Israeli Public Security Minister, Yitzhak Aharonovitch, convened a meeting in which he voiced the opinion that Israeli reliance on administrative detention was excessive, and should be reduced. There is also some discussion with officials of the Israeli Prison Service and a committee representing some of the April 17th prisoners on a series of demands relating to prison conditions.
The following demands have been articulated by the April 17th hunger strikers, under the banner of 'The Prisoners Revolution':
1. Ending the Israeli Administrative detention and solitary confinement, in which Palestinians were imprisoned for more than ten consecutive years, in solitary cells that lack basic human necessities of life.
2. Allowing family visits to those from the Gaza Strip due to political decisions and unjust laws, such as the so-called "law of Shalit.
3. Improving the livelihood of prisoners inside Israeli Jails and allowing basic needs such as a proper health treatment, education and TV channels and newspapers.
4. Putting an end to the humiliation policy carried by the Israeli Prison Service against Palestinian prisoners and their families, through humiliating naked inspection, group punishment, and night raids.
And here is Khader Adnan's Open Letter to the Free People of the World
"In the name of Allah, Most Compassionate, Most Merciful,*
* Praise be to Allah, and peace and blessings be upon the Messenger of Allah.*
Dear free people of the world. Dear oppressed and disenfranchised around the globe. Dear friends of our people, who stood with me with a stern belief in freedom and dignity for my people and our prisoners languishing in the Occupation's prisons.
Dear free women and men, young and elderly, ordinary people as well as intellectual elites everywhere – I address you today with an outpouring of hope and pain for every Palestinian that suffers from the occupation of his land, for each of us that has been killed, wounded or imprisoned by the state of terror, that denies anything beautiful in our lives, even the smile of our children and families. I am addressing you in my first letter following my release – praying it will not be the last – after Allah granted me freedom, pride and dignity. I was an "administrative detainee" in the jail of occupation for four months, out of which I have spent 66 days on hunger strike.
I was driven to declare an open-ended hunger strike by the daily harassment and violation of my people's rights by the Israeli Zionist occupation. The last straw for me were the ongoing arrests, the brutal nighttime raid on my house, my violent detention, during which I was taken to the "Mavo Dotan" settlement on our land occupied 1967, and the beatings and humiliation I was treated to during arrest interrogation. The way I was treated during the interrogation at the Jalameh detention center, using the worse and lowest verbal insults in the dictionary. After questioning, I was sentenced to imprisonment under administrative detention with no charges, which proves mine and others' arrests serve only to maintain a quota of prisoners, to harass us, to restrict our freedom and to undermine our determination, pride and dignity.
I write today to thank all those who stood tall in support of my people, with our prisoners, with Hana al-Shalabi and with myself. I call on you to stand for justice pride and dignity in the face of occupation. The assault on the freedom and dignity of the Palestinian people is an assault on free people of the world by a criminal occupation that threatens the security, freedom and dignity of all, no matter where.
Please, continue in exposing this occupation, boycotting and isolating it internationally. Expose its true face, the one that was clearly exposed in the attack of an Israeli officer on our Danish cohort. Unlike that attack, the murder our people is a crime that goes by unspoken of and slips away from the lens of the camera. Our prisoners are dying in silence. Hundreds of defenders of freedom are on hunger strike inside the prisons, including the eight knights, Bilal Diab and Thaer Hlahalh, who are now on their 61st day of hunger strike, Hassan Safadi, Omar Abu Shalal, Mahmoud Sarsak, Mahmoud Sarsal, Mohammad Taj, Jaafar Azzedine (who was arrested solely for standing in solidarity with myself) and Ahmad haj Ali. Their lives now are in great danger.
We are all responsible and we will all lose if we anything happen to them. Let us take immediate action to pressure the Occupation into releasing them immediately, or their children could never forgive us.
Let all those free and revolutionary join hands against the Occupation's oppression, and take to the streets – in front of the Occupation's prisons, in front of its embassies and all other institutions backing it around the world.
With deep appreciation,
*Khader Adnan *
– – – – –
Having followed these hunger strikes for several months, I am convinced that these individuals subject to administrative detention are ordinary persons living a normal life, although chafing under the daily rigors and indignities of prolonged occupation.
Israeli commentary tends to divert humanitarian concerns by branding these individuals as 'terrorists,' taking note of their alleged affiliation with Islamic Jihad. Adnan who is obviously preoccupied with his loving family, a baker by profession, working in his village, does not seem a particularly political person beyond the unavoidable political response to a structure of domination that is violent, cruel, and abusive.
The language of his Open Letter is one that exhibits moral intensity, and seeks support for the Palestinian struggle for a sustainable peace with justice. It has none of the violent imagery or murderous declarations found in Al Qaeda's characteristic calls for holy warfare against the infidels.
I was impressed by Hana Shalabi's sister's response when asked about the alleged connection with Islamic Jihad. Zahra responded to the question with a smile saying, 'She's not really Islamic Jihad. She doesn't belong to any faction. When Israel imprisons you, their security forces ask which political faction you belong to. Hana chose Islamic Jihad on a whim.' Even if it was then a whim, for a religious person to identify with Islamic Jihad it does not at all imply a commitment to or support for terrorist tactics of resistance.
Zahra asks rhetorically, 'Does she have missiles or rockets? Where is the threat to Israel? ..Why can't we visit her? She has done nothing.' And finally, 'I would never place my enemy in my sister's position . . . I would not wish this on anyone.'
Israel has by vague allegations of links to terrorist activities tried its best to dehumanize these hunger strikers, or to dismiss such actions as the foolish or vain bravado of persons ready to renounce their lives by their own free will.
But their acts and words if heeded with empathy, their show of spiritual stamina and sense of mission, convey an altogether different message, one that exhibits the finest qualities that human beings can ever hope to achieve. Those of us who watch such heroic dramas unfold should at least do our best to honor these hunger strikers, and not avert our eyes, and do our utmost to act in solidarity with their struggles in whatever way we can.
We cannot now know whether these hunger strikes will spark Palestinian resistance in new and creative ways. What we can already say with confidence is that these hunger strikers are writing a new chapter in the story line of resistance sumud, and their steadfastness is for me a Gandhian Moment in the Palestinian struggle.