By Richard Falk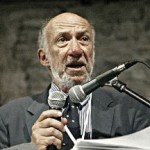 Undoubtedly transfixed by the extraordinary developments throughout the Arab world since Mohamed Boazizi's self-immolation on December 17, 2010: from Tahrir Square to the NATO intervention in Libya to bloody confrontations in Syria, Yemen, Bahrain to the eerie quiet in Algeria to the relative and temporary calm in Morocco, few have noticed that the Israeli/Palestine conflict has changed its character in fundamental respects during the last couple of years.
For some the first of these transformative developments may have been realized for somewhat longer, but now almost everybody knows, except for those in high places, especially in Washington and Tel Aviv who seem to have a political need not to know.
1) The stark fact is that both Israel and Palestine have no hope that international negotiations between governmental representatives of the two sides has any chance of reaching an agreement that will end the conflict.
Israelis, especially those backing the Netanyahu government never desired or believed in the possibility of a diplomatic solution. The 'peace process' that started in Oslo back in 1993 has steadily deteriorated the Palestinian prospects while enhancing those of Israel; it has been worse than gridlock for the Palestinians and a smokescreen for Israelis to carry out their expansionist plans while pretending to be pursuing a political compromise based on withdrawing from land occupied in 1967.
The sequel to Oslo has been a pathetic enterprise, taking the form of 'the quartet' (U.S., European Union, Russia, and the UN) setting forth a roadmap that was supposed to lead the Palestinians to a state of their own drawn along the borders of the green line, but in practice has been a charade that Israel has scoffed at while representatives of the Palestinian Authority seemed to believe that it was worth playing along, although working within the confines of the occupation to establish governmental institutions that could claim statehood by unilateral self-assertion. The PA did seize this option last September when President Mahmoud Abbas made his historic plea to the UN General Assembly, but was stymied by exertion of U.S. geopolitical muscle on Israel's behalf. At this point even the PA seems to have abandoned its effort to challenge a supposed status quo that is more realistically comprehended as a toxic mixture of annexation and apartheid should no longer be called 'occupation.'
Apparently to please Washington, and to a lesser extent the EU, neither Tel Aviv nor the Palestinian Authority in Ramallah have openly repudiated diplomacy, and continue to give lip service to a readiness to talk yet again, although the PA has at least the dignity to insist that no further negotiations can occur until Israel agrees to halt settlement expansion in the West Bank.
To demand that Israel discontinue unlawful activities that impact upon what is being discussed should be regarded as a no brainer, but it is treated by the world media as though the Palestinians were seeking a huge concession from the Israelis, and in a way it is, if we acknowledge that the Netanyahu government is essentially a regime under the control of the settlers.
2) The second of these under observed developments in the conflict is a definite shift toward nonviolence by the Palestinians.
In different sites of struggle the Palestinians have confirmed the declarations of their leaders that resistance no longer primarily refers to armed struggle and suicide bombings, but is based on a range of nonviolent undertakings that challenge the legitimacy of Israeli policies, above all its oppressive policies and structures of abuse and exploitation in the West Bank, East Jerusalem, and Gaza.
There are several different manifestations of this turn to nonviolence and a global solidarity movement. The following instance are illustrative, and should have been treated as major news, but because Israel refuses to be challenged, even nonviolently, the world media have been silent, and offered very little overall analysis.
Among the forms of nonviolent opposition are the following: repeated village demonstrations in the West Bank against the continued building of the separation wall located on occupied Palestinian territory and held to be unlawful in 2004 by a near unanimous International Court of Justice; strong support and some impressive results for a growing worldwide Boycott, Divestment, and Sanctions initiative modeled on the Anti-Apartheid global campaign that was so effective in inducing the collapse of the racist regime in South Africa; and the Freedom Flotillas in which humanitarian activists from many countries challenged the Israeli blockade of Gaza that has persisted for five years and led to the ugly confrontation in May 2010 when the Turkish ship Mavi Marmara was assaulted in international waters by Israeli naval commandos, killing 8 Turks and one Turkish-American.
Most impressive of these nonviolent challenges by Palestinians civil society has been a dramatic series of hunger strikes in Israeli jails that has reignited the Palestinian moral and political imagination. These strikes were initiated in December 2011 by the bravery of a single individual, Khader Adnan, who was harshly arrested in his home in the middle of the night and placed in 'administrative detention' a procedure used to hold suspects without charges, evidence, and trial. Adnan defiantly continued his strike for 66 days, was on the verge of death, and only agreed to resume eating when Israel somewhat relented.
These hunger strikes mobilized widespread support among Palestinians, and an enthusiasm that contrasts with the bitter disillusionment directed at the failed peace talks. The strikes against administrative detention stimulated a related mass hunger strike of more than 1600 prisoners in Israeli prisons protesting conditions of their confinement. This parallel undertaking began on Palestinian Prisoners Day, April 17, and lasted for a full month until settled when Israel agreed to meet several of the demands put forward by the strikers.
Hunger strikes are not grasped by the Western mind in their full significance. Such voluntary actions are an extreme form of nonviolence. The striker sacrificially foregoes violence against the other, seeking to awaken the conscience of those accused, bearing witness to abusive behavior, and appealing for solidarity from the wider affected community. Such extended hunger strikes send a moral message to both the oppressed and the oppressor, although the latter is likely to turn away in cynical disregard as has been the case with respect to the Israeli response.
It should still be shocking, despite not being entirely surprising that the Western media has taken almost no notice of these remarkable hunger strikes and how they illustrate this new face of Palestinian resistance.
We have only to take note of the ceaseless coverage given to Chen Guangcheng, the blind Chinese activist now enjoying sanctuary in the United States. Must we believe that Palestinian behavior is only of interest to Western media when it can be presented as fanatical and takes the form of violence against civilians? Of course this Chinese dissident deserves our sympathy, but should his story be so captivating as to completely eclipse the more extreme challenges posed by Palestinian hunger strikers that seem ready to make the supreme sacrifice of their own life?
Recalling that the death in 1981 of Bobby Sands, the IRA hunger striker, helped open a door that led to a kind of peace in Northern Ireland and that Mohamed Boazizi's death sparked revolution in Tunisia, only time will tell whether these Palestinian hunger strikes, unquestionably heroic, will lead the Palestinian people closer to realizing their right of self-determination and the finality of a just peace.
3) The third major development is the shift in the regional balance in favor of the Palestinians.
The public opinion among the Arab people is strongly supportive of the Palestinian struggle and deeply alienated by the kind of Egyptian collaboration with Israel typified by the Mubarak regime. Turkey, once a strategic ally of Israel, is now an antagonist, as well as being an avowed backer of Palestinian claims.
In light of these changes, I would have supposed that Israeli realists would be devoting their utmost energies to finding ways to reach a sustainable peace agreement that is sensitive to Palestinians rights under international law. Israeli realists may have sought refuge underground to avoid humiliation or worse in an Israel so firmly under the thumb of Netanyahu extremists who refuse to read this ominous writing on the regional wall, a refusal applauded by a U.S. Congress that is ready to jeopardize American security at the alter of Israeli militarism.
Such an unnatural geopolitical relationship is currently unchallengeable in the United States, which is itself sad and dangerous.
My claim is that these three sets of development should lead us to reimagine the Israel/Palestine struggle, and to channel our hopes and resources accordingly.
The Israeli government and its strategic think tanks are clear that they are more threatened by this turn to militant nonviolence than by armed resistance. Israel has the weaponry and the skill on the battlefield, but fortunately their formidable propaganda machine has been unable to stem the rising tide of public opinion hostile to Israel and supportive of the Palestinian struggle.