By Richard Falk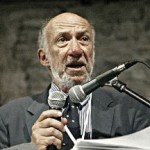 I have been struck by the strange firmament of Turkish pride. In one respect, the nationalist and patriotic fervor of Turkish holidays confirms the enduring success of Kemal Ataturk's great nation-building project after World War I. Huge Turkish flags are more prominently displayed than in any country I know, and Turkey has earned dubious notoriety for its criminal code provision that punishes insults to Turkishness, potentially including even imprisonment. Such a law has been used in a manner that encroaches upon freedom of expression, targeting even such cultural icons as Orhan Pamuk and Elif Shafik, and undoubtedly intimidating thousands of others who hesitate to make any assertion that might be interpreted as offensive by the Turkish custodians of national pride.
Even many of those who reject the idea of criminalizing anti-Turkish comments were still angered by Pamuk's interview in which he acknowledged the 1915 genocide against the Armenian community, first because it was contained in an interview conducted in Switzerland and, secondly, because he added the annoying aside "and only I will say this." Instead of examining the substance of his indictment, the focus was on Pamuk's supposed anti-Turkishness.
Shafik faced a similar storm of criticism when she published the Bastard of Istanbul, which also in a fictionalized context essentially accepts the Armenian narrative of the tragic events that occurred almost a hundred years ago. Neither Pamuk nor Shaifk were convicted, but prosecution was bad enough. My point here is to take note of the extreme sensitivity that Turkey continues to feel whenever critical commentary is regarded as a taint on national pride and collective memory.
At the same time, as with most countries, but perhaps with an added intensity, Turkey celebrates its athletic exploits. Recently it welcomed home its medal winning woman runners with great fanfare after the London Olympics as if they had made epic contributions to the wellbeing of the country, and it seems they had. And on that day sometime in the near future when Turkish football ascends the heights of a World Cup final, national fervor will certainly become hysterical. This is to be welcomed as an expression of national joy over the most loved sporting event in the world.
And yet, on different planes of discourse there is a strange national reluctance among Turks to enjoy certain achievements of their citizens, even a widespread tendency to belittle them. Over the years in the course of countless conversations about the Turkish Nobel Prize winning author Orhan Pamuk I have encountered such a tendency among Turkish intellectuals intent on downgrading his stature as a world class literary master: "he knows how to appeal to foreigners," "he is very good at promoting his work overseas," "he benefits from his translators," "he is derivative," "there are many better Turkish writers," "his fame rests on a heavily funded PR campaign," "his use of the Turkish language is undistinguished."
Less intellectually minded Turkish detractors, and there are many, complain that Pamuk is personally unreliable and selfish, that he is a womanizer, that his books are unreadable, or at best, that his imagination only works when he is fictionalizing historical themes or contents himself with being "the biographer of the city of Isranbul." What he should not do, according to his Turkish critics, is attempt to interpret the contemporary Turkish reality as he did so persuasively in Snow.
I would not suggest that all of these criticisms are unfounded, but what I would say is that their tenor exhibits an unaccustomed Turkish lack of generosity and balance. As an admirer of Pamuk, along with many friends with stronger literary credentials than mine outside of Turkey, I can report that Pamuk's best books, and there are several candidates, have a vivid resonance for readers that rests on deserved literary acclaim, and cannot be explained away as a triumph of self-promotion.
Pamuk has a great gift for breathing life and its mysteries into a variety of persons, places, situations, and uses the metaphor of 'the detective' or 'the traveler' with great skill in constructing his captivating plots. Why don't Turks take great pride in Pamuk's recognition by the Nobel Prize Committee? Would many Turks diminish a sporting team victory by examining the allegedly compromised private lives of its star athletes?
This brings me to a more controversial set of considerations bearing on Turkish foreign policy, which I view as an extraordinary series of successes, coupled with some disappointments, and several understandable missteps. Such an assessment is far from the perceptions common among Turkish critics of the AKP leadership, and deprives Turkish society as a whole of the satisfaction of being justly proud of what their government has achieved at a time that has been exceedingly difficult for almost every other country in the world.
Turkey emerged from the shadowland of its role as junior alliance member of NATO during the Cold War era and non-presence in the Arab world to become the most admired country in the region, especially during 2011 in the aftermath of the early successes of the popular uprisings in Tunisia and Egypt. On the basis of my visits to the region over the course of the past two years, this admiration rested on three principal sources: deep respect for the diplomatic skill, dedication to conflict resolution, and the great energy and intelligence of the Turkish Foreign Minister, Ahmet Davutoglu; the adoption of an equi-distance diplomacy that allowed Turkey to be critical of Israel and supportive of the Palestinian struggle without alienating the United States and Europe; and most important of all, establishing a flourishing economy that was supported by the more deprived segments of Turkish society, while creating a political leadership that was sensitive to Islamic values without abandoning the core principles of secular government, that is, the emergence of a so-called 'Turkish Model' that is contrasted throughout the region with the negativity associated with the 'Iran Model.'
I would have thought and hoped that however critical a Turkish citizen would be of some domestic policies of the AKP there would be uniform applause for this formidable array of foreign policy achievements. Much critical attention in the Turkish media has been directed at 'zero problems with neighbors," especially in light of the debacle in Syria and the upsurge of violence in relation to the Kurdish minority, and it is true that the doctrine from the outset undoubtedly expressed more a hope than a guideline.
At the time it was enunciated, there was no Arab Spring, no Mavi Marmara, no uprising against Qaddafi or Assad, but these unanticipated circumstances required, and produced, a major restatement. Davutoglu made clear that the real commitment of zero problems was in relation to the people and not necessarily to the government, and more specifically, the regimes in Tripoli and Damascus lost their legitimacy when they committed Crimes Against Humanity in relation to their own citizens.
Similarly, Turkey sought to mediate the conflict between Israel and Syria centered on the Golan Heights, lending great energy to the endeavor, but once Israel attacked Gaza at the end of 2008, it was clearly not possible to proceed further toward a resolution of the conflict. Turkey tried a number of other bold initiatives that ended in disappointment, but seemed as though they should have succeeded if the values of peace and justice were genuinely shared and not just proclaimed.
One was the effort to bring Hamas in from the cold, be accepted as a normal political actor, and shift the Isreal/Palestine conflict from sites of violent struggle to diplomatic arenas. After all, in 2006 Hamas had been encouraged by the West to compete in Gaza elections, but they were not supposed to win, and as a result an unlawful blockade has been imposed since 2007 on the people of Gaza and the Israeli insistence upon treating Hamas as 'a terrorist organization' has blocked a political solution.
Similarly, in 2010 a brave attempt by Ankara, in collaboration with Brazil, was made to dampen the pre-war flames that surrounded Iran's alleged nuclear weapons program, but the United States and Israel were intent on confronting Iran by way of coercive diplomacy in the form of escalating sanctions and unlawful threats of a military attack. The disappointment here reflected the impact of mainstream geopolitics on relations with Iran, but it only highlighted the constructive nature of the Turkish effort to produce a shift in tactics and vision in the direction of soft power diplomacy.
The discourse in Turkey takes no account of the radically changed regional circumstances or the boldness of peacemaking experiments that deserved to succeed. Instead, the failures are dwelled upon to establish that Davutoglu is out of touch, that he does not comprehend the true nature of world politics or the conditions prevailing in the Middle East.
Mainly, such conversations shift to a barrage of criticisms directed at the AKP and Erdogan: "they have lost touch," "they have become too powerful," "the government imprisons its opposition and silences its critics," "Erdogan is planning to run an authoritarian state," "the government is bending to the will of Washington," "despite its promises it has failed to solve the Kurdish problem." To varying degrees these criticisms are justified, although exaggerated, given the overall reality of state/society relations in Turkey.
My surprise is the unwillingness of many Turkish friends to separate these appropriate concerns from an appreciation of the extraordinary rise in Turkish stature as a political actor, not only regionally, but globally. Turkey is now an important middle power at the United Nations. It provides a diplomatic venue for many international events that used to be held in Europe. Its courageous Somalia initiative has given Turkey a post-colonial identity in Africa that no other non-African government has been able to achieve. It is my belief that Turkey more than any other country in the 21st century has increased its relevance to the conduct of regional and global politics, and this is something that all Turks can be proud of in a world of 195 or so sovereign states!
Waving the national flag is fine, yet finer still, is taking justifiable pride in what has been accomplished by those who act on behalf of one's country.