Chantal Mutamuriza
Born 1971 in Burundi
Chantal joined TFF in 2003 as Associate and Liaison for TFF's project in Burundi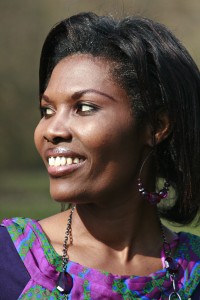 Profile
Human rights expert in International human rights law with 11 years of experience in human rights monitoring, training, advocacy. Fluent in English, French, Swahili, Kirundi and Kinyarwanda
Experience
Human rights officer at International Service for Human Rights (ISHR), Geneva
June 2007 to present
Manage human rights training programmes on United Nations and Regional Human Rights systems including course design, implementation, drafting narrative reports to donors, capacity building initiatives and advocacy. Trained approx. 400 participants from governments, NGOs, National Human Rights Institutions, human rights defenders and young activists from across the world to access and practically implement human rights mechanisms in their work. Assist human rights defenders coming to Geneva in their lobbying and advocacy strategies at the Human rights council, participate in ISHR advocacy strategy and policy papers in Geneva. Conduct capacity building activities in Africa, mainly in the Great Lakes region for human rights defenders on the use of UN and African human rights systems. Assist human rights defenders to access the UN and African special rapporteur on Human rights defenders.
Assistant of the Special rapporteur on Human Rights defenders in Africa, African Commission for Human and people's rights, ACHPR, Banjul/Gambia
January 2007 to June 2007
Worked at the ACHPR as an assistant to the special rapporteur on human rights defenders in Africa, Ms Reine Alapini Gansou. I managed all the inquiries from Human rights defenders in Africa, drafted communications and urgent appeals, compiled the activity report of special rapporteur on human rights defenders in Africa.
President and coordinator of the Action for Christians for the Abolition of Torture (ACAT), Burundi
2001 to 2007
Founded ACAT Burundi and managed the NGO for 6 years. I gave the general orientation to the organisation including fundraising for the organisation, represent it in national, regional and international meetings, forums.
I represented ACAT in a team made of 6 main human rights NGOs in Burundi in charge of legislative advocacy in Burundi for the promotion of human rights and good governance.
With the ACAT team, I set up a programme of prisons monitoring, provided legal aid to victims of torture and sexual violence.
Under my supervision and in partnership with Amnesty International, ACAT carried out a study on the scope of sexual violence after the civil conflict focusing on the lack of justice for the victims (Burundi : no protection from rape in war and peace). The study was used as a tool for a campaign to end sexual violence and to bring the perpetrators to justice.
Associate and project coordinator (part time), Transnational Foundation for Peace and Future Research (TFF)
2003 to 2006
I worked as associate and coordinator of TFF. I was the liaison between the TFF Amahoro (Peace) Coalition and TFF (Transnational Foundation for Peace and Future Research based in Sweden). The coalition set up by TFF was made of 13 Burundian organisations aiming at promoting peace, Human Rights, women rights, trauma healing and reconciliation, media, education…. (www.transnational.org). I contributed to TFF research and advocacy with politicians, UN representatives and other stakeholders.
Consultant on sexual violence and torture issues (part time), International Human Rights Law group (IHLG), Burundi.
2002 to June 2004
I worked as a consultant for the purpose of raising public awareness on Torture and sexual violence issues through training targeting the community-based representatives, a group set up by International Human Rights Law Group.
Focal point on Sexual and Gender Based Violence, International Medical Corps, Burundi.
March to August 2002
My duties and responsibilities were to raise awareness among the staff working with the refugees and the internal displaced populations on the existence and the effects of Sexual and Gender-Based Violence in the camps. Thus, with my supervisor, we trained them on the way of supporting the victims of SGBV in an appropriate manner.
Education
LLB, National university of Burundi (equivalent of Masters: 4 years and a dissertation): 1993-1998.
Other trainings
Training on Human Rights based approach programming, online course, Human Rights Education Association (HREA), March to July 2011.
ISHR Geneva Training Course on International Human Rights Law and Advocacy which ran concurrently with the 60th session of the Commission on Human Rights from 8 March to 23 April 2004.
Training on Security of Human Rights defenders organised by Front Line, Colombo-Sri Lanka, November 27-28, 2005
Membership
– Board member of the Centre for Civil and Political Rights (www.ccprcentre.org)
– TFF Associate (Transnational Foundation for Peace and Future Research): www.transnational.org
– Founding president of ACAT-Burundi (Action by Christians for the Abolition of Torture)
– Co-founder of the Human Rights Defender network in Burundi and in the Great Lakes region.
– Secretary of Hope Worldwide Switzerland (a charity organization)(https://www.hopeww.org/)
Updated October 2012