By Farhang Jahanpour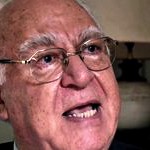 TFF is proud to present this video with one of the world's leading experts on Iran. Dr. Jahanpour here talks about why war on Iran cannot be an option on the table. In part 2, he lists 2o steps that can be taken if the West switches to a conflict-resolution and trust-building perspective. Please share this as widely as you can, thanks.
Iran (1) War Is Not An Option from TFF on Vimeo.