By Farhang Jahanpour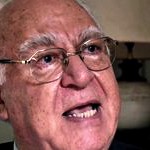 The next crucial round of Iranian presidential elections will be held on 14 June 2013. It has just been officially reported that Hassan Rowhani has declared his candidacy for the election.(1) Rowhani is an influential reformist politician and cleric. He was the chief Iranian nuclear negotiator under President Mohammad Khatami, who negotiated successfully with the Troika of European countries, UK, France and Germany.
Under his supervision, his team agreed to temporarily suspend nuclear enrichment and reprocessing activities for two years during the course of the negotiations.(2) Uranium enrichment was resumed after his successor, Ali Larijani, who was appointed Iran's nuclear negotiator on August 14, 2005 by President Mahmud Ahmadinejad shortly after assuming power, said that European countries had not lived up to their promises to help Iran with peaceful nuclear technology. Khatami's government had threatened to resume enrichment if there was no progress in negotiations with the West, but the resumption of enrichment took place under Ahmadinejad's government.
So far, the long, lackluster list of the candidates who have officially declared their candidacy is made up largely of the so-called Principlist wing of the Iranian politics. This term applies to the diehard conservatives who are staunch supporters of Ayatollah Ali Khamene'i, who are close to the senior clerics and the Islamic Revolution Guards Corps (IRGC), who are on the whole opposed to rapprochement with the West and particularly with the United States, and who favor a militant, confrontational attitude towards the outside world.
The main candidates of the Principlists are Gholam Ali Haddad-Adel, a former Majles speaker whose daughter is married to Ayatollah Khamene'i's influential son Mojtaba who is sometimes mentioned as his father's possible successor; Ali-Akbar Velayati, who served as Iran's foreign minister for 13 years and who has been the Supreme Leader's foreign policy advisor since leaving office; and Mohammad Baqer Qalibaf, the current mayor of Tehran who spent a few years as the Commander of the IRGC.
However, an intense rivalry has broken out between the Principlists and President Ahmadinejad, who is not going to leave office quietly. During the past few weeks he has campaigned furiously in favor of his handpicked candidate Esfandiar Rahim Masha'i, his son-in-law, whom he appointed as his first vice-president. After Ayatollah Khamene'i ordered him to remove Masha'i from that post, Ahmadinejad immediately appointed him as his chief of staff. This set the stage for four years of open warfare between Ahmadinejad and Khamene'i, although the Supreme Leader stuck his neck out in supporting Ahmadinejad's re-election as president, despite persistent reports that he had lost the election.
During the past few years, Ahmadinejad and Masha'i have portrayed themselves as champions of Iranian culture and nationalism, and even Iranian Islam, trying to undermine the role of the clerics. They have even declared a willingness to hold direct talks with the United States. As the result of their controversial policies, the hardliners have referred to Masha'i and his supporters as the "Deviant Movement" which has departed from the path of Islam. Some clerics have even accused him of blasphemy for declaring that the return of the Hidden Imam is imminent.
From the reformist camp, Mostafa Kavakebian, leader of the Democratic Party, has declared his candidacy, but it is unlikely that he will receive the backing of the Guardian Council that has to approve the credentials of the candidates. Kavakebian has stated that he will obey the dictates of Ayatollah Ali Khamene'i, hoping that this will soften rightwing opposition, but this has given rise to the displeasure of some reformers who mistrust him and accuse him of being too ready to compromise with the conservatives.
Under these circumstances, Rowhani's candidacy is of great importance.
Although a reformer and close to former Presidents Hashemi-Rafsanjani and Khatami, the Guardian Council would find it very difficult to disqualify him because he is a Shia mujtahid or senior cleric. He has been a member of the Assembly of Experts that is in charge of selecting the Supreme Leader since 1999, a member of the Expediency Council that arbitrates between the Majles and the Guardian Council since 1991, and he has also served as a member of the Supreme National Security Council as one of Ayatollah Khamene'i's two representatives since 1989. He was elected for five terms to the Majles, or Iranian parliament, for a total of 20 years, and served two terms as the deputy speaker of the Majles. He also served as the member of the defense committee and foreign policy committee (for eight years in each committee). Currently, he heads the Centre for Strategic Research, a center established in 1989 to draw up and compile Iran's strategies in various fields, especially in international, political, economic and cultural fields.
Rowhani has been an open critic of President Ahmadinejad's nuclear and economic polices and has argued that the president's provocative comments have turned many countries against Iran and have made it more difficult for her to pursue her policies.(3) He stated that Ahmadinejad's "careless, uncalculated and unstudied remarks and slogans have imposed many costs on the nation and the country."4 He criticized Ahmadinejad's frequent statements dismissing the effect of U.N. sanctions on Iran, pointing out "the economic impact is felt in the life of the people."5
Nevertheless, Rowhani has also criticized Western approaches to the Iranian nuclear program. In an interview with Iranian television, Rowhani said that European countries had agreed that Iran could have the full nuclear fuel cycle provided that they had sufficient guarantees that Iran would not move towards nuclear weapons. (6) In an article in Time Magazine, he stated that Iran would join the Additional Protocol and would bring its entire nuclear program under the IAEA inspection if her right to enrichment were recognized.7
He has criticized the reports issued by the International Atomic Energy Agency (IAEA) under Yukiya Amano, saying: "At a time when all Iran's nuclear activities are under the supervision of the IAEA, the agency's suspicion about the purposes of our country is meaningless." He dismissed what he termed the "West's cruel and unjust pressures on Iran", adding that Tehran would persist in its nuclear efforts. (8)
Rowhani bravely supported the demonstrations that were staged in Iran after the rigged 2009 presidential election and criticized the government for suppressing peaceful marches. In an article in the reformist daily Mardom Salari in February 2010, he said that not only did people have the right to protest if they felt that their vote had been stolen, but that such protest was a beautiful thing because it showed that people attached importance to their vote. He wrote: "Not only political protest is permissible, it is a political and social duty of everyone to do so." Stressing that it was people's natural duty to protest against what they perceived to be the stealing of their votes, he added: "If they are right, you have to accept their views, if wrong, you should show by proofs that they are wrong not by violence. But some people do not have the tolerance to listen to opposing views."9
Rowhani is an intelligent and well-educated man. In addition to his clerical studies, he also attended the University of Tehran in 1969 and received a bachelor's degree in judicial law in 1972. He continued his studies in the West and received his master's degree in public law followed by a doctorate degree from the University of Glasgow. He is fluent in English and Arabic and has published a large number of books in Persian, as well as in English and Arabic.
Under the present circumstances when nuclear negotiations with the West have dragged on for so long and have seemingly reached an impasse with neither side able or willing to take the extra step to reach an overall agreement, the election of Rowhani as president could unlock the door to serious negotiations.
He is a tried and tested politician, and he is trusted by the West as he was able to reach agreement with the West over the thorny nuclear issue. He also enjoys Ayatollah Khamene'i's support as a safe pair of hands as well as being a loyal executive. In the absence of any other viable reformist candidate running for the presidency (although former President Khatami has also been urged to put his name forward) Mr. Rowhani may receive the enthusiastic backing of most Iranian reformers. If one were to rule out a violent regime change favored by the neocons, the election of a relatively moderate cleric who is familiar with the West and who has had a successful track record in dealing with the West, particularly on the nuclear issue, would be the best possible option.
Farhang Jahanpour is a tutor at the Department of Continuing Education and a member of Kellogg College, University of Oxford, and a TFF Associate.
Notes
1. See Reuters, Former nuclear negotiator joins Iran's presidential race.
2. See "Iran hints it may suspend some unspecified nuclear activities" Associated Press, 10/26/2004.
3. See "Ex-nuke envoy raps Ahmadinejad policies", USA Today, 10/10/2007.
4. See "Iran ex-nuke negotiator: Ahmadinejad harming Iran", Associated Press, 09.09.08.
5. See "Iran's Nuclear Program: The Way Out", by Hassan Rohani, May 9, 2006, Time Magazine.
6. See Jam-e Jam 2 TV, translated by Memri TV, 7 December 2004.
7. See "Iran's Nuclear Program: The Way Out", by Hassan Rohani, May 9, 2006, Time Magazine.
8. See Fars News Agency in Persian, 2 March 2010.
9. See Mardom Salari in Persian, 9 February 2010.