By Mariam Abuhaideri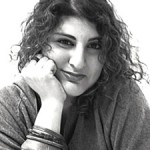 Writing in Cairo
One moment I was tense about what would unfold after the military issued 48-hour ultimatum would come to an end and the next moment I find myself absorbing the words being spoken by General Abdel Fattah al-Sisi, the defence minister. Yes, he had just fired Morsy from his job and somehow I still couldn't believe what had just happened. Then there were fireworks and rejoicing.
I was in a middle of a Farsi lesson, but my student and I could not resist our temptation and made our way to Tahrir. On the way we were met with celebrations by very happy Egyptians. There was immense joy in their cheers for people could be seen sitting over cars and popping out of the windows of their vehicles and everywhere imaginable with the Egyptian flag soaring high. They were truly happy, truly relieved.
I joined in and jumped out of the taxi with the Egyptian flag in one hand and my Nikon in the other. One girl didn't want any trace of Morsy as she tore to bits posters that contained his picture and that read "Arhal- Leave".
I was living through a chapter our children will read in their history textbooks. But for Egyptians it is more than symbolic.
Continue reading here at Mariam Abuhaideri's blog from where it happens. There you will also see her photos from the events.