By Richard Falk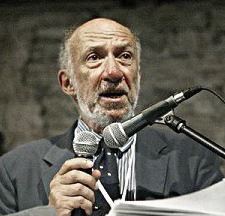 For the last three years Palestinian prisoners, mainly unlawfully detained in Israeli jails, have been engaged in a series of life threatening hunger strikes to protest administrative detention imprisonment (that is,without indictment, charges, and access to allegedly incriminating evidence), abusive arrest procedures (including nighttime arrests involving brutality in the presence of family members, detention for prolonged interrogations violating international standards, e.g. 22 hours at a time, sleep deprivation), and deplorable prison conditions (including unlawful transfer to Israeli prisons, denial of family visits, solitary confinement for prolonged periods).
No recent Palestinian prisoner has received more attention among the Palestinian than Samer Issawi, released a few days ago after reaching an extraordinary bargain with prison officials last April. He agreed then to stop his hunger strike, which had lasted an incredible 266 days, either partially or completely, in exchange for an Israeli pledge to release him in eight months at the end of 2013.
Notably, Issawi had rejected Israeli earlier offers to release him provided he would agree to a ten year deportation order to either Gaza or some distant country. Issawi refused this arrangement, a form of punitive release, which Israel had imposed on other hunger strikers, including Hana Shalabi. In Issawi's words, "I do not accept to be deported out of my homeland."
In the background also is the apparent Israeli effort to avoid having hunger strikers die, either because of their memory of the strong impact of Bobby Sands' death on public opinion in Northern Ireland back in 1981 or as an aspect of the Israeli brand of 'subsistence humanitarianism' that has been explicitly most implemented in Gaza for the past decade. It involves a grouping of policies that seeks to make life extremely difficult for Palestinians but short of the point of death or epidemic, an extreme austerity reinforced periodically by what some Israelis referred to as 'mowing the lawn,' that is, relying on military incursion to ensure that the average collective material circumstances of Gazans don't rise above subsistence levels.
Such an articulated cruelty, proclaimed to be the rationale for an occupation policy, is bound to sow seeds of hatred, resentment, and give rise to feelings of revenge among even the most moderate of Palestinians. I have encountered such responses to Israeli practices and policies among the gentlest of Gazans with whom I have met in recent years.
Issawi's case stands out for several reasons aside from taking note of the length of his hunger strike.
His expressed motivation was an understandable reaction to being rearrested in July 7, 2012 after having been released the prior year as part of the arrangement in which 1,027 Palestinian prisoners were given their freedom in exchange for the return of Gilad Shalit, the captured Israeli soldier. Issawi was rearrested at the Juba checkpoint, accused of violating the terms of his release that restricted him to Jerusalem, his place of residence.
He was apparently still within the municipal limits of Jerusalem, but in an area treated as the West Bank by the Occupation authorities, and even so was claiming only to be seeking a shop for the repair of his car. For this possible technical violation of the release agreement, he was sentenced to eight months in prison, but then additional to this, a special committee, acting under Military Order 1651, Article 186, used its authority to rule that someone rearrested in this way could be returned, on the basis of a secret file, to prison for the completion of his original sentence, which in Issawi's case meant twenty years.
There was no right to challenge such a seemingly outrageous ruling. Even Issawi's lawyer was denied access to the file that contained the supposedly incriminating information. It was against this background that Issawi was unwilling to accept a reversal of his release from jail. He declared that a hunger strike was the only weapon available to him to protest such treatment, implying that he would either win his freedom in that way or die in prison.
Issawi's family history is emblematic of what it has meant to live for most Palestinians decade after decade under military occupation.
Samer's brother, Fadi, was killed in 1994 by Israeli security forces, and a second brother, Medhat has spent the last 19 years in prison, while his sister Shireen was detained during 2010. The family lives in the village of Issawiyeh, a suburb of Jerusalem, and a site of protest in recent years, especially in reaction to the confiscation of village land to create a 'national park' and to establish a waste dump. In other words, the context of occupation, annexation, expropriation of resources, and suppression are all part of the Issawi story. Indicatively, Israel banned any celebration of Issawi's release in Issawiyeh, an order somewhat ignored by a warm welcoming crowd joyful about his release.
Even before his rearrest for violating the terms of his release, the Palestinian NGO that monitors Israeli prisons and policies, Addameer, indicated that Issawi was subjected to constant harassment by security forces. He was questioned at length several times a week, and was denied the opportunity to live a normal life. The daily ordeal of Palestinians living under occupation is a Kafka tale of lawless law, where those in charge decide whatever they wish, hide behind veils of secrecy, and impose their authority by relying on excessive force and a variety of humiliating obstacles to normalcy.
Issawi made clear that his struggle would not end with his release from prison: "It is our obligation as freedom fighters to free all Palestinian political prisoners." Also, that there was a link between his kind of resistance by Palestinians and the broader international solidarity movement: "I draw my strength from all the free people in the world who want an end to the Israeli occupation." Of course, there is mutuality present as those who support the Palestinian struggle from outside are inspired by the courage and resilience of individuals such as Samer Issawi, and should know these stories of nonviolent Palestinian defiance.
The Issawi story is more than the struggle of an individual or the sad saga of a family active in resistance or a village confronting the daily realities of an occupation that is also a scenario of resource confiscation and oppressive living conditions.
It represents a metaphoric summary of the Palestinian reality, epitomized by pervasive vulnerability, violent oppression, and the steady encroachment on the integrity of the Palestinian habitat, but also by the dynamics of resistance, struggle, and hope for a better, decent future. It is a reality we should all reflect upon at the turning of the year, wishing and acting for a better 2014 for Palestinians and for all of us.