Jelena Mair became a TFF Associate in April 2014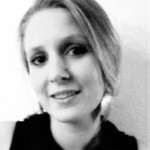 jmair@posteo.de
Education
2011 – 2013
Master of Advanced Studies in Peace Studies and Conflict Transformation,
World Peace Academy – swisspeace Academy, Basel University.
2009 – 2010
Bachelor of Arts in Interdisciplinary Studies (Sociology, Anthropology, Ecology, Psychology,
Philosophy, Global Studies), California Institute of Integral Studies, San Francisco, CA, USA.
Professional Experiences and Engagements
2012 – 2013
Good life Gundeli, Basel, Switzerland
Intercultural Neighborhood Project supported by the Christoph Merian Stiftung.
Project initiator and project manager.
2011
Internship at Open Hearts Event Agency, Baden, Switzerland – and event agency with a social mission to bring about social change through music.
Project overview, event organization, communication, bookkeeping
2011 – 2014
Café des Amis, Zurich, Switzerland.
2011
Friendship Village, Hanoi, BVietnam – volunteer work.
Home and relief facility for children and veterans suffering disabilities caused through Agent Orange during the Vietnam War.
2009 – 2010
Conscious Café, San Francisco, USA
2006 – 2008
CouchSurfing International – New Zealand, Alaska, California
Volunteering and house management, training in Non-Violent Communication (NVC), administration and bookkeeping.
2005 – 2006
Reception und Management /Guesthouse Rambutan, Granada, Spain
Customer service, house management, communication, bookkeeping and event organization.
Stay Abroad
2006 – 2011
USA – California, Alaska (Study at the Tamalpa Institute, BA at the California Institute of Integral Studies and voluntary work for Couch Surfing International.
2011
Vietnam and Cambodia (travels and voluntary work at the Friendship Village in Hanoi).
2007 – 2008
Thailand, Cambodia, Laos.
2006
Argentina, Brazil, Panama (educational journey and language studies).
2003
Cuba (educational journey).
2000
Sarajevo, Bosnia (intercultural youth workshop with the organization Open Hearts.