By Richard Falk
June 14, 2014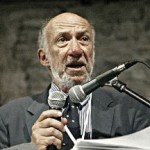 After several past failures to reconcile Fatah and Hamas under the single Palestinian umbrella of the Palestinian Liberation Organization, a unity government was formed and its ministers sworn in on June 2nd in Ramallah. This supposedly interim government of 'technocrats' without party affiliations will be presided over by the Prime Minister of the Palestinian Authority, Rami Hamdallah.
Hamas was reported unhappy with the composition of the government, withholding its approval until the last minute, but in the end went along. Additional to the diplomatic and long-term benefits of Palestinian unity, the people of Gaza could stand to gain in the short-term, especially if Egypt can now be persuaded to open its border for the passage of fuel and other necessities. Cairo's aversion to Hamas' Brotherhood past would be diluted in view of the PA, not Hamas, having become the legitimated governing authority for all Palestinians, including those living in Gaza. The urgent needs of the Gazans may help explain why the two Palestinian factions finally set aside the bitterness of the past, at least for now.
It is too soon to assess the wider implications of this political move that angers the Israeli government and has been greeted with hostile caution in Washington and Europe.
For the first time since Hamas won the Gaza elections in 2006, and forcibly displacing a corrupt and abusive Fatah from its governing role a year later, the Palestinians are represented by a leadership that is inclusive of the West Bank, Gaza, and East Jerusalem. The governmental machinery is presently presided over by Mahmoud Abbas who is Chair of the PLO and the President of the Palestinian Authority, which has promised elections of a new leadership within six months.
Many Palestinians hope that the stage is now set to reduce the 'leadership deficit' that has hampered diplomacy at least since the death of Yasser Arafat in 2004. Arafat in the years leading up to his death lost the respect of many Palestinians, partly because he seemed too ready to please Washington in his search for a solution and partly because he lost his grip on corrupting elements within his own entourage.
Unfortunately, the only Palestinian that has both the stature and a political appeal that stretches from one end of the spectrum of political opinion to the other is Marwan Barghouti, and he is serving a long-term prison sentence in an Israeli jail.
Israel's Response
For the moment Palestinian diplomatic unity has been achieved, and seems to be unnerving Israel. Its highest officials and main media have not questioned Prime Minister Benjamin Netanyahu truculent insistence that Israel will never negotiate with any Palestinian government that is "backed by Hamas," and threatens a variety of hostile reactions ranging from accelerating the expansion of settlements to withholding customs transfer payments that the PA needs to meet its big public sector employment payroll of 150,000.
Perversely, disavowing as illegitimate any Palestinian government that is backed by Hamas endows the organization with a 'make or break' political influence, or put differently, gives Israel a foolproof pretext for doing whatever it wants in occupied Palestine without encountering much adverse reaction.
Such an unconditional posture confirms for me Israel's disinterest in a diplomatic approach to real peace, and serves as an excuse for going forward with settlement expansion, ethnic consolidation of East Jerusalem, and continuing the punitive blockade and isolation of Gaza. This pattern was already present a few years ago when Al Jazeera published a series of documents associated with secret negotiations between the Israeli Government and the Palestinian Authority in which the PA offered major concessions, and Israel reacted with disinterest and the absence of any counter-offers. [See Clayton Swisher, ed., The Palestine Papers: The End of the Road (Chatham, UK, 2011)]
The Israeli rejection of this move toward Palestinian reconciliation is rationalized by the contention that Hamas was and remains a terrorist organization, and is unacceptable as a political actor because it refuses to recognize Israel as a Jewish state and renounce violence as a tactic of struggle. The United States and the EU share this assessment as a formal matter, but in a slightly more nuanced way although it continues to view Hamas as a terrorist organization, and hence an illegitimate interlocutor.
Yet, to the openly declared disgust of Tel Aviv, the White House has announced that it will for the present continue to work with the PA, including keeping the aid flowing. It announced that it intends to closely monitor the role of Hamas in the unity government as the aid to the PA (worth $440 million this year) has been conditioned by the U.S. Congress on the absence of 'undue influence' on the part of Hamas.
What constitutes undue influence is obviously in the eye of the beholder. Israel can be counted on do its part, exerting pressure via its lobbying allies on Israel's many Congressional friends in Washington, to show that Hamas is indeed influencing PA policies at this point despite the absence of any Hamas officials in the formal leadership of the new PA government announced in Ramallah.
If Israeli lobbying succeeds it could trigger a break in the flow of aid, and cause fiscal troubles for the PA, but maybe with political side benefits by providing Palestinians with badly needed increased room for diplomatic maneuver free from an overall subservience to the partisan wishes of Washington.
Whether this will happen is uncertain. There is sure to be a pushback in the United States by Republicans always eager to score points against the Obama presidency by claiming that Israel is not being supported in the manner that such a key ally deserves. As well, playing the anti-terrorist card still seems to be effective in agitating the American public.
Even if Congress does force Obama's hand, the effects are uncertain. For one thing, the Arab League has pledged $100 million per month to the PA to offset any shortfall arising from a suspension of aid, and several Arab governments have expressed their willingness to provide Ramallah with the equivalent of any funds withheld by Israel and the United States.
If such a pledge is fulfilled, no sure thing given Arab past failures to deliver on similar pledges, it means that if aid is cut to the PA, the main effect will be political rather than economic. In this event, Tel Aviv and Washington would likely lose influence, while Cairo, Riyadh, and possibly Tehran seem poised to gain leverage not only with the Palestinians but throughout the Middle East.
Tentative Assessment
It is only possible at this stage to reach tentative conclusions. The move to unity comes after utter failure of the direct negotiations that the U.S. Secretary of State John Kerry pushed so hard to get started last year. For most observers, especially in light of the continuing expansion of Israeli settlements in the West Bank and Jerusalem, there seems no longer any credible prospect of a two-state solution in a form acceptable to the people of Palestine or with the possibility of creating a viable and fully sovereign Palestinian state.
Beyond this, Palestine has started to act more and more as a state, a status dramatically affirmed by Pope Francis in his recent visit to the holy land. In this regard, it should be appreciated that Israel broke off negotiating with Palestine prior to the formation of the unity government, and not because of Hamas.
The break occurred because the governing authority in Ramallah decided to sign 15 international conventions as a state party, a seemingly responsible step for Palestine to take if it wanted to be perceived as a state. Such an effort by the PA to confirm Palestine as a state without the endorsement of Israel and Washington is a direct result of the disillusionment by the PA with the ridiculous inter-governmental diplomacy that is still being championed by the U.S. Government as the only path to peace.
The Palestinians have been living without rights under Israeli occupation for more than four and a half decades, and many Palestinian families have been languishing in refugee camps in and around Palestine ever since 1948. Besides this, the deferral of a resolution of Palestinian claims is not a neutral reality. It helps Israel expand, while diminishing Palestinian expectations in relation to their own territorial and national destiny.
I believe the bottom line importance of the unity government is the Palestinian realization that no solution to the overall conflict is even conceivable without the participation of Hamas.
Beyond this, allowing Hamas to become an active part of the political equation strikes a body blow against Israel's strategy of keeping the Palestinians as divided and subdued as possible. Hamas has taken a series of important steps to be accepted as a political actor, and thereby overcome its reputation as a terrorist organization associated with its earlier embrace of indiscriminate political violence, especially extensive suicide bombing directed at civilian targets within Israel.
After entering and winning Gaza elections in 2006, Hamas went on to exercise effective governing authority in the Gaza Strip since 2007. It has been governing under extremely difficult circumstances arising from Israeli blockade and hostility. It has managed to negotiate and comply with ceasefire agreements via Egypt. Most relevantly, by way of statements of and interviews with its leaders indicating a readiness to enter into long-term co-existence agreements with Israel for up to 50 years if Israel withdraws to the 1967 'green line' borders and ends its blockade of Gaza.
The firing of rockets that can be directly attributed to Hamas in this period are almost always launched in a retaliatory mode after an unlawful Israeli violent provocation; most of the rockets launched are primitive in design and capability, and have caused little damage on the Israeli side of the border and often seem to be the work of extremist militias in Gaza that act independently and in violation of Hamas.
Despite the low number of Israeli casualties, the threats posed by these rockets should not be minimized as they do induce fear in Israeli communities with their range. It should be recognized, also, that Hamas is known to possess more sophisticated rockets that could cause serious casualties and damage, yet has refrained from using them except in the course of defending Gaza in response to the massive attack launched by Israel in November 2012.
This profile of Hamas in recent years appears to represent a dramatic departure from its earlier positions calling for the destruction of the Israeli state in its entirety. It is fair to ask whether this more moderate line can be trusted, which cannot be fully known until it is tested by a positive engagement by Israel and the United States.
So far Israel has made no reciprocal gestures even to the extent of taking some cautious note of these changes in Hamas' approach. Israel has continued to repeat its demands that Hamas unilaterally renounce political violence, recognize Israel as a Jewish state, and indicate its acceptance of all past agreements with the Palestinian Authority.
Even if Hamas were to take these steps it seems highly doubtful that Israel would alter its defiant position, continue to claim that such acts could not be trusted until further evidence of good faith are available, including amending the Hamas Charter. Doubts about Hamas' trustworthiness seem a typically misleading distraction put forward by Tel Aviv.
As whatever Hamas were to do, or even the PA, Israel would be sure to make its future security depend on its military capabilities, and place no reliance whatsoever on whether Palestinian political actors were true to their word. In the abstract, it does seem unreasonable to expect the Hamas to make these unilateral commitments demanded by Israel so long as the unlawful collective punishment of the people of Gaza in the form of the blockade continues.
At this point Hamas could and probably should do more to establish the bona fides of its abandonment of terror as a mode of armed struggle and its readiness to have peaceful relations with Israel for long periods of time.
It could and should revise the Hamas Charter of 1987 by removing those passages that suggest that the Jews as a people are evil and provide jihadists with suitable targets that deserve to be stuck dead. It could also draft a new charter taking account of intervening developments and its current thinking on how best to wage the Palestinian liberation struggle.
It may also be time for Hamas to make explicit a qualified commitment to a nonviolent path in pursuit of a just peace. In circumstances of prolonged occupation and state terrorism, Hamas is entitled to claim rights of resistance, although their precise contours are not clearly established by international law. Hamas is certainly entitled to act in self-defense within the constraints of international humanitarian law, and hence can condition any tactical renunciation of armed struggle by reserving these rights.
The one side of the Israeli rigidity that is rooted in psychological plausibility is the reality of fear, and Hamas if it wants to make progress toward a sustainable and just peace, would be well advised to do its best to recognize this obstacle.
Ari Shavit starts his important, although not entirely persuasive book, in a revealing way: "For as long as I can remember, I remember fear. Existential fear…I always felt that beyond the well-to-do houses and upper-middle-class lawns of my hometown lay a dark ocean. One day, I dreaded, that dark ocean would rise and drown us all. A mythological tsunami would strike our shores and sweep my Israel away." (My Promised Land: The Triumph and Tragedy of Israel, New York: Spiegel & Grau, 2013), ix.
I am not intending to suggest that such feelings in any way mitigate the injustices imposed on the Palestinian people for almost a century. I am saying that these feelings among Israeli are real and widespread among the Jewish population living in Israel, and that the process of inducing more Israelis to seek a genuine peace depend on sensitivity by Hamas to this reality.
Such a call does not mean at all that Israel should not have done more in this period, especially to allay the strong suspicion that the excessive demands of the Israeli government issued in the name of security and the invocation of fear and loathing, whether toward Hamas or Iran, is not being manipulated by a cynical leadership in Tel Aviv with not the slightest interest in peace and accommodation on reasonable terms, but is primarily seeking to proceed toward the control of virtually the whole of historic Palestine and the exploitation of all its resources.
In other words Israeli 'fears' are at once authentic and offer a useful dilatory tactic. I would also emphasize the relevance of the situation on the ground: Israel as a prosperous powerhouse and fully sovereign state as contrasted to Hamas, which is the governing authority of the tiny, blockaded, and totally vulnerable Gaza Strip whose impoverished population has been deliberately kept by Israel at a subsistence level and continuously subjected to Israeli state terror at least since 1967.
A salient issue in this context is whether it is reasonable and desirable to insist that Hamas adopt a new covenant as a precondition to its acceptance as a legitimate political actor. On the one side, as mentioned above, Israel if so motivated, could explore accommodation options without taking additional security risks because of its total military dominance, and thus without either trusting Hamas or making a renunciation of the 1987 Hamas Charter a precondition.
On the other side, the fact that Hamas would be willing to amend its Charter or adopt a new one that would provide some tangible indication that it no longer is calling for the killing of Jews (Article 7) and the insistence that a sacred and violent struggle is mandated by Islam to persist until every inch of Palestine falls under Muslim rule (Articles 13 & 14).
If the public declarations by Hamas leaders in the last several years are to be taken seriously, then Hamas owes it to itself and those acting in solidarity with the Palestinian struggle to clarify its current political vision of peace and justice. Such clarification is consistent with reaffirming the responsibility of Israel and the Zionist movement for past injustices and the accompanying denial of fundamental and inalienable rights to the Palestinian people, above all, the right of self-determination.
From the positions set forth here, it seems clear that at this point the official Israeli leadership is not inclined to seek a diplomatic outcome to the struggle that includes addressing legitimate Palestinian grievances. For this reason alone, it is fair to conclude that the 1993 Oslo framing of diplomacy, as most recently exhibited in the Kerry negotiations, is a snare and delusion so far as Palestinians are concerned.
It not only freezes the status quo, it shifts the realities on the ground in the direction of Israeli expansionism via annexation, and moves toward the final stage of Zionist thinking, incorporating Judea and Samaria (the West Bank) into an Israeli version of the one-state solution.
These moves, in effect, normalize the apartheid structure of relations between Israeli settlers and Palestinian residents, and shed the pretense of agreeing to the establishment of an independent Palestinian state. Against such a background, the incentive to change the Hamas Charter it should be understood is not to appease the Israeli government, but to manifest its own altered vision and strategy and to exert some influence upon the Israeli citizenry and world public opinion.
It needs to be appreciated that whatever Hamas were to do to please Israel, it would make no essential difference. What is relevant to the present stage of the Palestinian national movement is to mobilize nonviolent militant resistance and solidarity support. It is on this symbolic battlefield of legitimacy that Palestinian hopes now rest.