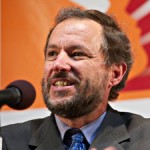 By Stephen Zunes and Noor Al-Haidary
As with the initial uprising against the Saleh regime four years ago, an unarmed civil society movement rises up to challenge the Huthi militia.
While media coverage of the tragic situation unfolding in Yemen in recent months has focused on armed clashes and other violence, there has also been widespread and ongoing nonviolent civil resistance employed by a number of different actors.
In fact, the most significant setbacks to the Huthi militia in their march southward across the country in recent months have come not from the remnants of the Yemeni army or Saudi air strikes, but from massive resistance by unarmed civilians which has thus far prevented their capture of Taiz, the country's third largest city, and other urban areas. The resistance efforts have also pressed the Houthis to withdraw their forces from a number of previously-held areas, including universities, residential neighborhoods, and even military bases. This kind of nonviolent resistance by ordinary people is remarkable, but it is not new in Yemen.