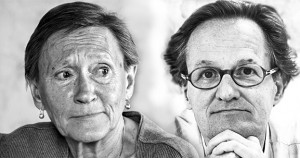 By Christina Spannar and Jan Oberg, TFF founders
TFF was established on September 12, 1985. We think that it's 30th Anniversary is a fitting occasion to reflect on what has happened in the big world and in our lives with the foundation.
It is also a piece of Lund's research history in general and of peace research and education in particular.

Part 2

Weak aspects of TFF
• Being outside many networks and institutions – it has become more and more difficult to influence the world if you are small, independent and don't accept governmental and corporate funds.
• A perception that the interest/commitment of TFF is out of sync with the sentiments of times, of the Zeitgeist. In spite of that we maintain the fundamental belief that peace is essential and that we can forget about the rest if major wars or nuclear exchanges take place.
• Too 'academic'/theoretical to forge deeper, permanent links with public opinion and movements.
• Too 'radical' or 'idealistic' to be interesting to governments and most mainstream media.
• A constant very hard work load – resting on a small international group and on the founders in Sweden – vulnerability also in the perspective of us having gotten 30 years older.
• The struggle for funds getting more and more tough and we are much more vulnerable than, say, ten years ago. Being all-volunteer, we still have to pay the bills for what enables us to do things: the Internet, computers, travels to conflict areas, insurance, bank fees, fund-raising, phones, sending out mails, using social media, etc. 
The generosity of yesterday has been replaced by a "stingy" attitude of being entitled to get things free in the affluent Internet-based society. This attitude implies that it is not my responsibility to finance peace, somebody else does (and the somebody else is never me). Few citizens seem to recognise that they are the taxpayers who de facto finance all the weapons and wars. 
The far majority of those who support us are idealists without particular means – while wealthy people for peace a far and few between.

TFF's stronger sides
• We are still here, operating with amazing TFF Associates around the world who share the commitment to 'peace by peaceful means'.
• We have remained faithful over all these years to the original ideals, not succumbing to go mainstream/politically correct to achieve more funds or appearing acceptable to the masters of war, i.e. government – neither by the way in Sweden nor Denmark.
• TFF is proud to have contributed to theoretical development. The concept of human security was developed by Jan Oberg – not by Amartya Sen and Sadako Ogata – already in 1978 and used ever since in TFF. So too conflict-mitigation, a systematic methodology for working in conflict regions, an innovative conceptualisation of militarism as MIMAC Military-Industrial-Media-Academic Complex, (with criticism of it), the concept of a bridge-builder between immigrants and the Swedish society. And a few others.
• Pioneering the idea that academic peace researchers should go out there, put on helmet and flak jacket and get mud on their shoes and see whether any of all the book learning is of any use to people in conflict and violence.
• High productivity in proportion to the economic base.
• Fair amount of ongoing experimenting, new ideas and projects, use of modern technologies at an early stage.
• Reaching millions every year – many more than ever before.
• Thanks to free thinking and on-the-ground work, TFF has made a series of predictions – both early warnings about wars and warnings about failed conflict-resolution and failed wars. We believe this is one result of being free and not practising 'group think.'
• Production of alternative conflict-resolution and peace plans that would have made the world a better place – or so we believe – than the more or less conflict- and peace-illiterate policies implemented by politicians – e.g. Georgia, Croatia, Bosnia, Kosovo, Burundi, Iraq, Libya, Syria.
• Having taught and trained thousands of young people in some 20 countries.
• Having built a pace and conflict knowledge base of 6.000-7.000 articles and reports accessible on the net from 1997 till today, thousands of posts and comments on social media and a new Flipboard magazine, "Transnational Affairs", as well as more videos and, from 2015, video 'live' streaming too.

Can we see any tangible results over these 30 years?
At the end of the day – or of the 30 years – we gladly admit that we can't really measure it. This is also a business where you do not see any immediate results; you basically sow seeds – some plants die quickly, some little ones may thrive far away – and much later.
Over a year, we get thousands of email appreciations, Likes on social media, we've received genuine peace prizes and been nominated for the not-so-genuine Nobel Peace Prize three times. Students from way back suddenly write and say – hey, you influenced my thinking there back in the early 1990s – or something similar.
We also believe that we have been important in terms of some little human solidarity – by listening to the stories of people in conflict zones – and not only decision-makers but ordinary citizens in villages, by facilitating peace training with young people in conflict zones and after genocide and by working in conflict areas where other NGOs were not queuing up because government funds had suddenly become available.
Our projects with Afghan youth being integrated into the Swedish society is another example of this. The project "Like Bridges Over Troubled Water" provided five unaccompanied Afghan boys with the opportunity to make an exhibition about their incredibly hard journey from Afghanistan to Sweden. It has now been shown at more than 30 locations and these boys are now faring well in their new country.
That's good enough.

Did we change the world? Prevent a war? Create lasting peace anywhere? No, not that we know of!
But we hope to have made a tiny contribution to a possible future world in sustainable peace, a world with much fewer types of violence and where war has been abolished. And if we are lucky enough to get really old we may, in the best of cases, will see a little of that. And then it has all been worth it.

How outrageous that these are the conditions on which peace must be practised
Money is a reward mechanism and measuring rod in our society. According to the UN, about US $ 0,5 billion is used for peace around the world combined with at least US $ 1700 billion in military expenditures (about US $ 30 billion for the UN itself).
Using the measure of funds, peace is of virtually no importance to the world's governments compared with their investments in violence. These proportions have remained perverse and absurd during our three decades of existence.
It's never been the purpose or our wish to earn a living from our peace work. However, we founders did not anticipate that there would never be anything to compensate for the loss of other incomes by working as unpaid volunteers for peace.
Over 9 years TFF did receive and organisational support from the Swedish Ministry of Foreign Affairs of about US $ 40.000 – enough to do projects and employ a part-time secretary – but that support was discontinued in the winter of 1999 after TFF's rather successful mediation over 4 years between Belgrade and Pristina, production of the most widely circulated plan for a negotiated solution and our media campaign against the bombing of Serbia earlier that year combined with reporting from under the bombs in Belgrade.
The – dirty – ministerial game was to argue that there was a one-year administrative change for which reason foundations would not get the organisational support for 2000 but should apply anew for 2001 – which we did with the predictable result. We happened to be the only foundation among Swedish peace organisations.
Social democratic prime minister Göran Persson and his foreign minister, Anna Lindh, were known to be personally close to the leaders in Washington – Lindh in particular. This was also the time when the social democratic struggle for goals such as neutrality, mediation, common security, nuclear abolition, general and complete disarmament and a strong UN was demolished – in short anything that could be associated with the late prime minister Olof Palme.
Instead a policy of a stealth, ever closer association with US/NATO took priority. Thus, Sweden gave its political support to every U.S. war – not the least the wars on Yugoslavia and Afghanistan, the sanctions and bombings of Iraq – and chose to have its soldiers under NATO command instead of in UN peace-keeping missions.
Sweden in this period also stopped taking leadership in disarmament and abolished the post as disarmament minister.
Since then the foundation has operated on project support here and there but, above all, exclusively on people-financing. Today we do all we do for about US $ 25.000-30.000 thanks to donations from some hundred citizens around the world.
Rather intense attempts to obtain funds in the U.S. and from Swedish companies and individuals has lead to zero and we no longer waste energy and time on anything that for so many years have proved in vain.
Scandinavia has lost a number of foundations and outfits from where one could hope to obtains smaller funds for projects and administration. The ethos of our time is that the market shall rule and if you cannot run a foundation like TFF as a business and secure your income that way – pack up!
Well, we haven't packed up, nor closed down – so far. But we won't last 30 more years for sure. And TFF is dependent for its existence on us, the founders, working without any permanent salary from it.
And while we are at it – so many have asked: But how do you make a living?
The answer is: By honorariums here and there for speaking; royalties from books; short-term project-related salaries; accepting an annual income equivalent to 2 months of what we would have as professors at, say, Lund University. And then of course an economising do-a-lot-yourself lifestyle, a very small debt in proportion to property, little attraction to Western materialism and luxury – while certainly enjoying a lot of luxury compared with countries we have worked in and the world at large.
So what drives us?
The joys of an more or less constant experimenting. Being purpose-driven and having a free life permitting flexibility and new challenges. No two days the same. Never being bored. The gift of doing something together for such a long time.
It's been a lot of hard work, yes – but together with wonderfully committed, like-minded people of our own and the Board's choosing. There has been very little negative energy spent at TFF over the years – compared with much bigger organisations' more or less constant in-fighting – academic people can be very creative at that!
We've been masters in our house and not been forced to do or not what anybody – governments, corporate capital or whoever – might tell us. In short, realising a life dream of freedom and of doing something rewarding for ourselves and beneficial to the larger world.
And that's important: We haven't sacrificed ourselves. These 30 years has been an immensely rich experience! But it could be that we want to spend our old days doing something quite different and no less rich.
The day we don't want to put up with these conditions, think we've done our duty or cannot do this any more, we'll say goodbye. We'll do it with a smile and not wait until people begin to ask why we don't say goodbye.
It depends to a large extent on the support TFF will get in the near future.
And we'll say thank you to all we met on this wonderfully rewarding peace and learning journey!
But all that said about ourselves – and perhaps of little interest beyond our own need for taking stock – let's finally elevate it all to the level of civilisation:
What is the quality and Zeitgeist of a society in which the finest value of all – peace, non-violence, conflict-resolution and co-operation must thrive under such lousy conditions – while arms traders and other war profiteers are multi-billionaires?