Lund, Sweden, September 5, 2015
Updated September 5 and our apologies if you've received this before.
We want to catch all and miss no one over all these years.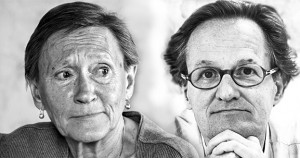 Dear friend!
We are happy to invite you to the TFF 30th Anniversary Benefit Event !
September 11-12, 2015
Live Lectures by videostream
Exciting lectures on world affairs and peace over two days – See program below.
This is not an invitation to visit the foundation in person.
It is an online, live video streamed event that you will be able to follow from anywhere in the world
Here is the link and it'll also be shown via Facebook, Twitter and on our website.
And all the lectures will be available later as videos on our own video channels.
Open House at the foundation
Saturday September 12 at 14:00-17:00
It's at Vegagatan 25 in Lund, Sweden – deadline for your registration September 7.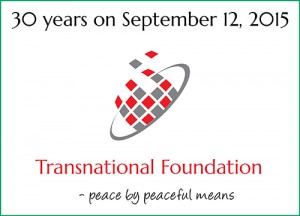 1. Lectures on-site with live streaming
We'll shortly tell you the links where you may see it all and where videos will later be available.
Lecture program
Friday September 11
Live, video streamed:
16:00
September 11: Alternatives to the devastating War On Terror – Jan Oberg
17:00
TFF 30 Perspectives – TFF Associates and Board on the better world we dream of – And cheers!
Saturday September 12
Live, video-streamed 10:00-18:00
10:00
Iran And the Nuclear Issues – Gunnar Westberg
11:00
Integration – Why and how? Example: Afghan Youth In Sweden – Christina Spännar, Sweden
12:00
Nuclear abolition is necessary and possible – Gunnar Westberg, Sweden
13:00
West and East: Ukraine and New Cold War? – Jan Oberg
14:00
Human Rights And War Crimes – Jonathan Power, UK/Sweden
15:00
Women, Self-Esteem and Violence – Annette Schiffmann, Germany
16:00
Yugoslavia – What Should Have Been Done? – Jan Oberg (in Memoriam Håkan Wiberg), DK/Sweden
17:00
Media and Peace – Sören Sommelius, Sweden
18:00
Burundi's Crisis And Possible Ways Out – Burundi expert

2. Open House hours 14-17
Buffet, drinks, coffee and tea, cakes and other sweets.
You must register your visit by September 7 at the latest at TFF30@transnational.org or call 0046 738 525200.

3. Peace with peaceful means
The day is devoted to the – ongoing – struggle for "peace by peaceful means" as the UN Charter puts it. Gandhi said that the "means are goals in-the-making". To realize that noble goal remains the mission of TFF. Today we show you how and promote all related activites with the help of social media and new video technologies.

4. This is a Benefit Event – Your support to TFF please!
TFF is unique in being totally independent of government and corporate funds. It's people-financed. No one related to TFF has a salary; we're all-volunteer.
This provides for truly free research and permit us to be critical and constructive and practise our freedom of expression. Not everyone can boast that today!
Wars, nuclear and conventional arms, bombing raids and occupations etc. are financed by your tax money. Sadly and unfairly, no tax funds go to realise the UN norm above.
We think that people who believe that peace is better than violence should also pay something to the research, education and activism in favour of that UN norm.
If you can come to Lund on our big day or sit somewhere following our rich lecture program, we urge you strongly to make a donation. Every day over 30 years, TFF has given the world something useful.
You can do it right in the middle of our homepage – click the "Give" button or under the headline "Support" in the right-hand column where many options exist, including PayPal. It easy, fast and secure!
Cash – but no cheques – can also be donated at the event.* *
Thank you so much!

5. Videos
We're proud to present the first two short videos – 3 more to come – in which the founders talk about various aspects of 30 years in the service of peace on the basis of questions asked by board member Annette Schiffmann. Watch, comment and subscribe!

6. Brand new Online Magazine
The announced online magazine launched to mark our Anniversary is now here!
"Transnational Affairs – TFF Magazine for conflict-resolution, non-violence and peace-building"
Excited as we are, we'll be back to you soon with more details!
Yours truly
Christina & Jan
Founders
* If you are able to come in person, you must register to TFF30@transnational.org or call 0046 738 525200 by Tuesday September 8 at the latest.
* * This does not apply to you if you have already made a donation in 2015.