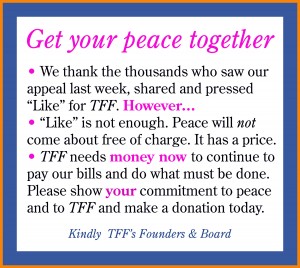 People have different preferences and TFF respects that.
We also want it to be easy and safe for you. And, third, not too expensive for us and/or you.
Here are the links to the various options:
1. PayPal and the Swedish Swish mechanism
2. The more traditional bank transfer options depending a little on where you live:
Transfer to TFF's Swedish bank and bank giro, to our Norwegian bank account, to our Germany account and via Moneygram.
3. And there is FundRazr on Facebook
Finally, may we recommend that you consider making a smaller but regular monthly contribution rather than one-time donations. It helps us a lot in planning our activities.
For sure there is one that suits you!
While making a payment you may be asked for some info about TFF.
Here it is, just copy and paste:
TFF – The Transnational Foundation (Transnationale Stiftelse för Freds- Och Framtidsforskning)
TFF@transnational.org
Vegagatan 25
S-224 57 Lund, Sweden
Tel. +46-(0)738 525200
Registered public-not-for-profit organization under Swedish law # 855001-4637
Thank you in advance for your goodwill and trust. Every sum means a lot!
Jan Oberg
Co-founder and director