Posts Tagged 'democracy movement'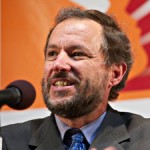 By Stephen Zunes
Washington's support for Yemen's former dictatorship — and of Saudi efforts to sideline the country's nonviolent pro-democracy movement — helped create the current crisis.
As a Saudi-led military coalition continues to pound rebel targets in Yemen, the country is plunging into a humanitarian crisis. Civilian casualties are mounting.
With U.S. logistical support, the Saudis are attempting to re-instate the country's exiled government — which enjoys the backing of the West and the Sunni Gulf monarchies — in the face of a military offensive by Houthi rebels from northern Yemen.
None of this had to be.
Not long ago — at the height of the Arab Spring in 2011 — a broad-based, nonviolent, pro-democracy movement in Yemen rose up against the U.S.-backed government of dictator Ali Abdullah Saleh. If Washington and Saudi Arabia had allowed this coalition to come to power, the tragic events unfolding in Yemen could have been prevented.
The movement had forged an impressive degree of unity among the various tribal, regional, sectarian, and ideological groups that took part in the pro-democracy protests, which included mass marches, sit-ins, and many other forms of nonviolent civil resistance. Leaders of prominent tribal coalitions — as well as the Houthis now rebelling against the government — publicly supported the popular insurrection, prompting waves of tribesmen to leave their guns at home and head to the capital to take part in the movement.
These tribesmen, along with the hundreds of thousands of city dwellers on the streets, were encouraged to maintain nonviolent discipline, even in the face of government snipers and other provocations that led to the deaths of hundreds of unarmed protesters.
The Obama administration, however, was more concerned about maintaining stability in the face of growing Al-Qaeda influence in rural areas. Secretary of Defense Robert Gates acknowledged that Washington had not planned for an era without Saleh, who had ruled the country for more than three and a half decades. As one former ambassador to Yemen put it in March 2011, "For right now, he's our guy."