By Chaiwat Satha-Anand*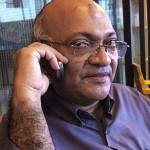 The Paris march for unity on Sunday, January 11, 2015 attracted more than a million people and world leaders including Germany's Merkel, Britain's Cameron, Turkey's Davutoglu, Israel's Netanyahu, and Palestine's Abbas, among others. This extraordinary action by leaders and citizens is in response to perhaps the bloodiest week in the last half of a century in France with 17 dead.
It began with the killing of 12 people at a previously little known satirical magazine "Charlie Hebdo." French President Francois Hollande warned that the threats facing France is not over even after the three perpetrators were dead.
The threat is real, however, not only because of information gathered by various intelligence agencies, but also because the violence and what has followed indicates a rift in the way Europe, and in fact the world, is moving in the context of fierce contestation of different ethics/values people are willing to die and for some – to kill for.
This article is an attempt to argue that the motto "Je suis Charlie", while commendable in terms of solidarity with victims of senseless violence, transform the killing into politics of identity with potentials for further deadly conflict in the present context if certain existing signs are properly understood.
Signs
Arguably in response to the killing in Paris, there are reports of Muslims becoming targets of more frequent attacks: women's veils have been pulled at, pork thrown at mosques Read the rest of this entry »