Posts Tagged 'Transnational Foundation'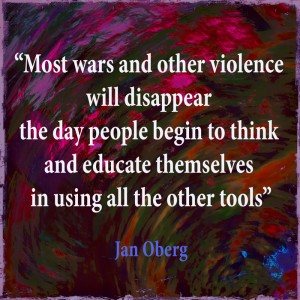 By Jan Oberg
It's 31 years today – September 12 – that Christina Spännar and I founded TFF and gathered experts and friends from many walks of life and world corners and set out to make a difference.
1985 were in the midst of European peace and anti-nuclear activities and a moment of history when one could begin to feel the Soviet Union and the Warsaw Pact cracking, fragmenting and giving way to something new.
Whatever survives this long under very very difficult circumstances of independence and freedom in our world must have some qualities.
During these more than three decades, we've been witnesses to world history in international affairs such as the end of the first Cold War with the fall of the Soviet Union and the Warsaw Pact, the dissolution of Yugoslavia, the genocide in Burundi and Rwanda, NATOs expansion as well as 9/11, the War On Terror and – sadly – all the failed wars in Afghanistan, Iraq, Libya and Syria to just mention a few.
But we have also seen the world order change, the trend towards a multipolar world, the betterment after the end of formal colonialism, people living longer and better, the rise of non-Western powers, the good sides of globalisation and modern communication technology etc.
We've done research – everything we do is research-based – public education, academic courses, mediation in major conflicts such as Kosovo and a lot of outreach: Social media, videos, media commentaries etc. And we still remember how we sent out newsletter that we had typed on thin stencils and manifolded on a stencil printer, the pages sorted and put into envelopes with address labels. The kids in our street helped us and got some good food (or child labour!) and we could do 1100 in one day in the basement and bring them to the post office the next. Then came the fax machine…
Those were the days.
Today about 10.000 people all over the world get TFF PressInfo several times a month; while it does take a couple of hours to edit and format, they go out in one batch within a couple of minutes at the click of a button. And we are later told who and how many have opened them or clicked on their links!
TFF was among the first academic institutions to actively use the Internet, Read the rest of this entry »