Posts Tagged 'Bill Cinton'
By Jan Oberg
Lund, Sweden August 11, 2014
Quality research leads to better predictions
One criteria of quality research is that it predicts the future better than incompetent research.
Because TFF is independent of governments and coroporations it doesn't have to take political considerations or exclude certain theories, concepts or values. This free research enabled it over the years to make fairly precise predictions about for instance former Yugoslavia, the Iraq war and East-West relations.
In 1998 – 16 years ago – we warned that NATO's expansion would lead to future problems with Russia. Read it here.
NATO should never have been expanded
We backed this prediction up with 46 arguments and argued that so many other things would be wiser than containing Russia from the Baltic republics to Georgia – a strategy pursued by Bill Clinton in contravention of all promises given to the Soviet Union/Russia at the end of the Cold War about ten years earlier.
That counterproductive and insensitive expansion has now hit Ukraine. A new Cold War is gathering over Europe. It should have been predicted by advisers, intelligence agencies, big research institutes and columnists.
But it wasn't.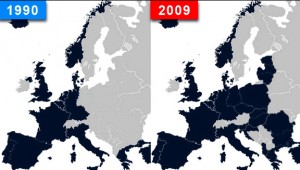 At the end of the Cold War, NATO/the West got everything it could ever wish – and without war. But it wanted more: keeping Russia down, making NATO bigger and "peace-making" as well as finding new enemies to keeping its Military-Industrial-Media-Academic Complex (MIMAC) alive and well: Saddam, Milosevic, the Muslim world, terrorism and – now re-cycling – Russia. Read the rest of this entry »