Posts Tagged 'Netanyahu speech Congress'
By Farhang Jahanpour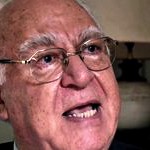 After all the huffing and puffing and all the aroused expectations about the speech by the Israeli Prime Minister Benjamin Netanyahu to the joint session of US Congress, the speech proved a great disappointment and even an embarrassment. A great deal has already been written about it, and there is no need to repeat all that here. Here I only wish to draw attention to some of the glaring distortions in the speech and the harm that it can do to the cause of Iranian and Israeli rapprochement and, more importantly, to the cause of peace in the Middle East.
The speech was a cynical use of the US Congress for domestic electoral ambitions.
Recently, Netanyahu had been trailing the Zionist Camp leader Isaac Herzog in the number of projected seats in the forthcoming Israeli election. He certainly hoped that as the result of the publicity that his speech would generate he could reverse the trend. In the process, his intrusion into America's domestic politics has deepened the divide between the Democrats and the Republicans and has introduced a strong element of partisanship to US relations with Israel. In other words, the speech was more about himself than the fate of the State of Israel or US-Israeli relations or international peace.
When Senator Lindsey Graham, a senior Republican senator, visited Jerusalem last December, he told the Israeli leader: "I'm here to tell you, Mr. Prime Minister, that the Congress will follow your lead… [on Iran]." (1) Therefore, it was no surprise when the Republican Majority leader asked Netanyahu to address a join session of Congress, for the third time, to issue his marching orders.
After President Obama's State of the Union address, in which he indicated that he was working hard to resolve Iran's nuclear dispute by peaceful means, House Speaker John A. Boehner decided to invite the head of a foreign state to address the Congress without informing the White House or even Minority Democratic leaders.
This was an act of gross discourtesy to the president, a violation of diplomatic protocol, and a clear departure from the US Constitution that puts the executive branch in charge of foreign policy and relations with foreign political leaders. Read the rest of this entry »