Posts Tagged 'Obama in Hiroshima'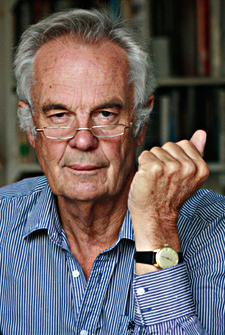 By Jonathan Power
Lund, Sweden, May 26, 2016
Introduction
By Jan Oberg
President Barack Obama visits Hiroshima on May 27; it's the first time since the U.S. used nuclear weapons on Hiroshima and Nagasaki in August 1945 that a sitting U.S. president visits Hiroshima
It is known that he will not apologize for the crime that killed and crippled about a quarter of a million innocent people.
Disturbingly, the White House has also announced that he will "not have the time" to meet any victims, the Hibakusha.
According to Time he shakes off the ethical dimension of this unique mass killing by stating that "it is important to recognize that in the midst of war, leaders make all kinds of decisions"(!)
His commitment to peace and a nuclear weapons-free world has been an utter failure, according to TFF Associate Jonathan Power.
And it seems that Obama will not use this unique opportunity to show any moral leadership or this last chance to announce even the smallest step in the direction of what the huge majority of the world's people want: living in a more peaceful world with fewer and, eventually, no nuclear weapons.
Jonathan Power starts out in Hiroshima
"We were standing in Hiroshima looking at a stone wall. All there was to see was a shadow of a man. Read the rest of this entry »