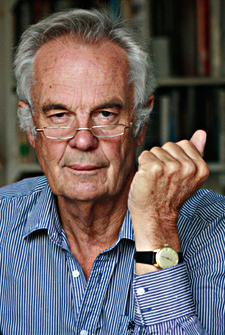 By Jonathan Power
Lund, Sweden, May 26, 2016
Introduction
By Jan Oberg
President Barack Obama visits Hiroshima on May 27; it's the first time since the U.S. used nuclear weapons on Hiroshima and Nagasaki in August 1945 that a sitting U.S. president visits Hiroshima
It is known that he will not apologize for the crime that killed and crippled about a quarter of a million innocent people.
Disturbingly, the White House has also announced that he will "not have the time" to meet any victims, the Hibakusha.
According to Time he shakes off the ethical dimension of this unique mass killing by stating that "it is important to recognize that in the midst of war, leaders make all kinds of decisions"(!)
His commitment to peace and a nuclear weapons-free world has been an utter failure, according to TFF Associate Jonathan Power.
And it seems that Obama will not use this unique opportunity to show any moral leadership or this last chance to announce even the smallest step in the direction of what the huge majority of the world's people want: living in a more peaceful world with fewer and, eventually, no nuclear weapons.
Jonathan Power starts out in Hiroshima
"We were standing in Hiroshima looking at a stone wall. All there was to see was a shadow of a man. It had been etched into the wall at the moment of his obliteration by the blinding light of the first atomic bomb.
Olof Palme, prime minister of Sweden, stared hard at it.
An hour later he gave a speech as head of the Independent Commission on Disarmament of which I was a member.
"My fear", he remarked, "is that mankind itself will end up as nothing more than a shadow on a wall."
Here is what Jonathan Power believes that Obama ought to do and could do on May 27.
Make the most out of your visit, Mr. President
Another TFF Associate, professor Richard Falk, argues that president Obama should acknowledge both a legal and a moral responsibility on this very special occasion.
He argues this in a short open letter to the president here.
Compared with the convenient obsession with much smaller threats such as, say, ISIS, the ongoing, daily threat of nuclear weapons being used – deliberately or by accident – is a perversely suppressed global issue particularly in the media of nuclear weapons 'haves'.
It must be hoped that US and other Western media will pay just a little attention to this globally existential issue.
And before mankind ends up as a shadow on a wall…