By Johan Galtung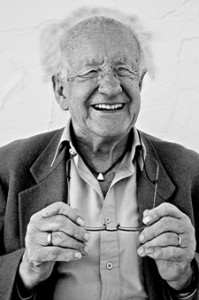 … Would be the title in English of a book this author just published in Norwegian, Syv veier til lykke (Oslo: Kolofon 2014); with excellent photos by Aase Marie Faldalen. And, very befitting for a book with that title: the book quickly made it to the Top 10 on a best-seller list, of course as No. 7. There will be translations but have a peek here and now.
Why does a peace researcher, concerned with peace theory and practice, write a "how-to" book about happiness, well-being? Read the rest of this entry »
By Richard Falk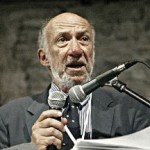 For years, perhaps going back as far as the Madrid Peace Conference of 1991, influential international debate on the future of Palestine has almost exclusively considered variations on the theme of a two-state solution. The American Secretary of State, John Kerry, stampeded the Palestinian Authority and Israel into negotiations that 'failed' even before they started a year ago. At least Kerry was prudent enough to warn both sides that this was their do or die moment for resolving the conflict.
It was presumed without dissent in high places anywhere that this two-state outcome was the one and only solution that could bring peace. Besides the parties themselves, the EU, the Arab League, the UN all wagered that a resolution of the conflict required the establishment of a Palestinian state. Even Benjamin Netanyahu became a reluctant subscriber to this mantra in his 2009 speech at Bar-Ilan University, although always in a halfhearted spirit. Read the rest of this entry »
By Richard Falk
June 14, 2014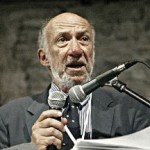 After several past failures to reconcile Fatah and Hamas under the single Palestinian umbrella of the Palestinian Liberation Organization, a unity government was formed and its ministers sworn in on June 2nd in Ramallah. This supposedly interim government of 'technocrats' without party affiliations will be presided over by the Prime Minister of the Palestinian Authority, Rami Hamdallah.
Hamas was reported unhappy with the composition of the government, withholding its approval until the last minute, but in the end went along. Additional to the diplomatic and long-term benefits of Palestinian unity, the people of Gaza could stand to gain in the short-term, especially if Egypt can now be persuaded to open its border for the passage of fuel and other necessities. Cairo's aversion to Hamas' Brotherhood past would be diluted in view of the PA, not Hamas, having become the legitimated governing authority for all Palestinians, including those living in Gaza. The urgent needs of the Gazans may help explain why the two Palestinian factions finally set aside the bitterness of the past, at least for now.
It is too soon to assess the wider implications of this political move that angers the Israeli government and has been greeted with hostile caution in Washington and Europe. Read the rest of this entry »
By Richard Falk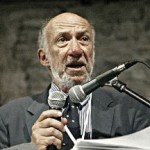 Note
Published below is a letter prepared by the European Coordination of Committee and Associations for Palestine (ECCP) and endorsed by John Dugard, Michael Mansfield, Eric David, and myself; it urges adherence to guidelines relating to corporate and financial activity with unlawful economic activities in Israel and occupied Palestine, and is guided by principles similar to the BDS campaign; it is notable that today the Presbyterian Church by a close vote (310-303) voted to divest itself of shares in three corporations engaged in legally and morally objectionable activities in Israel. There is a growing momentum associated with this new nonviolent militancy associated with the global solidarity movement supportive of the Palestinian struggle to gain a just peace, including realization of rights under international law.
European Coordination of Committees and Associations for Palestine (ECCP)
On 24-26 June, 37 European companies from 11 EU Member States will travel to Israel as a part of an EU led "Mission for growth" project that aims to "promote partnerships between Israeli and European companies 
active in sectors identified as leading and developing industries in Israel."
Among Israeli companies participating in the "Mission for growth" are those deeply complicit in Israel's occupation and apartheid policy. The previous delegation of "Mission for growth" took place on 22-23 October last year in Israel, where 97 european companies from 23 EU Member States meet with 215 Israeli companies from the different industrial sectors.
In this open letter supported by Richard Falk, John Dugard, Michael Mansfield and Eric David, ECCP member organisations call on the European companies to abandon their plans to be involved in the project. Read the rest of this entry »
By Richard Falk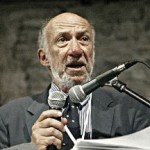 Prefatory Note:
What follows is a letter to the NY Times responding to their editorial of June 6, 2014, which was not accepted for publication. I publish it here as a post because I believe it identifies some of the continuing ways in which public opinion on the relationship between Israel and Palestine continues to be distorted on Israel's behalf in American media sources that have the undeserved reputation of being objective and trustworthy. The New York Times has long ranked high on this list, if not at its top!
This letter is particularly concerned with the misleading characterizations of Hamas, and the failure to pass judgment on the Netanyahu leadership as 'extremist.'
*****************
To the Editor, New York Time
Re "Israeli-Palestinian Collision Course" (editorial, June 6, text reproduced below):
You are correct that this is an opportune time to take account of Israel-Palestine peace prospects in light of failed direct negotiations and subsequent developments. It is misleading, however, to equate Israel's accelerated expansion of settlements with the formation of the Fatah-Hamas unity government. Israeli action continues a pattern of flagrant violation of the 4th Geneva Convention while the Palestinian action is a constructive move that could finally make diplomacy on behalf of all Palestinians legitimate and effective. Read the rest of this entry »
By Jonathan Power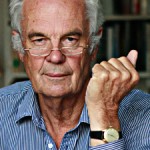 Three Israeli teenagers murdered on Palestinian soil. One Palestinian boy burnt to death whilst alive in an apparent retaliation. Over the years of conflict thousands of children have been killed although many more on the Palestinian side than the Israeli.
According to the Old Testament's Book of Numbers, Moses, when leading the trek to the "Promised Land", once ordered all the women and children in one hostile tribe in their way, the Midianites, to be killed. Moses is as an important figure to Muslim theologians as he is to Jewish yet I've never come across the writings of a major theologian in either religion loudly condemning this mass murder.
The killing of the innocents in the "Promised Land" goes on three thousand years later. Last year eight Palestinian children (six boys and two girls) were killed and 1,265 were injured in the occupied Palestinian territories either by Israeli settlers by Israeli security forces. No Israeli children were killed in 2013.
Four Palestinian boys were killed by Israeli security forces in the Al Jalazun, Jenin and Ayda refugee camps. Incursions into the camps increased by 60 per cent compared with 2012. The 1,235 children injured in the West Bank (155 under the age of 12) are more than double the number injured in 2012 (552). 49 children were injured directly by Israeli settlers. Eight Israeli children were injured in Israeli settlements by Palestinians. Read the rest of this entry »
By Jan Oberg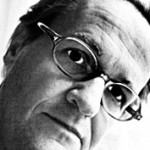 Lund, Sweden, July 1, 2014
This PressInfo is about place you've probably never visited nor know a lot about: Somaliland.
TFF today publishes the report from a mission there in May 2014 – to the capital Hargeisa, the harbour town of Berbera and to Burao.
With the report in photos and texts we seek to alert you to this indeed unique and interesting country.
Somaliland declared itself an independent state out of Somalia in 1991 and is still not recognised by a single government in the world.
But against all odds Somaliland has made considerable progress.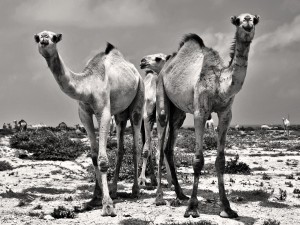 It isn't easy to develop when you are marginal to the aid and investment sources, have no foreign embassies and can't be a member of inter-national organisations. Read the rest of this entry »
By Jonathan Power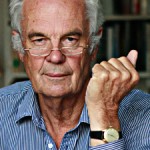 The Nobel-prize winning economist, Robert Fogel, believes that China will grow at an average rate of 8% until 2040, by which time it will be twice as rich as Europe in per capita terms. His model is based partly on so-called geometric growth. An example: If my ancestors had invested a penny in 1800 at a compound interest rate of 6% a year above inflation it would now be worth $280,000.
Sounds good, but it isn't. The chances of this happening are nil. Indeed I would go as far as to say that China remains a classic case of hope over experience, reminiscent of de Gaulle's famous comment about Brazil: "It has a great potential and always will".
In the 1970s it was Brazil, Read the rest of this entry »