Archive for the 'European Union' Category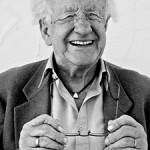 By Johan Galtung
A key slogan during the student revolt in Paris May 1968, soon 50 years ago, was Imagination au pouvoir! Bring imagination to power!
We were there, walking with thousands from Champs-Élysées to Place Etoile where a stentorian voice commanded us to sit in small groups in the circles under the Arch to "discuss the situation". So we did.
France is now suffering from more imagination deficit than ever. To call Le Pen-Front National "extreme right" when the issue is for or against the EU is not helpful.
Left-right was 20th century politics.
Why not think bigger, beyond EU: for or against EURASIA, Russia-China are ready? Trade fills trains London-Beijing; a West-East axis, not the old colonial obsession with North-South (neo)colonialism.
And how about both, EURASIAFRICA? They hang together geographically.
Another word for imagination is creativity. Read the rest of this entry »
By Jan Oberg
Joining "Middle East With Naskah Zada" at her program in New York and talking about the reasons that peace has become so 'unpopular'.
Touching also upon international law, the new Cold War and the increasing U.S. involvement in Syria.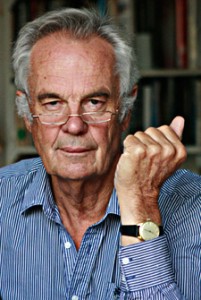 By Jonathan Power
The result of the first round of the French presidential election has given the Euro-pessimists a knock over the head. About time too.
The European Union is not going to face break up. Big crises come but they also go. The Euro currency crisis was not dealt with as well as it should have been – austerity was the policy of the long way round – but it passed.
The great immigration crisis has been contained and the number of would-be refugees has fallen sharply.
The British say they are leaving, but how the biggest political paradox of my lifetime will be squared remains to be seen – a parliament with a majority of its members in favour of staying in Europe but with a government trying to get out as fast as it can with the support of most MPs of the two largest parties.
Moreover, there is another quite counterproductive consequence of Brexit – pushing Scotland to break from the United Kingdom. Leaving big, grand, Europe to become a truncated little England makes no sense at all. When the penny finally drops I expect the UK to reverse course on Brexit – or to disintegrate.
With or without Britain the EU will remain the world's best example of political unity. Peoples who have fought each other for thousands of years no longer do. No other part of the planet is so Read the rest of this entry »
TFF Live
April 12, 2017
The secretaries of state, Tillerson and Lavrov meet today. We seem to enter a stage of what must appropriately be perceived as a frosty new Cold War.
In the worst of cases this can lead to a new Cuban Missile Crisis. God forbid!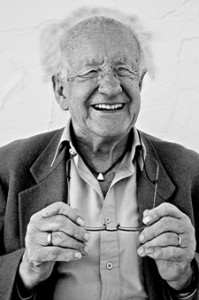 By Johan Galtung
Starting with EU at 60, making small states (Luxembourg!) big by being members of something bigger, but making bigger, even imperial, states smaller by being "members". The Netherlands is small: Wilders suffered a humiliating defeat. But the UK is big with imperial past: old, rural people voted Brexit out of EU anonymity, but into what? Master in their own house? With problems with Ireland and the Celtic fringe–Scotland, Wales–even threatening UK survival? Can Anglo-America, UK even more under USA, compensate for that? They may want back; the obvious EU strategy being to adjust to many Brexit points.
France is also big and imperial. But Le Pen-Front National will not defeat a majority seeing EU as a French creation (Monnet, Schuman) and the Communauté Française as carried by the mystique of the French language anyhow. Frexit would make France smaller. France will stay.
Germany and Italy were imperial: Hitler once ruled the biggest Europe ever, Mussolini some of Africa. But they were defeated and defined as illegitimate, not "civilizzatrice". Italy's apology for the 1911 warfare may have model character. They will both stay in the EU.
UK outside and France inside are now paying the heavy immigration price for devastation wrought by their empires; with no EU solidarity.
The EU will survive, two- or multi-speed with the euro as common, not single currency. Strengthened by having no US Trojan horse, UK, controlling EU foreign-defense policy. Weakened into irrelevance by the neoliberalism of their constitution. See Alan Johnson "Why Brexit is essential for Britain" NYT 29 Mar 2017, a view from the left.
Russia–czarist, Bolshevik, Putin Orthodox Christian–and China–nationalist, Mao communist, Xi Shi Youming Buddhist, his Zhengding friend (NYT 25-26 Mar 2017): unforgivably big in area and population, well above the 27 EU members. The USA is no. 3 on both, giving a total rank of 6; China 5, Russia 10. EU is in that Big League.
China, economic growth at 6,5%, is still a world growth engine, and SCO benefits from India and Pakistan membership. Read the rest of this entry »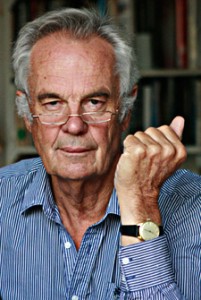 By Jonathan Power
April 4th 2017
The long talked-about referendum in Turkey will happen on April 16th. In effect voters have to decide whether the president, Recep Erdogan, in theory the incumbent of a relatively modest political post, should now be given the powers of the president and prime minister together.
Combined with a large majority in Parliament he would have enormous power to shape Turkey around his pro-Islamic agenda. Although working within a democratic system Erdogan is in many ways a populist, rather in the mould of President Donald Trump.
Shortly after his Justice and Development Party first won an election in 2003 I was in Turkey and my first question to the people I interviewed was does the party have a "secret agenda"- that is was planning at some future date to make the country Islamist. "Definitely not", was the almost universal response.
How wrong they were. Or perhaps they weren't. Maybe over the years Erdogan has changed his spots.
Either way Turkey now confronts a situation where populism, Islamism and nationalism are becoming Turkey's dominant forces. This is dangerous for Turkey.
Its highly educated, secular-minded, middle class will have less influence and indeed will be singled out and prosecuted, as many journalists, professors, novelists and judges are these days. Turkey will become even more anti the European Union – and what a mistake it was not to admit Turkey when twelve years ago it was knocking loudly on the door and was rebuffed.
The Islamist forces so strong today would have been Read the rest of this entry »
Media comments by Jan Oberg
The intellectual level of NATO's policies leaves a lot to be desired. This was illustrated during Secretary of State, Tillerson's, visit to NATO on March 31, 2017.
Everything stated lacks causal argument, evidence and reference to reality.
I call it absurd theatre and argue that Europe must recognize that it is – has been – under mental and political occupation by the US.
The US is in Europe for the sake of the US, not Europe. And it wants Europe to pay more to NATO to boost the defence of the US, not to help create peace in the European space.
See my comments at length at Iran's PressTV.

And a few words about Western mainstream media unwillingness to deal with NATO criticism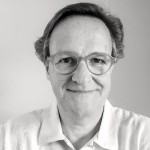 By Jan Oberg
It's as amazing as it is frightening how the West – a group of countries allegedly fighting for truth against propaganda and fake news by others – leads exactly that game itself.
And so is the degree to which Western allegedly free media – meaning free also of political powers that be – continue to ask no questions and do no research. We are obviously living in the post-intellectual age, knowledge having been replaced by marketed and more or less invented, elite self-serving narratives. For instance…
Take a close look at what Gen. Curtis M. Scaparrotti, commander of U.S. European Command, says when testifying before the US House Armed Service Committee. He is also SACEUR – Supreme Allied Commander Europe, the man whose views and actions will decide the fate of 500+ Europeans should there be a major war in this region of the world.
What is says is plain irresponsible. It's beyond the rational. While it may not be fake news, it's an example of ignored, omitted news.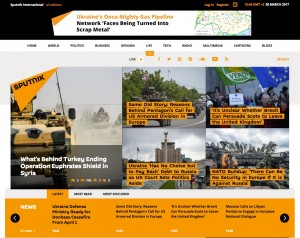 He blows up beyond recognition the so-called Russian threat. There is no single evidence of it in his statement – why it would happen, how, where, with what motives the Moscow would have and – in particular – how likely it is to become reality. He merely asserts it – based upon a wildly exaggerated estimate of his own authority: Read the rest of this entry »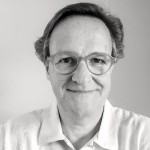 By Jan Oberg



Lund, Sweden – March 24, 2017




Can the almost total destruction of Eastern Aleppo be used constructively? 



Only if we are willing to ask and dialogue about this: 



Why does the world go on investing US$ 2000 billion annually in warfare and US$ 30 in all the UN does – only to create destruction of people, places, past and future?



How absurd, how meaningless – indeed how far must it go to destroy the West itself – before we learn to conflict intelligently?

The Meaninglessness Of War by Jan Oberg on Exposure



•



I've see much destruction during my work in conflict zones the last 25 years. But nothing compares with Aleppo and the destruction of Syria and its people.


Nothing – absolutely nothing – can justify this barbarian process, not even an alleged dictatorship and ruthless regime policies. 



We must learn from Aleppo and all the other places:


- to hate violence and war, not each other;

- to stop siding with some presumed good violence that shall combat evil violence because there is no (good) violence that is better than dialogue;



- to criminalize arms trade to conflict zones and never let a private arms trader or goverment at large when they profit and make peace impossible;



- to learn the tools of conflict-resolution and do what we have all promised to do: struggle first for peace by peaceful means as stated in the UN Charter.



• 



My photo series "The Meaninglessness of War: Aleppo" aim to encourage you to think deeply – much deeper than siding with one or the other side. 



We need a tectonic shift in the theories and practises of international politics and conflict management. ASAP.



Otherwise the rest will one day be just that: Silence. 



A global Aleppo.



Side instead with peace, decency, truth and humanity. And learn your Gandhi and other wise thinkers. Get out of the box! The group think! 



And the future of the world will be so much more promising. Even bright.
The Meaninglessness Of War: Aleppo
All the photo series at Exposure.
•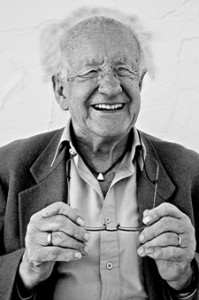 By Johan Galtung
The Cold War ended by an agreement that the USSR leaves Eastern Europe and the USA does not enter the area. What the USA did is treason, like Sykes-Picot. NATO expanded from 16 to 28: Bill Clinton added Poland, Czech Republic and Hungary; George W. Bush the Baltic Slovakia, Slovenia, Romania and Bulgaria; Obama attached Croatia and Albania. In 1999, 2004 and 2009, respectively. However, did those countries want it? They could have made their own pacts with neither USSR nor USA. The Soviet empire, and the Soviet Union itself, had collapsed.
With NATO at the border, Russia took back its 1954 Crimea gift to Ukraine within the Soviet Union. Kiev with US help fought in Eastern Ukraine to make ethnic Russians escape to Russia. Maybe 60% did.
Enters world history: The Pope and the Patriarch declare their Christianities one and the same (Havana Airport, VIP Lounge, 14 Feb 2016). EU will no longer fight US wars (Bratislava, 6 Nov 2016). Protestant-Evangelical Christianity is marginalized. So is the USA.
Denmark and Norway were with Anglo-America fighting US wars in Libya; and with prime ministers as NATO's secretary general. "Cold War jitters…