Archive for the 'Nuclear weapons' Category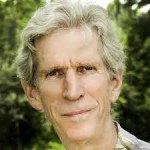 By Gareth Porter
For all its grandstanding, Trump's administration is just following an American tradition of coercing Iran and its 'malign influence'
The first public pronouncements by President Donald Trump's administration on Iran have created the widespread impression that the US will adopt a much more aggressive posture towards the Islamic Republic than under Barack Obama's presidency.
But despite the rather crude warnings to Tehran by now ex-national security adviser Michael Flynn and by Trump himself, the Iran policy that has begun to take shape in the administration's first weeks looks quite similar to Obama's.
The reason is that the Obama administration's policy on Iran reflected the views of a national security team that adhered to an equally hardline stance as those of the Trump administration.
Flynn declared on 1 February that the Obama administration had "failed to respond adequately to Tehran's malign actions" and suggested that things would be different under Trump. But that rhetoric was misleading, both with regard to the Obama administration's policy toward Iran and on the options available to Trump going beyond that policy.
The 'malign influence'
The idea that Obama had somehow become …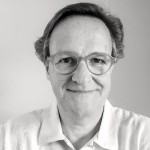 By Jan Oberg
On the occasion of NATO's defence minister meeting on February 15-16 discussing NATO, Ukraine, Crimea, Syria and the eternal threat images which are fake – with former Assistant Secretary of Defence of the United States, Mr. Lawrence J. Korb.
I'm afraid he got some stuff wrong such as the establishment of NATO and whether or not Kosovo is part of the Balkans.
He also believed that NATO's 1999 bombing of Serbia-Kosovo had a UN Security Council mandate.
Enjoy those small moment and the rest where I am trying to present some more general thourght on why the whole NATO philosophy is outdated – the only point where I agree with President Trump…

Media experience and policy
Lots of people in the debate seem to believe there is something strange about being in the "propaganda" media of "enemies of the West" – read the global Iran's PressTV and Russia's Russia Today.
What they don't seem to have acknowledged is that tons of Westerners are being interviewed and do commenting (like myself for years) at these media. Here is Mr. Korb with me at Iran's international TV channel.
What they also don't know is something I am sorry to report: I've met attempts at manipulation and "editing" and censorship with a series of Western mainstream media, not the least in my native Denmark, but I have not experience any of that even once with Russia Today and PressTV. Very decent professionals!
So much for the free press and for the propaganda channels. My personal problems is, which is which?
TFF director Jan Oberg comments on the important, positive commitment of the EU foreign policy chief on the JPCOA with Iran.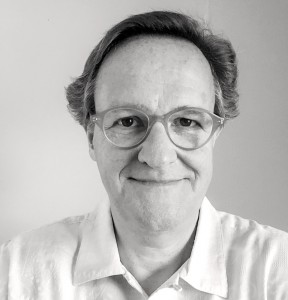 By Jan Oberg
These two top officials behind major US wars (Iran/Afghanistan and Vietnam/Cambodia/Laos) and regime change (against Allende, Chile) will speak at the first of a new event, The Nobel Peace Prize Forum Oslo, created by the Nobel Institute in Oslo. More here.
The leaders of the two institutions declare that they are proud to have succeeded in getting these two diplomats to Norway – and the media of course will be there. The event is sponsored by the California-based company InCircl – a marketing and mobile payment company.
The university rector is dr. med. and participant at Bilderberg world elite power group in 2011 Ole Petter Ottersen and you can write him at rektor@uio.no
These two experts on warfare and interventionism will – Orwellian style – speak about "The United States and World Peace After The Presidential Election".

This is the country that, since 1980, has intervened violently in Iran, Libya, Lebanon, Kuwait, Iraq, Somalia, Bosnia, Afghanistan, Sudan, Kosova/Serbia, Yemen, Pakistan, Syria, i.e. 14 Muslim countries. It has some 630 base facilities in 130+ countries. It has its US Special Forces (SOF) in 133 countries.
It has used nuclear weapons without apology and owns the second largest arsenal of nuclear weapons.
The US stands for about 40% of the world's military expenditures, is the world's leading arms exporter and has killed more people than anybody else since 1945. It's the master of (imprecise) drone strikes. It presently supports Saudi Arabia's bestial war on Yemen and conducts a military build-up in Asia and the Pacific planning, as it seems, for what looks like a future confrontation with China. And not with terribly positive results in its Middle East policies since 1945.
So with all these credentials, please tell us about world peace!
The U.S. should be seen as quite Read the rest of this entry »
By Jan Oberg
On PressTV on November 28, 2016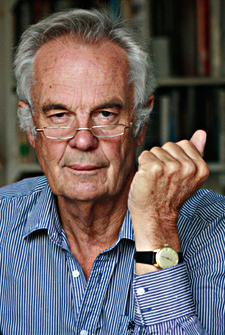 By Jonathan Power
November 22nd 2016
Trotsky, the one-time close comrade of Lenin, reportedly said, "You may not be interested in war but war is interested in you".
This is how it seems to have been with President Barack Obama when it comes to his policy towards Russia.
Having come to power with President Vladimir Putin open to a closer relationship after the aggressive pushing forward of Nato's frontier during the time of presidents Bill Clinton and George W. Bush Obama will leave the presidency with a state of hostility between the Russia and the US that most thought had evaporated once the Cold War ended in 1991.
Now, instead of a life time of peace and cooperation ahead of us, as was widely thought, we have Russia engaged in nuclear sabre rattling and the US expanding the frontier of Nato even further right up to Russia's border and trying to put the heat on over Russia's involvement in the upheavals in Ukraine, using economic sanctions.
Some observers talk about war between the West and Russia. Although this could not happen as long as Angela Merkel is Chancellor of Germany and France remains French it may be a "damned close-run thing" (as the Duke of Wellington was supposed to have said after victory over Napoleon at the battle of Waterloo).
It is up to President-elect Donald Trump Read the rest of this entry »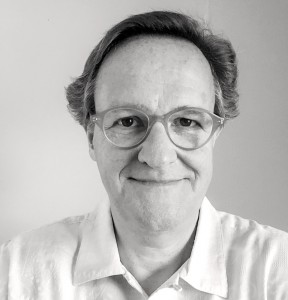 Af Jan Øberg
Den nuværende periode i menneskehedens historie vil blive svær at forklare for fremtidens historikere – hvis der da findes nogle.
Hvordan kunne det gå så skridt så hurtigt og på alle fronter for dén Vestverden, der efter 2. verdenskrig stod med alle kortene på hånden? Hvordan kunne det amerikanske imperium, der byggede på frihed og demokrati, overhovedet styrte sammen dér tilbage i 2026?


Den vestlige NATO-baserede verden kunne ånde lettet op da Sovjetunionen og Warszawapagten var blevet opløst i 1989. Den havde vundet ideologisk – ingen ville siden have sovjetkommunisme – og økonomisk – Rusland producerede ingen attraktive forbrugsvarer – og militært.
Ruslands militærudgifter var bare 8% af NATOs mod Warszawapagtens 75% af NATO førhen.
Den Kolde krig forsvandt lykkeligt nok uden Varm Krig eller atomvåbenbrug. En ny verden blev mulig. Ondskabens imperium, som præsident Reagan havde kaldt Kreml-systemet, var borte. Alle talte om fredens "dividende".
Men kun godt 25 år senere var verden gennemsyret af angst, Read the rest of this entry »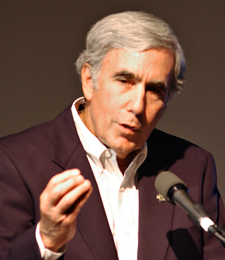 By David Krieger
"Since the appearance of visible life on Earth, 380 million years had to elapse in order for a butterfly to learn how to fly, 180 million years to create a rose with no other commitment than to be beautiful, and four geological eras in order for us human beings to be able to sing better than birds, and to be able to die from love.

It is not honorable for the human talent, in the golden age of science, to have conceived the way for such an ancient and colossal process to return to the nothingness from which it came through the simple act of pushing a button."


I recently came across this quotation by the great Colombian novelist Gabriel Garcia Marquez, the author of One Hundred Years of Solitude and recipient of the 1982 Nobel Prize for Literature. The quotation is from a 1986 speech by Garcia Marquez entitled "The Cataclysm of Damocles."
In the short quotation, he captures what needs to be said about nuclear weapons succinctly, poetically and beautifully. With a few deft literary brushstrokes, he shows that the journey of life from nothingness to now could be ended with no more than "the simple act of pushing a button."


The button is a metaphor for setting in motion a nuclear war, which could Read the rest of this entry »