Archive for the 'Nuclear weapons' Category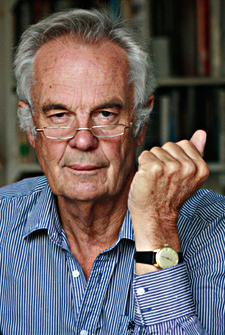 By Jonathan Power
November 22nd 2016
Trotsky, the one-time close comrade of Lenin, reportedly said, "You may not be interested in war but war is interested in you".
This is how it seems to have been with President Barack Obama when it comes to his policy towards Russia.
Having come to power with President Vladimir Putin open to a closer relationship after the aggressive pushing forward of Nato's frontier during the time of presidents Bill Clinton and George W. Bush Obama will leave the presidency with a state of hostility between the Russia and the US that most thought had evaporated once the Cold War ended in 1991.
Now, instead of a life time of peace and cooperation ahead of us, as was widely thought, we have Russia engaged in nuclear sabre rattling and the US expanding the frontier of Nato even further right up to Russia's border and trying to put the heat on over Russia's involvement in the upheavals in Ukraine, using economic sanctions.
Some observers talk about war between the West and Russia. Although this could not happen as long as Angela Merkel is Chancellor of Germany and France remains French it may be a "damned close-run thing" (as the Duke of Wellington was supposed to have said after victory over Napoleon at the battle of Waterloo).
It is up to President-elect Donald Trump Read the rest of this entry »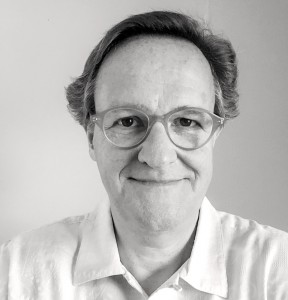 Af Jan Øberg
Den nuværende periode i menneskehedens historie vil blive svær at forklare for fremtidens historikere – hvis der da findes nogle.
Hvordan kunne det gå så skridt så hurtigt og på alle fronter for dén Vestverden, der efter 2. verdenskrig stod med alle kortene på hånden? Hvordan kunne det amerikanske imperium, der byggede på frihed og demokrati, overhovedet styrte sammen dér tilbage i 2026?


Den vestlige NATO-baserede verden kunne ånde lettet op da Sovjetunionen og Warszawapagten var blevet opløst i 1989. Den havde vundet ideologisk – ingen ville siden have sovjetkommunisme – og økonomisk – Rusland producerede ingen attraktive forbrugsvarer – og militært.
Ruslands militærudgifter var bare 8% af NATOs mod Warszawapagtens 75% af NATO førhen.
Den Kolde krig forsvandt lykkeligt nok uden Varm Krig eller atomvåbenbrug. En ny verden blev mulig. Ondskabens imperium, som præsident Reagan havde kaldt Kreml-systemet, var borte. Alle talte om fredens "dividende".
Men kun godt 25 år senere var verden gennemsyret af angst, Read the rest of this entry »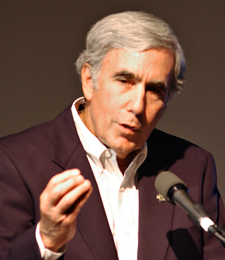 By David Krieger
"Since the appearance of visible life on Earth, 380 million years had to elapse in order for a butterfly to learn how to fly, 180 million years to create a rose with no other commitment than to be beautiful, and four geological eras in order for us human beings to be able to sing better than birds, and to be able to die from love.

It is not honorable for the human talent, in the golden age of science, to have conceived the way for such an ancient and colossal process to return to the nothingness from which it came through the simple act of pushing a button."


I recently came across this quotation by the great Colombian novelist Gabriel Garcia Marquez, the author of One Hundred Years of Solitude and recipient of the 1982 Nobel Prize for Literature. The quotation is from a 1986 speech by Garcia Marquez entitled "The Cataclysm of Damocles."
In the short quotation, he captures what needs to be said about nuclear weapons succinctly, poetically and beautifully. With a few deft literary brushstrokes, he shows that the journey of life from nothingness to now could be ended with no more than "the simple act of pushing a button."


The button is a metaphor for setting in motion a nuclear war, which could Read the rest of this entry »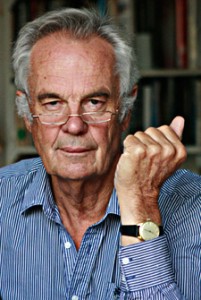 By Jonathan Power
October 25th 2016
I have a fantasy. Donald Trump wins. He goes to Moscow on his first trip as president and gives President Vladimir Putin a bear hug and they go hunting in the forest, Soviet style.
When they emerge they have shot a couple of bears and have had a good lunch laid out for them by acolytes at which they have discussed the matters of the world.
They give a press conference. They have decided to re-start negotiations on major nuclear arms reductions and both say they unilaterally are immediately ridding themselves of a 1000 missiles each.
They have found a way to implement autonomy for eastern Ukraine, as done in Scotland, which Trump with his Scottish golf courses knows well. Ukraine can work towards both a trade agreement with the EU and the Russian-backed Eurasian Economic Union. Russia was always happy about such an arrangement, but many Ukrainians weren't and only wanted an EU arrangement. This was the trigger for the uprising in Kiev and Western support for the powerful revolutionary movements that had a fascist pedigree.
Dealing with Syria is both simpler and more difficult – difficult because of the intensity of the fighting and the multi-nation interests and easier because neither Russia nor the NATO powers want to see a clash over a relatively small part of the global population – Syria's population is 9 million, about the same as one of America's eastern states.
In the forest they agreed to stop using Russian warplanes backing President Bashar al-Assad, the US to stop aiding anti-Assad guerrillas and both to concentrate on defeating ISIS. In return the US would invite Russia to share its airbase in Qatar. The civil war opponents would be left alone to fight. UN mediation would continue.
Trump has a point in wanting rapprochement with Russia.
At the moment Read the rest of this entry »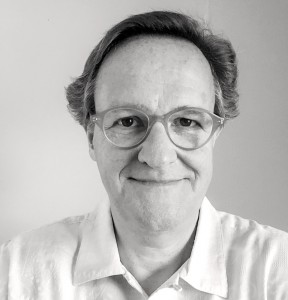 By Jan Oberg
Last night I had the opportunity to discuss nuclear weapons with an experienced, high-ranking security analyst who has been both a military, a scholar, an assistant secretary of defence, presidential adviser, a corporate man and now a think tank member, Lawrence J. Korb.
We were discussing the issues touched upon in this and this article.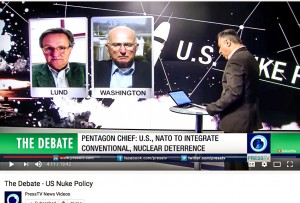 I would assume that the debate – facilitated by Iran's PressTV in an excellent manner – is illustrative of the degree to which the world can be seen from different perspectives and how different we can perceive words such as law, legality, ethics, security, deterrence and peace.
I assume also that the debate illustrates the difference between a systems-embedded interpretation of the world and an independent or free perception, including what can and must be changed and what doesn't have to change to make the world a better place.
Enjoy!
And why Russia doesn't have to be a threat to the West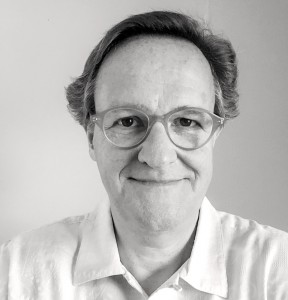 By Jan Oberg
TFF Series "The New Cold War" # 7
If the Ukraine conflict is the centerpiece of the new 2nd Cold War, it is essential to ask: What really happened? What did NATO countries do to cause it? What did Russia do to cause it?
And – if you live in the West, in particular: Did we really have to end in this situation given Russia's significant weakness over 25 years?
This article argues that the superior West could have played its cards differently and it's time for self-critical soul-searching and just a little living yourself into the shoes of the other.
If peace rather than war is your true aim.
There was a beginning and a framework
The Ukraine conflict has a 25-years history. Instead of dissolving NATO, the alliance was expanded. Relieved from there being a Soviet Union and a Warsaw Pact, the alliance went as fast it could to do all it wanted. Remember, a series of WW III scenarios has been written in which that war would start with some uncontrollable event in Yugoslavia. Now it could be chopped up – freely and without risk. Serbia was bombed and Kosovo carved out without a UN mandate whatsoever (1999).
How did they think about that in the Kremlin at the time, one must wonder?
Clinton literally did not give a damn about all the promises made to Soviet leader Gorbachev by US leaders such as Bush, James Baker and German leaders including Hans-Dietrich Genscher. (Yes, they were not written down but confirmed by those involved and present).
He began the expansion of NATO in 1994 – in Georgia (see what I refer to elsewhere in this series). All around a Russia on its knees Americans were placed in the offices of prime ministers, defence and foreign ministers – I saw it myself in former Yugoslavia – and met CIA people in Croatia disguised as humanitarian workers. And had a long conversation with the representative of the US in Tblisi in 1994. Historical moment!
The bad Christians, the Orthodox, were the Serbs and Russians and Greeks – all should be antagonized and the good guys in Yugoslavia were those who had been on the fascist side in WWII – the leaderships in Croatia, Muslims in Bosnia and the Kosovo Albanians. The Serb minority that had lived 400 years as a minority in the Croatian republic were, in the common Western discourse, invaders masterminded by strongman Slobodan Milosevic – whom Clinton without hesitation called the new 'Hitler of Europe'.
Ukraine was – and remains – what its name says: the border areas (like Krajina in Croatia). This is where NATO can establish itself as little as Chruschev could get away with deploying nukes in Cuba – considerably further away from the US, but anyhow.
Imagine – with a little bit of empathy (not necessarily sympathy) how Washington would react if today Putin's Russia was 12 times stronger militarily than the alliance-free US (NATO dissolved 25 years ago) and tried with his alliance of 27 other members to make Canada or Mexico the 29th member. Perhaps most people in the US and Europe would have some sympathy for the negative reaction of Washington. Rand remember, Trump wants to build a wall to Mexico…
The main reason, it is stated again and again, in the Western press, NATO and other political circles is: Ukraine and Crimea. The lie about Putin's aggression on Ukraine is told so many times that it is becoming the truth. Just see these two recent articles by Newsweek as two of hundreds of articles.
Here's the chosen story in politics and media alike
The narrative is simplified beyond recognition and goes like this:
Putin (there is always just one top guy in Western eyes and it is one leader at the top like Milosevic, Mohamed Farah Aideed, Saddam Hussein, Moammar Khaddafi, al-Assad) is a bad guy and you know that because out of the blue his suddenly annexed Crimea. By that he changes the borders of Europe and then he gets his disguised soldiers into Eastern Ukraine – a Ukraine that we, in contrast to Bush Senior, care very very much about today.
We care so much about it that Read the rest of this entry »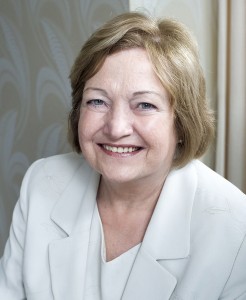 By Maired Maguire
"War is illegal and immoral, it has to end and it can be ended.'
Speech at the international meeting "Thirst For Peace", Assisi September 18-20, 2016. Promoted by Community of Sant Egidio and Diocese of Assisi and Franciso Families.
Dear Friends,
I am happy to be here at this International Meeting and I would like to thank our hosts, for their invitation to attend. I have always been inspired by the lives of St. Francis and St. Clare, whom I believe are Icons of Christian Gospel Peace and Nonviolence.
Francis the man of action, steeped in empathy and love for all, and Clare a woman of prayer, whose love of God led her into the depth of mysticism and peace.
Francis and Clare lived in a time of violence and war, yet they choose to live the nonkilling/nonviolence of Jesus. Francis as a youth fighting in his local military, knew well how to wield a sword, yet he choose to follow the command of Jesus to Peter, when he told him to put up his sword and healed the Soldier's ear.
He left the military to live in poverty and service, and together with Clare, and his followers refused to take up arms. Francis and Clare, in the midst of much feudal violence, choose to follow the Christian nonviolence manifesto 'the Sermon on the Mount'.
For many people in Europe and the world, challenged by growing violence and injustice, the lives of these two great 13th century Saints gives us hope and inspiration.
Pope Francis, following in the steps of St. Francis, gives us all hope as he challenges us to work for the abolition of the death penalty, ending poverty, the arms race, nuclear weapons, and environmental destruction, etc.,
However, I believe we need a clear renunciation of the 'just war' theory (a phoney piece of morality in the words of the late Fr. John L. McKenzie) and I add my voice to those appealing to Pope Francis for an Encyclical on Peace and Nonviolence, calling Christians to rejection militarism and war and to follow a Peace theology in keeping with the teachings of the Nonviolent Jesus.
This would give great Spiritual leadership not only to Europe but to Humanity.
I believe Europe today Read the rest of this entry »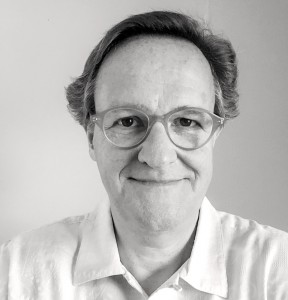 By Jan Oberg
This coming Sunday marks the 15th anniversary of what could be called the most counter-productive, if not stupid, war in modern history: The War On Terror. Today that war is much much more dangerous to the world's future than the terrorists it is allegedly supposed to hunt down. And it has caused thousands of times more suffering, death and destruction – at least a million innocent people killed.
It's not a war on terrorism but on terrorists and that is as smart as trying to fight all diseases by killing patients. It's a war fought without any consideration of the one big question: Why did they do it and why do they do it? Media and politics only asking: Who did it? How was it done? Where? How to respond?
Without an intelligent, comprehensive diagnosis of 9/11 it could only go wrong. And it has.
The next problem was that 'terrorism' was suddenly defined by states as anything non-state that threatens society and states. Governments and the UN (which consists of them) conveniently omitted terrorism as a term for what states do and have done on a regular basis and on a much larger scale. Such as the nuclear balance of terror.
About 400 people were killed annually and worldwide before 9/11 according to US State Department statistics – reporting of that stopped in 2004 when figures soared after the War On Terror gained momentum. However, according to the 2015 Global Terror Index – the number is now 32,000 – and the far majority killed outside the West. So, the problem has increased exactly 80 times(!)
And the Western leaders who continue this war has no idea about how to stop it or do something more productive and intelligent to the world. Primitive tit-for-tat and disproportional responses has substituted what was once called statesmanship.
And it was predictable that it would be a fiasco!
Many both inside and outside the U.S. came up with Read the rest of this entry »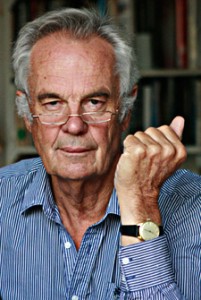 By Jonathan Power
September 6th 2016
The French ambassador to the US from 1902 to 1924, Jean-Jules Jusserand, observed that distant powers could not easily threaten the US because "On the north, she has a weak neighbour; on the south, another weak neighbour; on the east fish and on the west, fish".
The coming of the submarine-based nuclear missile has not changed that. Apart from the fact that no enemy would dare use them for fear of retaliation, and that there is no country in the world that feels that hostile to America (accept North Korea), the fact is America is too big and too far away to be invaded and dominated. There could not be a blitzkrieg by a foreign army across the mid-west or a Vichy America.
The real tragedy of 9/11 is just as a majority of the US electorate had settled into a post-Cold War comfort zone with the new president, George W. Bush, not being overly pushy or confrontational in foreign affairs, America was jolted so badly that a large proportion of its electorate – maybe half – has been paranoid ever since. Enemies are once again seen under the bed.
Enough of the electorate have persuaded themselves that they are insecure Read the rest of this entry »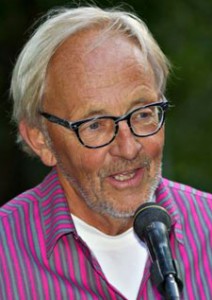 By Gunnar Westberg
Formuleringen ""NATO:s nya, mer aggressiva kärnvapenpolicy" har två grunder, nämligen de nya vapnen och de nya formuleringarna av doktriner.
Jag föreslår att vi, när vi talar om NATO och kärnvapen, använder formuleringar liknande den första meningen. Vill man förklara sig ger andra meningen ett svar. Men det är under alla omständigheter bra om man har tillgång till nedanstående argument:
De gamla B61 var symboliska vapen. De skulle, enligt ofta upprepade försäkringar, inte användas. De var en pant på att USA inte skulle överge Europa vid ett sovjetiskt/ryskt anfall. USA har föreslagit att dessa vapen skulle tas bort, men öst-europeiska NATO-medlemmar och framför allt Frankrike (!) har starkt reagerat emot.
De nya vapnen är B 61-12. Denna bomb skiljer sig från tidigare versioner av B61 som var "gravity bombs", d v s föll fritt från bombplanet. B 61-12 är styrbart och har därför en träffsäkerhet inom 30 m radie. B 61-12 har en variable laddning på 0,3-340kt. Bomben förefaller vara kapabel att penetrera mer än 3 m vanlig jord innan den detonerar. Effekten på djupet blir därför flera gånger större än en bomb av motsvarande laddning skulle ge utan penetrerande förmåga.
B 61-12 blir alltså ett effektivt vapen mot vissa underjordiska mål. Bomberna har sannolikt en plats i nya, ännu inte offentliga doktriner om kärnvapen-användning, i motsats till avskräckning. Read the rest of this entry »