By Jan Oberg
I shot this simple video out of the window on December 13, 2016. I wonder about Aleppo and say #keepfocusonaleppo

© Jan Oberg 2016
Here in the Sheikh Najjar Industrial City outside Aleppo lived and worked 40,000 people. It had 50% of Syria's industrial capacity.
Today – after the occupation by Western-backed militants and terrorist groups, this is what is left.
I wonder why the Syrian government did not destroy this industrial city between 2000 and 2012. We are told that all this destruction is caused only by that side and the dictator kills his own.
I wonder where the terrorists used the weapons and spent the money they got from NATO countries – Turkey in particular – Saudi and Qatar since they did not do any of this here – according to Western media and the White Helmet reporters and a series of humanitarian organisations.
I also wonder where the Western left is? Solidarity with the workers who lived here?
No many among them defend this and want to arm this or that group even more.
The more I study, the more I wonder.
And something doesn't seem right.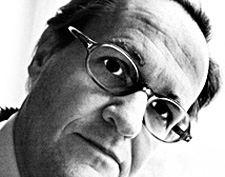 By Jan Oberg
Here is the background to an interview in which I question the validity of the opinion poll that President Poroshenko refers to as an argument for holding a referendum on NATO membership for Ukraine.
There are strong indications that it is a commissioned research, financed by neo-cons at the International Republican Institute, IRI, in the US of which Kiev mayor and Poroshenko ally, Vitali Klitschko is member of the international advisory board. IRI is funded by, among others, USAID and the National Endowment for Democracy (NED) which is believed to be close to CIA.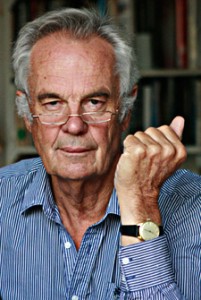 February 1st 2017
In a press conference last week President Donald Trump said he believed in the worth of torture but then added most surprisingly that using it wasn't going to be his decision. It would be decided by the Secretary of Defence, General James Mattis, who, as Trump said, is against torture.
Three years ago the US Senate Intelligence Committee published a summary of a thorough report on the recent American use of torture. Its chairwoman, Dianne Feinstein, said the 6,000 page report is "one of the most significant oversight efforts in the history of the US."
The report showed that the CIA did not provide accurate information on torture to Congress and also provided misleading information. The report also concluded that the CIA impeded effective White House oversight and decision-making. While the report was being prepared the CIA penetrated the Senate Committee's computers, arousing the fury of its members.
Bush and and his vice-president Dick Cheney were deeply involved in initiating the torture program. The Administration claimed that the waterboarding 183 times (the dipping of the head in water so that the prisoner feels he is drowning) of Khalid Sheikh Mohammed, the 9/11 mastermind, led to the foiling of a terror plot against Los Angeles's Library Tower. But the Senate report concludes that the information could have been learnt without using torture.
The report's primary focus is on discerning whether the use of torture gained valuable intelligence. It concluded that it did not.
When President Barack Obama was elected he swiftly moved to ban waterboarding and other torture techniques. However, he refused to authorize a full, in depth, Justice Department investigation which, if it had taken place, would doubtless have pointed a finger at Bush and Cheney.
In the UK it is alleged that Prime Minister Tony Blair Read the rest of this entry »
The Dismal Cartography of the Pre-Fascist State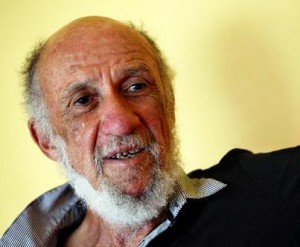 January 25, 2017
Points of Departure
Listening to Donald Trump's inaugural speech on January 20th led me to muse about what it might mean to live in a pre-fascist state. After reflecting on key passages and conversations with friends, I came to the view that all the elements were in place, although set before us with the imprecision of a demagogue.
Yet I do not doubt that there are many ideologues waiting in the wings, perhaps now comfortably situated in the West Wing, ready to cover the conceptual rough spots, and supply an ideological overlay, and add the semblance of coherence.
Considering the daily outrages emanating from the White House since the inaugural jolt, the coming years will be rough riding for all of us, with many cruelties being readied for those most vulnerable.
Of course, the Woman's March on January 21st was temporarily redemptive, and if such energy can be sustained potentially transformative. It is odd to contemplate, but there just may be tacit and effective cooperation between the national security deep state and a progressive populism converging around their divergent reasons for being deeply opposed to the shock and awe of the Trump presidency. Trump may invent 'alternative facts' to restore his narcissistic self-esteem, but when it comes to program he has sadly so far been true to his word! This alone should encourage a unified, energetic, and determined opposition. If the Tea Party could do it, why can't we?
The Pre-Fascist Moment
First, it is necessary to set forth the case for viewing Trump's Inaugural Address as a pre-fascist plea:
1) Locating power and legitimacy in the people, but only those whose support was instrumental in the election of the new president; the popular majority that were opposed are presumed irrelevant, or worse;
2) Denigrating the political class of both political parties as corrupt and responsible for the decline of the country and the hardships inflicted on his followers;
3) Presuming mass and unconditional trust in the great leader who promises a rupture with the past, Read the rest of this entry »
Comment by Jan Oberg on PressTV's Top Five
This is nothing new, the US has used it all the time. But isn't it tragic that almost 70 years after torture was prohibited in the Universal Declaration of Human Rights, we see 141 countries still using torture – according to Amnesty International.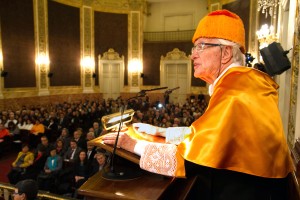 By Johan Galtung
Receiving Dr Honoris Causa, Universidad Madrid Complutense, 27 Jan 2017
Dear Rector, dear Jury!
I receive this great honor bestowed upon me in deep gratitude and pride, promising to try to live up to it.
I will now share with you some words about how I got launched on the track for which you honor me, peace studies and peace practice.
Like so many, I felt desperate about the wars in our enlightened century and continent and asked, Why? What can we do to avoid this suffering, not only the wounded and dead, but the countless bereaved?
From my family I knew a little about health studies and had been struck by the fruitful distinction between cause and symptom. The symptom is on the surface of the body, like fever; but the root cause is deeper down, inside, a sepsis. A major breakthrough. "Treat the cause, not the symptom" became a new rationality. Cooling the body makes some sense, but it isn't the cure; and even less treating a swollen ankle that could be a symptom of a serious heart illness.
My illness was war, my wellness was peace.
Was war a cause with horrible effects with nobody really winning, or could war be a symptom of something deep down in the "body politic", a "root cause"? Of something preceding war and violence in general, which if removed would also remove, or at least reduce, war and violence? But what?
This was important because if we accept violence as the root cause then we link it to the human body or humanity as such, not only as innate, but as inevitable. We would have to learn to live with it and with its effects, some of them summarized in "war breeds war".
War rhetoric actually pointed in two directions: "someone blocking what we are entitled to" and "revenge for unjust wars against us". The first points to conflict, "incompatible goals"; the second to trauma, "wounds from past violence". I have stayed with those two.
This liberates human nature from being the cause Read the rest of this entry »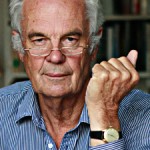 By Jonathan Power
January 24th 2017.
The great flaw in ex-president Barack Obama's record was his policy towards Russia. Going against everything he had said and written about before he became president, one action after another antagonised the Russians – his early proclamation that he wanted Georgia and Ukraine in NATO, his de facto coalition of convenience for a crucial couple of days with the anti-democratic, anti-Russian, neo-fascist, demonstrators in Ukraine, the further expansion of NATO, despite an earlier promise not to, made by President H.W. Bush, to the Soviet president, Mikhail Gorbachev, and his inability to cooperate with the Russians and Iranians over Syria.
No wonder the Russians are reported to be delirious that Donald Trump is now president, a man who has said nice things about Russia's President Vladimir Putin.
If the two meet sometime soon maybe there will be an end to this unnecessary hostility. The Moscow-Washington relationship is the most important political issue in the world and this may well be the last chance to get it right.
Russia and the US have never fought each other in the 200 years of their relationship. Russia aided the North during the Civil War and sent warships to prevent England and France supporting the confederacy. During the World Wars the two were close allies.
However, they came near to catastrophic war during the Cold War when Russia armed Cuba with nuclear weapons. This will never happen again. It chilled the blood down to zero on both sides. But one can imagine limited armed clashes on the Estonian-Russian border, nuclear sabre rattling, a more intimate alliance between China and Russia, an urge to sabotage, as was done during the Cold War, any diplomacy or interventions made by the other and a continuation of both countries keeping their long-range nuclear weapons on hair-trigger alert.
Under H.W. Bush post-Cold War relations got off to a good start. Nevertheless, the US treated Russia as a defeated nation that could be taken advantage of. Read the rest of this entry »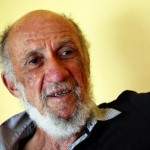 By Richard Falk
December 3, 2016
In recent months the Turkish President, Recep Teyipp Erdoğan, and his principal advisors have not made it a secret that they are reconsidering Turkey's relations with neighbors, with the countries of the region, and with leading geopolitical actors.

The Early Agenda of AKP
When the Justice and Development Party (AKP) came to power in 2002 it set about almost immediately to fashion a post-Cold War foreign policy based on the idea that it was time to supersede the Cold War posture of almost total Turkish deference to the United States, especially within NATO and bipolar contexts, and depict a conception of Turkish interests developed in Ankara rather than adhere to Washington's blueprint. In its early period of national leadership, the AKP seemed to pursue four interrelated international goals:
– resolve the Cyprus conflict;
– give priority to seeking full membership in the European Union (EU);
- improve diplomatic and political relations with Arab World;
- seek continuity in U.S./NATO/EU relations, but with overall independence.
During the Foreign Ministry of Abdullah Gul, reflecting and incorporating some of Ahmet Davutoğlu ideas and his ambitious conception of the proper Turkish international role, this new assertiveness of Turkish foreign policy achieved with impressive results. Turkey's signature approach of 'Zero Problems with Neighbors' (ZPN) was initially seen as the adoption of a regional conflict-resolving perspective, and given early credibility by transforming relations with Syria from hostility to harmony.
By Jan Oberg
Commentinng on President Rouhani's plea for tolerance and no borders on Press TV, January 28, 2017